The European Society of Thoracic Surgeons (ESTS, www.ests.org) will celebrate its 27th annual meeting in Dublin from 9 – 12 June 2019. The Sixth Edition of European Perspectives in Thoracic Surgery dedicated to this annual event will be published in the Journal of Thoracic Disease (JTD) before the meeting and delivered to every delegate attending the conference, as a series of publication and cooperation between ESTS and JTD for the sixth year in a row.
As Guest Editors of this publication series, Dr. Alessandro Brunelli and Dr. Enrico Ruffini have included in this edition the most innovative and state of the art lectures presented during the 26th ESTS Annual meeting.
Topics to be covered in the Sixth Edition are as follows.
| | |
| --- | --- |
| Confirmed Topics | Corresponding Authors |
| Preface | Alessandro Brunelli (Leeds/UK) |
| Evidence for surgical resections in oligometastatic lung cancer | Calvin Ng (Hongkong/CHN) |
| ERAS and patient reported outcomes | Felix Fernandez (Atlanta/US) |
| Treatment strategy and decision-making for the elderly patients with early lung cancer | Jiro Okami (Osaka/JP) |
| The rise of non-technical skills: optimizing performance of individuals and teams to improve patients outcomes | Gianluca Casali (Bristol/UK) |
| How can surgeons prepare for lung cancer screening? | Jesper Pedersen (Copenhagen/DK) |
| T1a NSCLC: lobectomy, limited resection, SBRT or radiofrequency ablation? | John Mitchell (Colorado/US) |
| Completeness of training in thoracic surgery: the perfect operative logbook | Hasan Batirel (Istanbul/TR) |
| The ideal and impartial medical expert: tips from a lawyer | Kostas Papagiannopoulos (Leeds/UK) |
| From residency to faculty. On mentorship, expectations and planning | John Agzarian (Hamilton/CA) |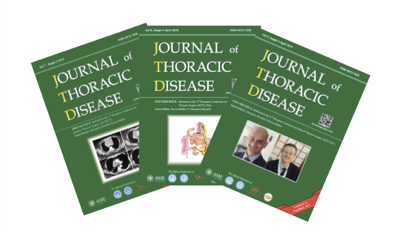 Collection of the Focused Issue Series: European Perspectives in Thoracic Surgery (1st – 5th Editions):
The 1st Edition: http://jtd.amegroups.com/issue/view/97
Dedicated to the 22nd ESTS Annual Meeting held in Copenhagen, Denmark, 15-18 June 2014
The 2nd Edition: http://jtd.amegroups.com/issue/view/136
Dedicated to the 23rd ESTS Annual Meeting held in Lisbon, Portugal, 31 May - 3 June 2015
The 3rd Edition: http://jtd.amegroups.com/issue/view/172
Dedicated to the 24th ESTS Annual Meeting held in Naples, Italy, 29 May - 1 June 2016
The 4th Edition: http://jtd.amegroups.com/issue/view/226
Dedicated to the 25th ESTS Annual Meeting held in Innsbruck, Austria, 28 - 31 May 2017
The 5th Edition: http://jtd.amegroups.com/issue/view/294
Dedicated to the 26th ESTS Annual Meeting held in Ljubljana, Slovenia, 27 – 30 May 2018
---