Review Article
Imaging techniques for tumour delineation and heterogeneity quantification of lung cancer: overview of current possibilities
Introduction
Lung cancer is the single most important cause of cancer deaths in all developed countries (1). In the upcoming countries such as China, it is expected that lung cancer will have epidemic proportions within a few decades (2). Radiotherapy plays an increasing role in all stages of lung cancer: stage I non-small cell lung cancer (NSCLC) is treated with stereotactic body radiotherapy (SBRT) (3), also called stereotactic ablative radiotherapy or SABR with results that equal those of surgery. Stage III NSCLC and small cell lung cancer (SCLC) is most often treated with combined chemotherapy and radiotherapy and patients with oligometastases may experience long-term disease-free survival with treatment that includes radiotherapy (4,5).
However, a thorough definition of the tumour to be irradiated is a prerequisite for successful radiotherapy. Visualisation of the tumour boundaries using morphological imaging techniques such as computed tomography (CT) or magnetic resonance imaging (MRI) are of importance, but also the biological characteristics of the cancer and of the organs at risk (OAR) can nowadays be visualized using molecular imaging e.g., positron emission tomography (PET) techniques. Assessment of this biological heterogeneity of tumours using imaging may lead to more individualized therapy. Using the knowledge of characteristics of the tumour and of the OARs should enable an optimised therapeutic ratio. Although seemingly obvious, reality shows that achieving this goal has been proven to be difficult. Definition of the tumour boundaries with high accuracy and low inter- and intra-observed variability is hampered by the lack of validated automated systems that work well for complicated volumes that are surrounded by OARs with similar densities. Biological characteristics can be imaged, but their implementation in standard practice requires prospective clinical studies showing improved outcomes.
The present manuscript will focus on the delineation and characterization of primary tumour and lymph node involvement in lung cancer patients using the latest available imaging techniques. Some of these techniques are already applied in clinical practice and some of them are still on a research level. Furthermore, an outlook is given how to use these methods in the future to individualize lung cancer treatment and to optimize the balance between local tumour control and organ toxicity.
---
Imaging modalities for target volume delineation and quantification
FDG-PET/CT
The accuracy of FDG-PET is higher than CT for the staging of mediastinal lymph nodes in advanced stage lung cancer. Hence, the incorporation of PET in the treatment planning process of radiotherapy is logical. In many planning studies in NSCLC, the use of FDG-PET has resulted in a decrease of the irradiated volumes of the OARs, which may lead to less side effects or to the possibility of radiation dose-escalation with the aim to improve local tumour control (6,7). Prospective studies both in NSCLC and in SCLC indeed showed that selective mediastinal node irradiation based on FDG-PET scans did not lead to higher isolated nodal recurrences (8-10).
The use of FDG-PET in radiotherapy planning was shown to reduce variability of tumour delineation amongst radiation oncologists and allows automatic tumour delineation that can be followed with manual editing if required (11-13). To use PET/CT equipment directly for radiotherapy treatment planning purposes, some additional criteria have to be considered. A detailed overview on the basic technical aspects and recommendations for radiotherapy treatment planning is described in Thorwarth et al. (14). On a standard 3D PET/CT acquisition, small lesions might be difficult to detect due to the intrinsic blurring of breathing motion and might also lead to inaccurate quantification of the standardized uptake value (SUV) compared to respiratory correlated 4D acquisitions (15). PET/CT scanners have options for acquiring the images in a respiration correlated (4D) mode to compensate for breathing motion in thorax. Furthermore, several publications have shown that 4D PET indeed improves lesion detectability (16,17). The 4D scan is usually reconstructed as a set of 5, 8 or 10 3D PET/CT scans representing the different phases of the respiratory cycle (18). Acquiring such a 4D PET scan together with a 4D CT scan is however not yet widely implemented in practice. A drawback of the 4D image acquisition is the somewhat prolonged acquisition times that might limit throughput on the PET/CT scanners and not all software systems are able to visualize this large amount of imaging data. However by using more advanced reconstruction algorithms that use only the part of the acquisition without breathing motion (e.g., the exhale phase) (19,20) or (non-rigidly) register the various breathing phases of the PET image to a single image (21) the workflow might be improved.
Tumour delineation for radiotherapy treatment planning purposes is a time-consuming manual procedure that is associated with a lot of intra- and inter-observer variability (22). Although the use of strict delineation protocols decrease variability (23), the time investment for delineation still remains and is limiting for adaptation protocols as well. As in radiotherapy the CT scan is used as the primary dataset because of the accurate quantification of (electron) density necessary for the dose calculation of the radiotherapy treatment plan, automatic segmentation based on CT scans are logical. Moreover, 4D-CT scans have been implemented in routine practice and this movement information can readily be accounted for in automatic delineation protocols. On the other hand, FDG-PET scans do correlate better with anatomical boundaries than CT if the tumour is surrounded by lung (24). Combining CT and FDG-PET is therefore logical and automatic segmentation methods could reduce delineation time. However, only few studies have validated their automated segmentation method with pathology (22,25-28) and there is a lack of technical validation and accuracy as well (29,30). Fully automated tumour segmentation has therefore not been implemented in routine clinical practice.
Hypoxia PET
Tumour cell hypoxia is a known characteristic of solid tumour lesions, which negatively influences treatment efficacy (31). Accurate identification of tumour hypoxia is of importance to select patients which will benefit from specific anti-hypoxic treatments. The use of the Eppendorf electrode is the gold standard to assess tumour hypoxia, however this method has the disadvantage to be invasive, limiting its use to well accessible superficial tumours (32). Hypoxia PET imaging allows a non-invasive detection and quantification of tumour hypoxia and it provides the opportunity to display the spatial distribution of hypoxia, which is essential for its integration in radiation dose distribution. The most common mechanism to detect tumour hypoxia is the use of 2-nitroimidazoles PET tracers which show a selective binding and retention in the hypoxic tumour cells.
Several 2-nitroimidazoles, labelled with fluor-18 [18F], have already been applied in patients to identify hypoxia. The first and most familiar hypoxia PET tracer is [18F]MISO, however, a slow accumulation in the hypoxic lesions and limited normal tissue clearance limits its clinical use (33). Therefore, alternative tracers are developed to improve the pharmacokinetic properties of the hypoxia tracer by enhancing the hydrophilicity and clearance of the tracer, examples are [18F]AZA, [18F]ETNIM, [18F]EF3, [18F]HX4 and the nucleoside conjugate Cu-ATSM.
Quantification of tumour hypoxia based on PET imaging can be performed on static images, acquired at a certain time-point post-injection, or based on dynamic acquisitions, which takes also perfusion of the lesion into account (34). Figure 1 shows an example of a lung cancer patient having both an FDG-PET/CT scan and an hypoxia [18F]HX4-PET/CT scan. In NSCLC patients, hypoxia PET has shown to be correlated with prognosis and to give different information than FDG uptake (35,36). Studies with hypoxia PET imaging show the presence of tumour cell hypoxia in the majority of NSCLC lesions (37-40). The extent of tumour hypoxia correlates with tumour response and risk of relapse after radiotherapy (41,42). Recent theoretical studies show that boosting or dose painting by numbers based on hypoxia imaging is feasible and that an increased radiation dose to the radio-resistant/hypoxic areas may result in an increased local control (43-45).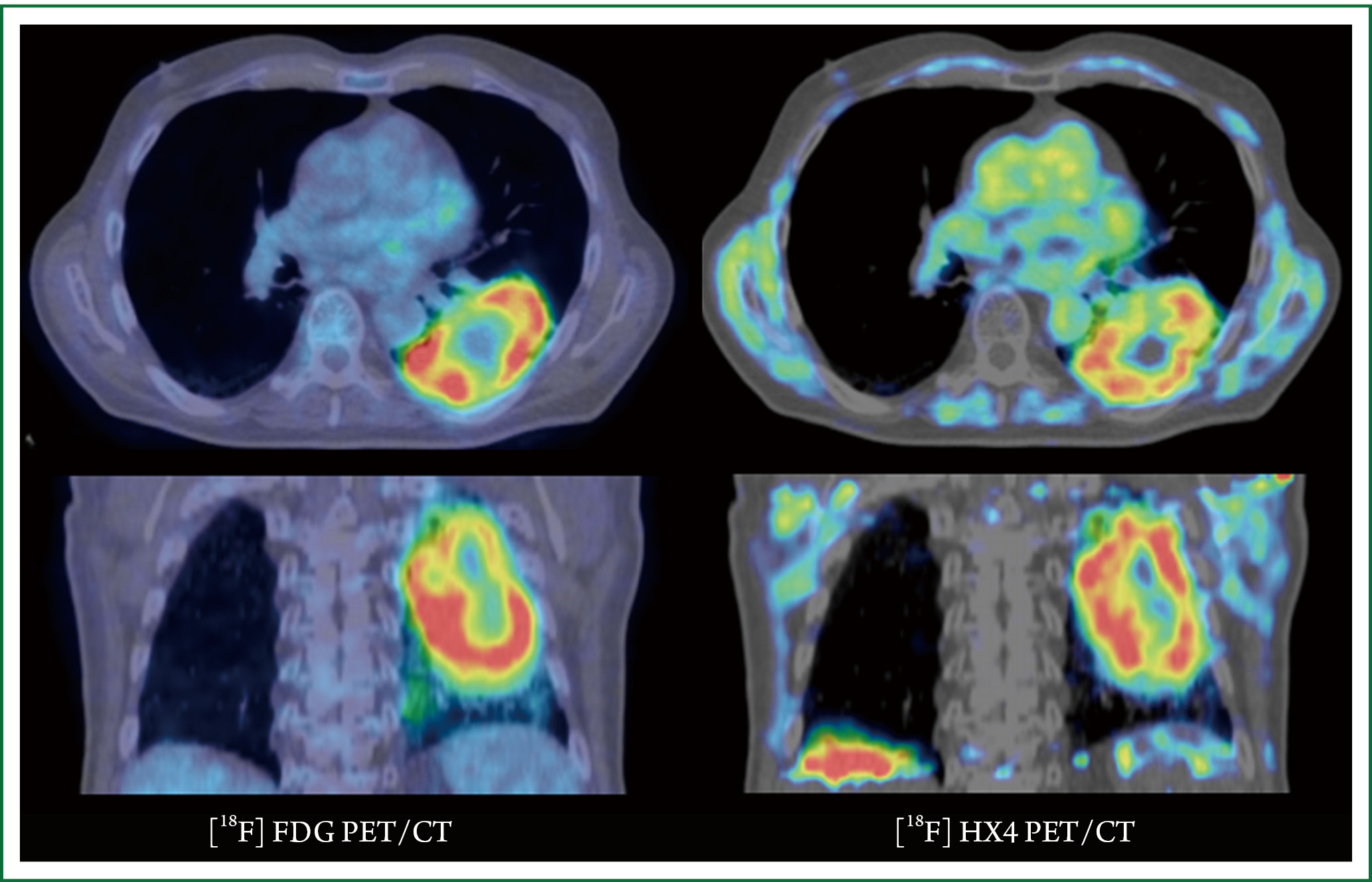 Figure 1 Example of a NSCLC patient having both an FDG-PET/CT scan (left) and a hypoxia HX4-PET/CT scan. Clearly visible is the tumour heterogeneity both on the metabolic (FDG) and hypoxic (HX4) PET image.
MRI
MRI provides high-resolution anatomical information with excellent soft-tissue contrast. Its use for delineation of the tumour and lymph nodes has been investigated. A major issue is obviously the movement of tumours that may cause significant artefacts. To deal with motion, two particular acquisition sequences have been useful: fast low-angle shot (FLASH) and true fast imaging with steady-state precession (TrueFISP) (46,47). Both techniques showed regular and synchronous diaphragm and chest-wall motion of diagnostic quality. Dynamic MRI can be used to define an Internal Target Volume (ITV) as it allows imaging of the entire lung volume over the breathing cycle. However, dynamic MRI scans of the lung are still prone to artefacts, which affect registration accuracy.
To the best of our knowledge, there have been no contouring studies comparing MRI to CT or FDG-PET-CT in lung cancer, neither have there been validation studies with pathology. Nevertheless, to differentiate benign from malignant nodules, Diffusion Weighted MRI (DW-MRI) may have similar accuracy as FDG-PET scans (48).
Dynamic contrast-enhanced CT (DCE-CT)
DCE-CT (or perfusion CT) imaging is a relatively new method for tumour characterization. It offers a fast way to assess functional parameters in lung cancer patients. To date DCE-CT is still a research tool, but initial results are showing promising results for the future. DCE-CT scans give information on the blood flow (BF), blood volume (BV) and permeability of the vessels (49-52). Whereas in the literature some DCE-CT studies were hampered by the limited field-of-view (e.g., 3-5 cm) of the scanner in the cranial-caudal direction, the technical infrastructure nowadays has the ability to capture DCE-CT scans of large volumes up to 12 cm. The reproducibility of the extracted parameters of the DCE-CT scan is also within an acceptable range (49,50,53) and allows larger patient studies to look at prognostic factors for treatment outcome. These parameters are related to accessibility for chemotherapy or anti-angiogenesis drugs (54) and shown to be different between treatment responders and non-responders (53). In some series, DCE-CT extracted values correlated with prognosis and with the histological subtype of NSCLC (55). DCE-CT values give other information than FDG uptake and therefore may be complementary to characterise tumours. The clinical and prognostic implications are not yet fully understood and the number of patients who have been studied with DCE-CT is still low. Thus further clinical studies are need to assess the value of DCE-CT for the future individualized treatment and prognosis. In a recent study by Mandeville et al. DCE-CT parameters were evaluated in relation to markers of hypoxia (56). It was shown that BV and BF was inversely correlated to immuno-histochemical markers for hypoxia. Recently it has been shown by Lee at al. that reproducibility is high in DCE-CT (57). If DCE-CT is used to measure enhancement curves over time Hwang et al. could show that enhancement patterns correspond to tumor staging (58). Interestingly, looking into other body regions DCE-CT parameters might be able to predict survival, as, e.g., was shown by Koh et al. in patients with colorectal cancer (59). Spira et al. evaluated DCE-CT parameters in correlated these to histopathological findings, showing good correlation especially for microvascular density (MVD) (60). Fraioli et al. could demonstrate the correlation between altered perfusion parameters after treatment–indicating treatment response (61).
Dual energy CT (DECT)
Newest CT scanner technology is capable of applying two different kV setting simultaneously or rapidly after each other. The two different resulting scans can be used for tissue characterization and iodine mapping. Some studies tried to use iodine mapping for lung tumour characterization, showing initially promising results (62-64). Initial differentiation between benign and malignant pulmonary nodules seems possible, but the number of studied patients is still too low and the real clinical problem of small pulmonary nodules <8 mm currently cannot be solved sufficiently (65-67).
---
Imaging modalities for normal tissue characterization
Radiotherapy is always pushing the optimization of maximum tumour control with an accepted (low) level of side-effects. Radiation induced lung toxicity (RILT) is one of the major dose limiting factor in escalating the dose to lung tumours; Therefor assessment of the lung function could potentially play an important role in the design of the treatment plan. Various imaging techniques can be utilized to quantify the lung function also on a local scale, besides the general pulmonary lung function tests that only give a global assessment of the lung function.
SPECT/CT
The use of SPECT/CT for quantification of perfusion and ventilation defects in the lung is a frequently used modality for assessing lung function using imaging although the spatial resolution of the SPECT scan is limited. Radiotherapy has been shown to cause lung perfusion alterations in NSCLC patients with perfusion (68-70). Knowledge about the regional sensitivity and functioning of the lung may also guide the treatment plan design to avoid highly functioning regions inside the lung (71-74). However the hypothesis of reduced lung toxicity still has to be validated in clinical trials.
CT
CT density changes have been described after radiotherapy and show remarkable variability between patients (75,76). In depth analysis of CT characteristics of the lungs may lead to the definition of risk groups for radiation-induced lung damage.
PET/CT
The uptake of FDG in the lungs probably reflects the inflammatory status. It was found that a high FDG uptake in the lungs before radiotherapy is an independent risk factor to develop subsequent radiation pneumonitis (77). FDG-avid areas in the lungs were at the highest susceptibility for pneumonitis. Further studies are needed to elaborate on these findings before this can be used to change radiation dose distributions in the lungs on the basis of FDG uptake patterns.
MRI
MRI scans using inert hyperpolarised helium-3 gas that is inhaled by the patient show ventilated areas in the lungs (78). Non-ventilated regions do not show an MRI signal. In theoretical studies, the incorporation of this information decreased the V20 of the lungs significantly (78). However, this strategy was never investigated in prospective trials and thus remains investigational.
DECT
DECT for visualizing lung perfusion is often used in the context of the detection of pulmonary embolism (PE) (79-83). An iodine contrast material (CM) is administered and using 2 energy settings of the CT scanner (usually 80/140 kV) it is possible to visualize the distribution of iodine in the lungs. CT is the method of choice to rule out acute PE, nicely showing the emboli up to the sub-segmental level. With the use of DECT it has become possible not only to show the embolus, but also to show corresponding perfusion defects. This is of clinical importance, as was shown in earlier studies—single sub-segmental emboli (not causing significant perfusion defects) can be left untreated (84). Based on the assumption that radiation therapy of the lung may also alter CM perfusion in the lung, this technique offers potential for further assessment of patients treated for lung cancer with radiotherapy. Figure 2 shows an example of a PE in the right lower lobe causing a large perfusion defect.

Figure 2 An example of a patient with emboli in the segmental arteries causing a large perfusion defect of the right lower lobe.
While DECT is primarily used for iodine perfusion maps of the lung, Xenon ventilation consequently adds the missing part of ventilation maps for the patients. In the last years some study groups could show that the use of Xenon ventilation is feasible and safe and could also show that ventilation maps may add additional value in different pathologies such as asthma, in intensive care patients or even in children (85-93).
Treatment individualization using imaging
The next major step forward that is currently tested in clinical trials is the dose-painting hypothesis (94,95). The rationale for this is the heterogeneous nature of tumours. Differences in biological characteristics throughout tumours make them respond non-uniformly to treatment (96). Hence treatment resistant parts of the tumours are with the current homogeneous irradiation treatment techniques not optimally treated. Individualizing the treatment by using imaging information to guide or define the actual dose-response relationship is the next phase of treatment individualization (97). A currently on-going multi-centric trial in advanced NSCLC is testing the hypothesis whether a uniform dose or a boost dose to the high metabolic active volumes gives rise to better local control rates (98).
Another way of using imaging information to individualize treatment is in the context of response assessment. Using repeated imaging during treatment may provide predictive information to treatment success. Hypoxic (e.g., HX4, FAZA, FMISO), metabolic (e.g., FDG) or proliferation [e.g., FLT, (99)] PET tracers allow early in the course of treatment already an assessment of treatment (100). MRI scans can be used to evaluate changes in tumours during radiotherapy as well (101). DW-MRI derived ADC (apparent diffusion coefficient) values changes correlate well with survival. However, ADC and FDG changes also correlate significantly. It remains unclear what the clinical value is of these predictive parameters.
With the current fractionated radiotherapy schedules in lung cancer of 4-6 weeks, there is still room for adaptation of the treatment. As previously stated, these adaptations of the treatment plan can be based either on reducing side-effects or increasing the chance of local tumour control.
---
Conclusions
Imaging is an integral part of target volume delineation used in current clinical practice. Tumour characterization is the next step that needs to be exploited. To fully optimize the therapeutic ratio also normal tissue toxicity is of importance. Assessment of imaging features to characterize tissue functioning should be explored as well in the context of individualized treatment optimization.
---
Acknowledgements
One of the authors (W.v.E.) would like to acknowledge funding (KWF MAC 2011-4970) from the Dutch Cancer Society.
Disclosure: The authors declare no conflict of interest.
---
References
Cite this article as: van Elmpt W, Zegers CM, Das M, De Ruysscher D. Imaging techniques for tumour delineation and heterogeneity quantification of lung cancer: overview of current possibilities. J Thorac Dis 2014;6(4):319-327. doi: 10.3978/j.issn.2072-1439.2013.08.62