Original Article
Effectiveness of intraoperative administration of intermittent pneumatic compression in preventing deep vein thrombosis in lung cancer patients undergoing video-assisted thoracoscopic surgery lobectomy
Introduction
Venous thromboembolism (VTE), comprising pulmonary embolism (PE) and deep vein thrombosis (DVT), is the third leading cause of cardiovascular-associated death, constituting a major global burden of disease (1). DVT refers to a thrombus formed in a deep vein, often in the lower limbs, pelvis, or upper limbs. The acute phase of DVT can be manifested as PE with a mortality rate close to 30% (2). The sequelae of DVT, in particular post-thrombotic syndrome (PTS), could result in continued patient discomfort and increased long-term health care utilization (3).
Strong risk factors for VTE include surgery, immobilization, and cancer (4). Lung cancer patients are at high risk of developing VTE (5-7). Among patients with lung cancer, those undergoing major surgery have a particularly high risk of developing thromboembolic disease, since the major pathogenic elements of VTE-hypercoagulability, venous stasis, and vessel wall injury-are likely to be activated during operation (8). Studies have shown that the incidence of VTE after thoracic surgery varies from 5% to 16.2% (9-12).
Both DVT and PE manifest few specific symptoms, and the clinical diagnosis is insensitive and unreliable. Relying on the diagnosis and treatment of established DVT may expose susceptible patients to unacceptable risks: the first manifestation of the disease may be fatal PE. Prompt diagnosis and management of DVT is essential to minimize the risk of PE and PTS (13). The high incidence of postoperative DVT among lung cancer surgical patients, the silent nature of the disease, and the potentially dire consequences of a missed diagnosis mandate that routine thromboprophylaxis should be considered in patients undergoing surgery for lung cancer.
Mechanical methods such as intermittent pneumatic compression (IPC) have been studied in a broad spectrum of patients and have been shown to be both an effective and safe modality of prophylaxis. However, the effectiveness of IPC intervention in patients at risk for DVT has not been comprehensively studied in lung cancer patients undergoing video-assisted thoracoscopic surgery (VATS). The aim of this study was to evaluate the effectiveness of IPC in preventing DVT in a population of patients undergoing curative surgery by VATS lobectomy for primary lung cancer.
---
Methods
From March 2018 to November 2018, a total of 495 consecutive patients (aged 36–83 years) undergoing curative surgery by VATS lobectomy for primary lung cancer were included. A flow diagram of patient recruitment is shown in Figure 1. Exclusion criteria were the presence of previous VTE, coagulation disorders, and uncontrolled cardiovascular disease. Patients were also excluded if they underwent intraoperative conversion to thoracotomy.
On the day of admission, patients were randomly assigned to an IPC group or a control group using sealed envelopes containing a slip indicating the allocation, which had been derived from a computer-generated sequence. All the patients received routine nursing measures and performed foot and ankle exercise pre- and postoperatively. For patients allocated to the IPC group, the Kendall SCDTM express sequential compression system (Covidien, MA, USA; Figure 2) was applied to both legs after induction of anesthesia and before patient positioning. Calf-length sleeves were used. This system delivers sequential circumferential compression and incorporates venous refill technology so that, in our study, the frequency of compression was tailored to the individual patient. The pneumatic compression cycle was set at 20/min with a pressure of 130 mmHg applied for 1 s.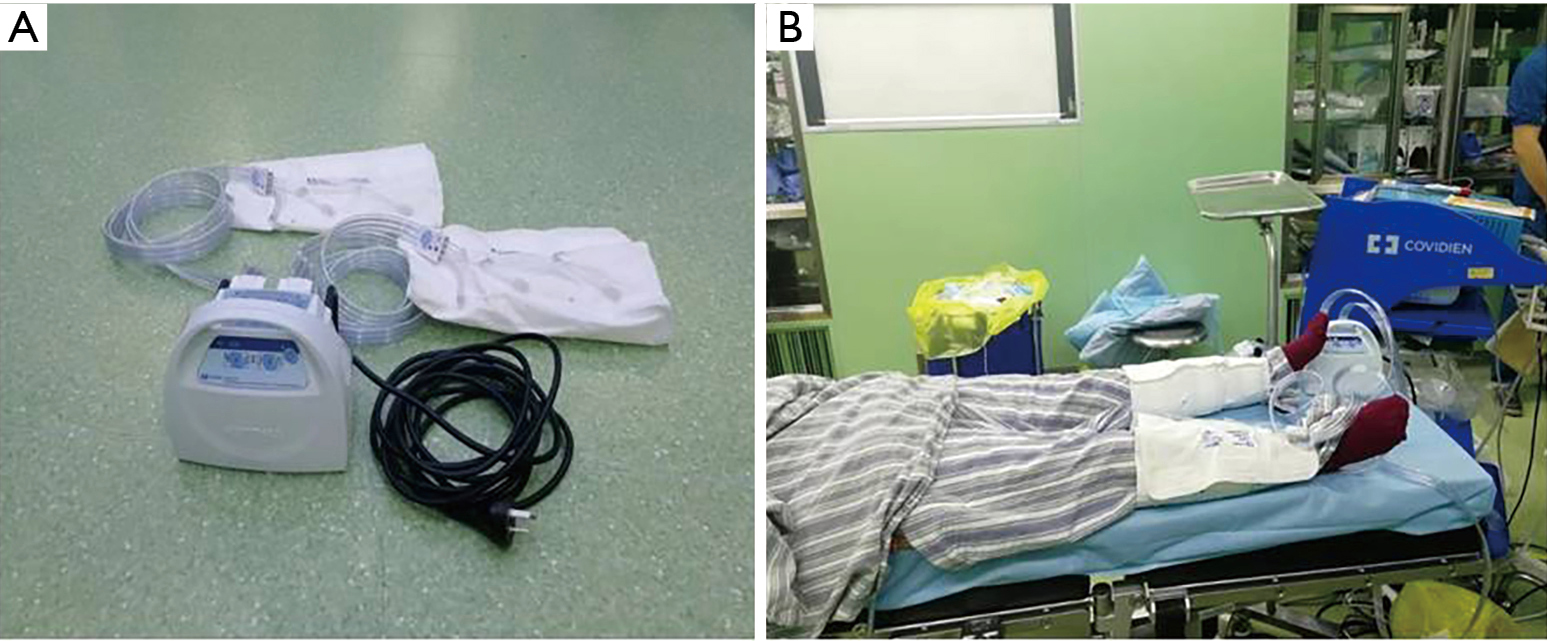 Figure 2 The Kendall SCDTM express sequential compression system. (A) The main body and cuff of the IPC. (B) Administration of the IPC to a patient. IPC, intermittent pneumatic compression.
Plasma D-dimer concentration was determined by enzyme-linked immunosorbent assay (ELISA), and the presence or absence of DVT was determined by the deep venous color Doppler ultrasonography as detected on the day before operation and on the 2nd day post operation. Lower limb hemodynamics were assessed with a Doppler ultrasound using a 4–8 MHz linear transducer pre- and postoperatively. Blood flow was sampled 3 times and the mean of the 3 measurements used for analysis. Signs and symptoms of DVT were monitored daily.
Baseline characteristics were tested for normal distribution and presented as either mean ± standard deviation (SD) or number (%). Plasma D-dimer levels were expressed as mean ± SD, and were compared using t-tests. The incidence of lower limb DVT between the two groups was compared using Fisher's exact test. All reported P values were two-tailed. All data processing and analyses were performed using SPSS version 22 software (SPSS, Chicago, IL, USA).
---
Results
Complications related to IPC were not observed in this study. Its administration did not interfere with or prolong surgery.
Patient demographic data
The characteristics of the study population undergoing VATS are presented in Table 1. The risk of DVT in each patient was individually assessed based on the presence of the risk factors, including, age, sex, and comorbidities. The two groups were comparable in terms of their baseline characteristics and the operations they underwent.

Table 1
Baseline characteristics of patients undergoing VATS
Full table
Incidence of postoperative DVT
The incidence of DVT is summarized in Table 2. In the entire cohort of 495 patients, 38 had DVT. DVT occurred in 2 patients with IPC, and in 36 patients without IPC. Intraoperative application of IPC significantly reduced the incidence of DVT (from 14.5% to 0.8%) when compared to the control group (P<0.0001).

Table 2
Incidence of DVT in the IPC and control group
Full table
Changes in plasma D-dimer levels
As shown in Figure 3, the preoperative D-dimer levels were comparable in the IPC group (213.3±417.2 ng/mL) and control group (222.0±754.1 ng/mL). The D-dimer levels were significantly elevated on day 2 post-operation in both groups. However, there was no significant difference between the IPC group (518.8±438.0 ng/mL) and control group (633.7± 900.1 ng/mL).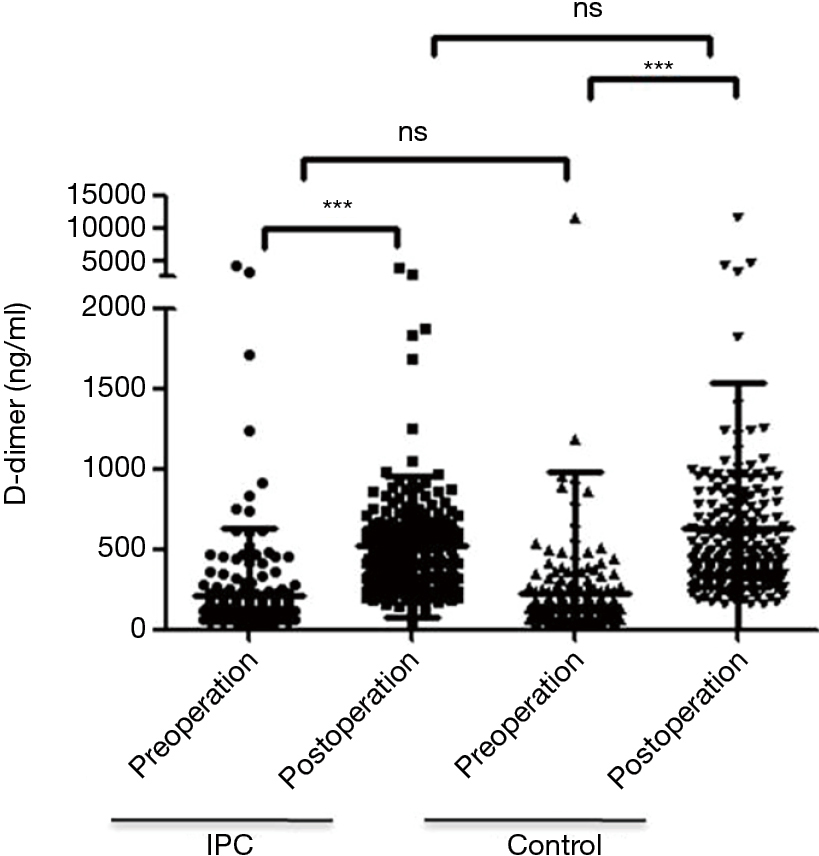 Figure 3 Changes of D-dimer levels in the IPC and control group. ***, P<0.001. ns, not significant. IPC, intermittent pneumatic compression.
Lower limb hemodynamics
As shown in Table 3, the preoperative flow velocity of the femoral vein was comparable in the IPC group and control group. Application of IPC enhanced the blood flow in the femoral vein, while the postoperative blood flow in the femoral vein decreased in the control group, indicating the effect of improving blood flow in the lower extremity by IPC administration during the surgery.

Table 3
Flow velocity of the femoral vein (cm/s, mean  ±  SD)
Full table
---
Discussion
DVT is a common occurrence in surgical patients. Even in an era of minimally invasive surgery and advanced perioperative care, patients undergoing VATS are still at a high risk of developing DVT (14). Postoperative DVT in patients undergoing thoracic surgery has so far been underestimated due to the fact that the majority of patients are asymptomatic or misdiagnosed, and prevention of DVT in patients undergoing thoracic surgery has been neglected in clinical practice in China (14,15). Currently, there is still a lack of consensus guidelines for DVT prevention and risk assessment in patients undergoing thoracic surgery worldwide (16). In the present study, we evaluated the effectiveness of IPC in preventing DVT among lung cancer patients undergoing VATS lobectomy. We found that intraoperative application of IPC significantly reduced the incidence of postoperative DVT without causing any complication of bleeding.
There are mainly two types of prophylaxis approaches: pharmacologic and mechanical. Pharmacologic prophylaxis, like low-dose unfractionated heparin, low-molecular-weight heparin, and vitamin K antagonists, is more effective but entails an increased risk for bleeding complications in surgical wounds and remote organs. Mechanical prophylaxis is less effective but free of hemorrhagic complications. Optimal thromboprophylaxis in surgical patients should consider the risks of DVT and bleeding complications. IPC is a mechanical method of delivering compression to the lower extremities and stimulating the skeletal muscle pump. The thromboprophylactic effect of IPC is believed to be related to enhance venous blood flow and thus reduced venous stasis in the lower extremities. In addition, IPC seems to increase endogenous fibrinolysis, stimulate vascular endothelial cells, and reduce caliber of veins, which may contribute to reduced DVT incidence (17-19). Currently, IPC is the most commonly used mechanical intervention for DVT prevention, and is especially useful in patients at high risk of bleeding complications, or in situations where pharmacologic agents are contraindicated.
Since the trauma of thoracoscopic surgery is relatively minor, the incidence of postoperative DVT is lower than that of traditional thoracotomy. Also, the incidence of DVT is lower among Asian patients, compared with white individuals (20).We thus hypothesized that IPC was effective enough for Chinese patients undergoing VATS. Our study proved that IPC was indeed effective in preventing postoperative DVT among these patients.
Besides prophylaxis methods, timing is also an important factor to consider regarding the DVT prophylaxis in thoracic surgical patients. Thromboprophylaxis often starts postoperatively in thoracic surgical patients (21). Deng et al. recommended preoperative DVT prophylaxis with heparin in patients intended for major thoracic surgery (22). DVT may develop during surgery due to venous stasis and the release of thrombogenic substances from lung tissue (8). Studies have demonstrated that prolonged operative time is an independent risk factor for DVT after lobectomy (12). As a consequence, prevention of DVT would appear to be the most efficient by intraoperative interventions. In the present study, we confirmed that IPC enhanced the venous blood flow as reflected by the hemodynamics data in the femoral vein of the IPC group and control group patients. We were also able to show that the benefit of IPC in reducing DVT was obviously available with intraoperative intervention only. This finding is of great importance since cutaneous complications, such as lower extremity skin lesions are a concern with IPC, leading to a major problem of compliance when patients are expected to wear IPC devices for several days postoperatively (23,24) .
D-dimer is a soluble degradation product generated from cross-linked fibrin, indicating secondary fibrinolysis hyperthyroidism (25). D-dimer testing has a low specificity, in that several factors, such as, tumor, surgical injury, anesthetic stimulation, and advanced age might result in the elevated levels of D-dimer, with the negative prediction value being higher than the positive prediction value (26,27). Therefore, it is not surprising that we did not observe significant difference in the changes of D-dimer levels between the IPC group and control group.
One major limitation of the present study was the inability to blind patients or clinicians when using physical interventions and performing ultrasound with regard to allocation due to the nature of the intervention. Also, due to the short duration of hospital stay of the patients, ultrasonography was performed only on day 2 post-operation, so that any DVT cases which might have developed later would have been missed.
In conclusion, our study demonstrated that intraoperative administration of IPC was effective for reducing DVT in lung cancer patients undergoing VATS. The effect was probably caused by improved blood flow in the lower extremities. This study will likely contribute to future clinical practice guidelines regarding thromboprophylaxis for lung cancer patients undergoing VATS.
---
Acknowledgments
The authors thank all the patients who participated in this study and the clinical managers and nurses who provided support.
Funding: This work was supported by funding from Shanghai Pulmonary Hospital (HL201704).
---
Footnote
Conflicts of Interest: The authors have no conflicts of interest to declare.
Ethical Statement: The authors are accountable for all aspects of the work in ensuring that questions related to the accuracy or integrity of any part of the work are appropriately investigated and resolved. The protocol was approved by the Institutional Review Board (IRB) of Shanghai Pulmonary Hospital (Tongji University) (No. K18-126). All participants signed the written informed consent.
---
References
Cite this article as: Wang X, Song S, Ni R, Lu M, Mao Y. Effectiveness of intraoperative administration of intermittent pneumatic compression in preventing deep vein thrombosis in lung cancer patients undergoing video-assisted thoracoscopic surgery lobectomy. J Thorac Dis 2019;11(7):2832-2838. doi: 10.21037/jtd.2019.07.07