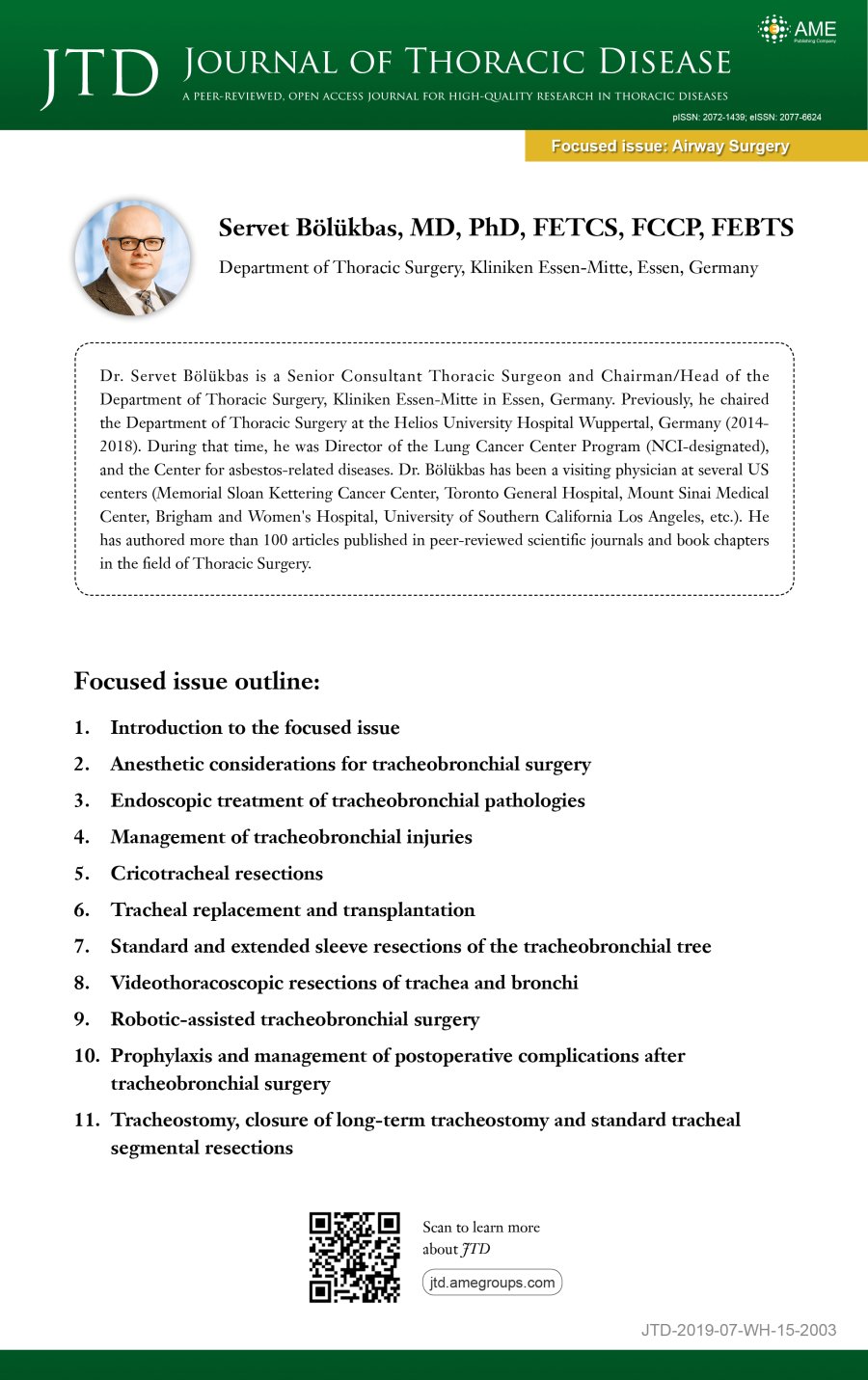 This focused issue on "Airway Surgery" is edited by Dr. Servet Bölükbas, from Department of Thoracic Surgery, Kliniken Essen-Mitte, Essen, Germany.
Dr. Servet Bölükbas is a Senior Consultant Thoracic Surgeon and Chairman/Head of the Department of Thoracic Surgery, Kliniken Essen-Mitte in Essen, Germany.Previously, he chaired the Department of Thoracic Surgery at the Helios University Hospital Wuppertal, Germany (2014-2018). During that time, he was Director of the Lung Cancer Center Program (NCI-designated), and the Center for asbestos-related diseases. Dr. Bölükbas has been a visiting physician at several US centers (Memorial Sloan Kettering Cancer Center, Toronto General Hospital, Mount Sinai Medical Center, Brigham and Women's Hospital, University of Southern California Los Angeles, etc.). He has authored more than 100 articles published in peer-reviewed scientific journals and book chapters in the field of Thoracic Surgery.
Focused issue outline:
Introduction to the focused issue
Anesthetic considerations for tracheobronchial surgery
Endoscopic treatment of tracheobronchial pathologies
Management of tracheobronchial injuries
Cricotracheal resections
Tracheal replacement and transplantation
Standard and extended sleeve resections of the tracheobronchial tree
Videothoracoscopic resections of trachea and bronchi
Robotic-assisted tracheobronchial surgery
Prophylaxis and management of postoperative complications after tracheobronchial surgery
Tracheostomy, closure of long-term tracheostomy and standard tracheal segmental resections
Disclosure:
The focused issue "Airway Surgery" was commissioned by the editorial office, Journal of Thoracic Disease without any funding or sponsorship. Servet Bölükbas is serving as the unpaid Guest Editor for the focused issue.