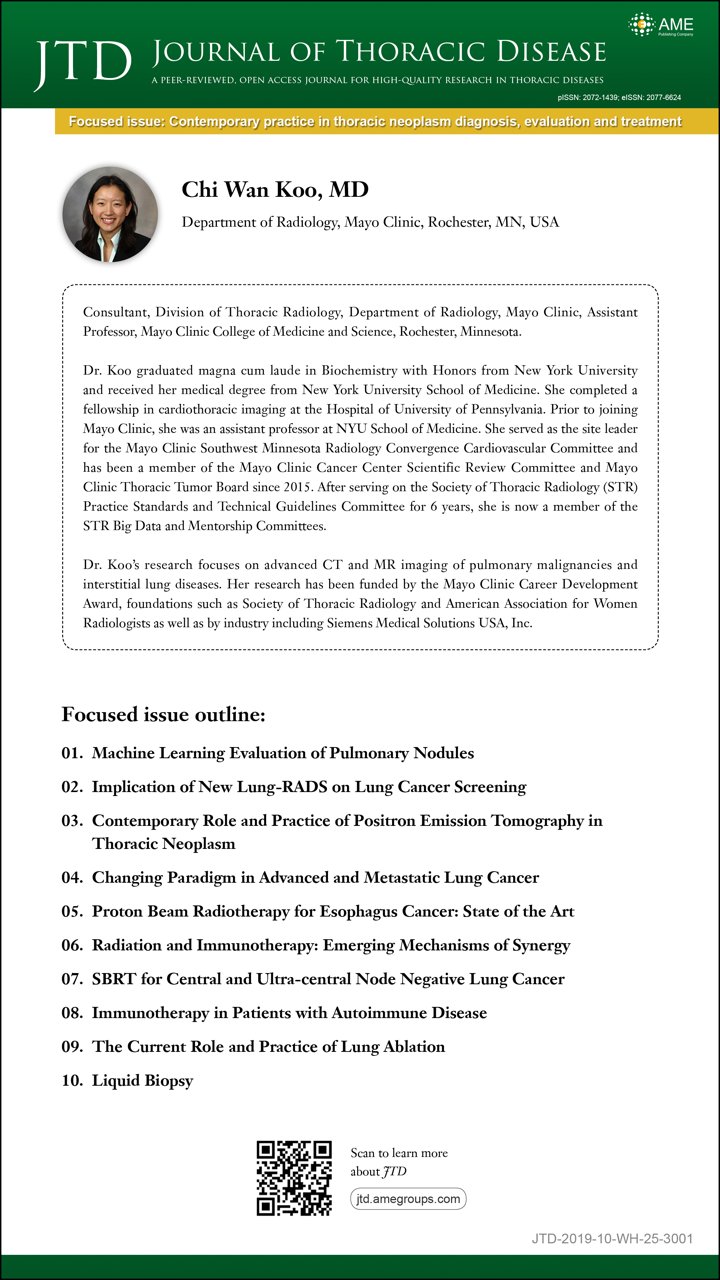 This focused issue on "Contemporary Practice in Thoracic Neoplasm Diagnosis, Evaluation and Treatment" is edited by Dr. Chi Wan Koo, from Department of Radiology, Mayo Clinic, Rochester, MN, USA.

This focused issue is designed to discuss contemporary practice in thoracic neoplasm diagnosis, evaluation and treatment. Complex and controversial issues that are on the minds of many will be addressed by experts such as yourself. This focused issue reviews recent literature, provides expert insight into current practice, and also identifies future directions for research.
Chi Wan Koo, MD
Department of Radiology, Mayo Clinic, Rochester, MN, USA
Dr. Koo graduated magna cum laude in Biochemistry with Honors from New York University and received her medical degree from New York University School of Medicine. She completed a fellowship in cardiothoracic imaging at the Hospital of University of Pennsylvania. Prior to joining Mayo Clinic, she was an assistant professor at NYU School of Medicine. She served as the site leader for the Mayo Clinic Southwest Minnesota Radiology Convergence Cardiovascular Committee and has been a member of the Mayo Clinic Cancer Center Scientific Review Committee and Mayo Clinic Thoracic Tumor Board since 2015. After serving on the Society of Thoracic Radiology (STR) Practice Standards and Technical Guidelines Committee for 6 years, she is now a member of the STR Big Data and Mentorship Committees.
Focused issue outline:
Machine learning evaluation of pulmonary nodules
Implication of new lung-rads on lung cancer screening
Contemporary role and practice of positron emission tomography in thoracic neoplasm
Changing paradigm in advanced and metastatic lung cancer
Proton beam radiotherapy for esophagus cancer: state of the art
Radiation and immunotherapy: emerging mechanisms of synergy
SBRT for central and ultra-central node negative lung cancer
Immunotherapy in patients with autoimmune disease
The current role and practice of lung ablation
Liquid biopsy