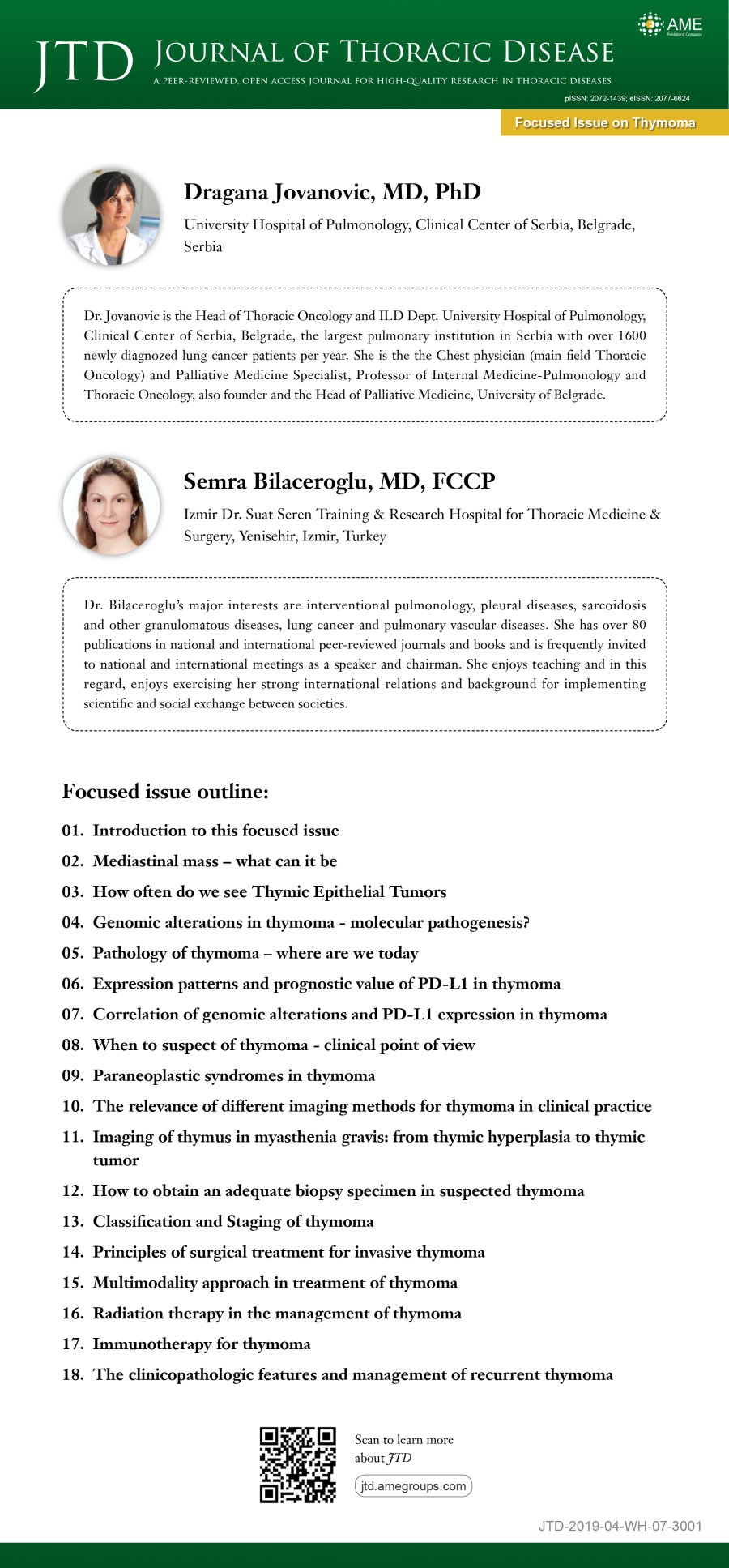 This focused issue on "Thymoma" is edited by Dr. Dragana Jovanovic, from University Hospital of Pulmonology, Clinical Center of Serbia, Belgrade, Serbia; and Dr. Semra Bilaceroglu, from Izmir Dr. Suat Seren Training & Research Hospital for Thoracic Medicine & Surgery, Yenisehir, Izmir, Turkey.
Dr. Jovanovic is the Head of Thoracic Oncology and ILD Dept. University Hospital of Pulmonology, Clinical Center of Serbia, Belgrade, the largest pulmonary institution in Serbia with over 1600 newly diagnozed lung cancer patients per year. She is the the Chest physician (main field Thoracic Oncology) and Palliative Medicine Specialist, Professor of Internal Medicine-Pulmonology and Thoracic Oncology, also founder and the Head of Palliative Medicine, University of Belgrade.
Dr. Bilaceroglu's major interests are interventional pulmonology, pleural diseases, sarcoidosis and other granulomatous diseases, lung cancer and pulmonary vascular diseases. She has over 80 publications in national and international peer-reviewed journals and books and is frequently invited to national and international meetings as a speaker and chairman. She enjoys teaching and in this regard, enjoys exercising her strong international relations and background for implementing scientific and social exchange between societies.
Focused issue outline:
Introduction to this focused issue
Mediastinal mass – what can it be
How often do we see Thymic Epithelial Tumors
Genomic alterations in thymoma - molecular pathogenesis?
Pathology of thymoma – where are we today
Expression patterns and prognostic value of PD-L1 in thymoma
Correlation of genomic alterations and PD-L1 expression in thymoma
When to suspect of thymoma - clinical point of view
Paraneoplastic syndromes in thymoma
The relevance of different imaging methods for thymoma in clinical practice
Imaging of thymus in myasthenia gravis: from thymic hyperplasia to thymic tumor
How to obtain an adequate biopsy specimen in suspected thymoma
Classification and Staging of thymoma
Principles of surgical treatment for invasive thymoma
Multimodality approach in treatment of thymoma
Radiation therapy in the management of thymoma
Immunotherapy for thymoma
The clinicopathologic features and management of recurrent thymoma
Disclosure:
The focused issue "Thymoma" was commissioned by the editorial office, Journal of Thoracic Disease without any funding or sponsorship. Dragana Jovanovic and Semra Bilaceroglu are serving as the unpaid Guest Editors for the focused issue.