Review Article
Multimodality imaging assessment of mitral valve anatomy in planning for mitral valve repair in secondary mitral regurgitation
Approximately 1.7% of the general US population suffers from mitral regurgitation (MR) (1). MR is classically subdivided into primary MR, due to degenerative or structural abnormalities of the mitral valve (MV) apparatus, or secondary MR which occurs as a consequence of other cardiac diseases, such as left ventricle (LV) dysfunction but, initially, without structural mitral leaflet abnormalities (2). Due to the greater prevalence of ischemic heart disease, secondary MR is much more frequent than primary valve disorders: indeed, secondary MR occurs in approximately 25% of patients following myocardial infarction, and in up to 50% in patients with heart failure, LV dysfunction, and cardiomyopathies (3-5). Development of secondary MR conveys worse prognosis for the patients and few therapeutic options, such as MV repair or MV replacement, are available in the context of severe symptomatic MR (5-11). However, it remains unclear which option provides the best results in this population (12-15), mainly because MV repair is associated with a higher rate of significant MR recurrence post-surgery (i.e., ~30% at 1-year and up to ~60% at 2-year) (16-18).
A comprehensive anatomic and hemodynamic evaluation of the MV apparatus and LV is mandatory to improve management and decision making in this population. This report reviews the normal MV anatomy, the underlying mechanisms of secondary MR and the related therapeutic options available, and finally, how multimodality imaging approach can be integrated and impact the management and decision making in patients with secondary MR. The usefulness and recent advances in echocardiography, cardiac magnetic resonance (CMR) imaging, computed tomography (CT) and positron emission tomography (PET) will be addressed.
---
Mitral valve anatomy
The mitral valve apparatus is a complex structure which includes the mitral annulus, two mitral valve leaflets (i.e., posterior and anterior leaflets), chordae tendinae and papillary muscles (PM) (19). A detailed knowledge of the anatomy of the MV apparatus components is mandatory to understand MV function, pathophysiological mechanisms involved in the development of secondary MR, as well as potential beneficial therapeutic options.
Mitral annulus
The mitral annulus is a D-shaped fibromuscular ring to which mitral valve leaflets are anchored (Figure 1). The normal annulus is elliptical and has a saddle shape, a configuration optimizing leaflet coaptation and minimizing leaflet stress (20-28). The anteromedial portion of the mitral annulus is continuous with the aortic annulus and is called the intervalvular fibrosa. This portion of the mitral annulus is also more rigid than the fibrous attachment of the posterior annulus. Hence, posterior annulus is more prone to dilate than anterior portion of the annulus (29).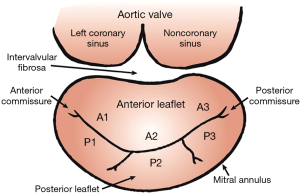 Figure 1 Mitral valve anatomy. Schematic representation of the mitral valve in the surgeon view. The mitral valve is composed of anterior and posterior leaflets subdivided into three scallops and joined by anterior and posterior commissures. Intervalvular fibrosa is the continuous junction between the mitral and aortic annulus.
Mitral leaflets
The mitral valve is composed by two leaflets, known as the anterior and posterior leaflets (Figure 1). Both leaflets are attached to the annulus and are joined at the posterior and anterior commissures. Leaflet redundancy (i.e., MV leaflets surface area > mitral annulus area) is critically important to allow coaptation and avoid valve incompetence (30,31).
The anterior leaflet is anchored to the fibrous portion of the annulus and is continuous with the aortic annulus. This leaflet is typically larger, longer and thicker than the posterior (30,32,33). The posterior leaflet has a longer attachment to the annulus than the anterior leaflet but a shorter radial length (30,32,33). The indentations of the posterior leaflet are used to define three scallops: anterolateral (P1), middle (P2) and posteromedial (P3) (Figure 1) (34). The anterior leaflet has no indentation and three segments (A1, A2 and A3) are defined by analogy with the posterior leaflets scallops (Figure 1) (34).
Subvalvular apparatus: chordae tendineae and PM
Chordae tendineae are thin fibrous structures, and mainly originate from the PM to attach to the MV leaflets (Figure 2) (35-37). They have central function by allowing coaptation and preventing leaflet prolapse or flail into the left atrium. The chordae tendineae can also be divided into three subtypes (35-38): the primary (marginal) chordae which attach at the free edge of the leaflets and support leaflet coaptation; the secondary (basal) chordae which attach to the anterior leaflet edge rough zone and throughout the posterior leaflet body; and the tertiary chordae which attach the base of the posterior leaflet to the myocardium and provide structural support.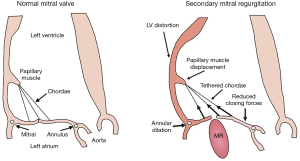 Figure 2 Mitral valve apparatus geometry in normal and secondary mitral regurgitation conditions. Schematic representation of the mitral valve apparatus including papillary muscle, chordae tendineae, mitral annulus. In the context of secondary mitral regurgitation, the distortion of the left ventricle (LV) due to ischemic or idiopathic cardiomyopathy results in papillary muscle displacement. This spatial change leads to increased tethering forces exerted by chordae on the mitral leaflets. The tethering of the mitral valve leaflets is associated with apical displacement of the coaptation zone, which in turn results in incomplete leaflet closure and secondary mitral regurgitation (MR). Annular dilation also participates to the process.
The primary and secondary chordae are attached to the LV via the PM. These PM are divided into anterolateral and posteromedial PM, according to their relationship to the mitral commissures, and originate from the apex at 1/3 of the LV (32). The anterolateral PM is the largest, has usually one body and two heads, and is supplied by the left circumflex artery and the left anterior descending artery (32). The posteromedial PM has usually two bodies and three heads, and is supplied, depending on dominance, by the right coronary artery or the left circumflex artery (32). Chordae equally originate from both PM and attach to both leaflets. PM contracts to maintain systolic special relationship of the MV apparatus relative to the LV structure.
---
Mitral valve in the context of secondary mitral regurgitation: mechanisms and therapeutic options
Mechanisms of Secondary MR
MR develops if the MV leaflets do not sufficiently cover the MV annulus orifice during systole (Figure 2). Two major etiologies for secondary MR are commonly described: ischemic LV dysfunction and non-ischemic dilated cardiomyopathy. Due to the increasing prevalence of coronary artery disease, ischemic etiology for secondary MR is much more frequent than the idiopathic cardiomyopathy.
Secondary MR results from distorted and remodeled LV which directly impact the spatial relationship between LV (and therefore the PM) and MV leaflets and annulus. This spatial deformation finally leads to leaflet malcoaptation and valve incompetency (Figure 2). The main mechanism underlying the development of MR has been described as the tethering of the MV leaflets, resulting from the LV remodeling and distortion (Figure 2) (5,39-41). Indeed, the lateral and apical PM displacement as a result of an adverse LV distortion and remodeling, secondarily affects the coaptation of the "structurally normal" MV and creates valve insufficiency. The subsequent apical displacement of the coaptation zone and the tethering of the leaflets lead to the development of secondary MR (Figure 2). In secondary MR, the tethering forces exerted by the chordae on the leaflets are increased while the closing forces are usually reducing due LV systolic dysfunction (Figure 2).
The PM displacement occurs as a result of global LV dilation/enlargement or as a consequence of a more focal LV remodeling following myocardial infarction, and therefore one or both PM can be affected. LV ejection fraction might be preserved in some cases when specific regional wall motion abnormalities with local and focused remodeling results in sufficient MV tethering to generate secondary MR (31,42-44). The resulting MV tethering is typically symmetric in the context of global and relatively homogeneous LV dysfunction and remodeling with increased LV sphericity, whereas asymmetric tethering mostly occurs following localized LV remodeling, mainly affecting posterior PM (45).
The mitral annulus enlargement and flattening, which usually occurs late in the process, also contributes to the development of secondary MR (Figure 2). This abnormal annulus shape, and in particular the loss of its saddle-shape configuration, results in an increased leaflet stress and further abnormal leaflet remodeling (31,46,47).
Interestingly, there is also an adaptive response of the mitral leaflets to chronic secondary MR (i.e., leaflet area growing up to 35%) in order to minimize MR (48-51). Insufficient mitral leaflets growing in response to the tethering forces can thus participate to the development of severe MR, even if by itself this phenomenon cannot completely compensate and balance the PM displacement and subsequent decreased coaptation length (48-51).
Although infrequent, secondary MR can also be the result of left atrium enlargement with or without atrial fibrillation (52). In this case, the annulus dilation causes secondary MR without MV tenting or prolapse in patients with preserved LV function.
Therapeutic strategies
Secondary MR is a powerful predictor of outcomes, such as all-cause mortality, heart transplant and/or heart failure hospitalization (5,17,53-55). In addition to the first line optimal guideline-directed medical therapy (GDMT) for heart failure, cardiac resynchronization therapy and/or coronary revascularization when appropriated, the guidelines recommend surgery to correct MR for patients with severe symptomatic secondary MR (9,10). However, the approach of treating secondary MR remains a matter of debate in the community as the benefit of correcting MR in a primary LV-based disease is not obvious and conflicting results have been published regarding its benefit to prolong life, improve symptoms and quality of life (9,10,12-14,16-18,39,56-62).
The first steps in the decision making should be to confirm the severity of MR and the symptomatic status. When the severity of MR and symptoms are corroborated, physician faces dilemma regarding the therapeutic strategy to use. There are two surgical options available and recommended in the guidelines for patients with severe symptomatic secondary MR: MV repair or MV chordal-sparing replacement (9,10). The MV repair procedure addresses annular dilation by placing an undersized ring to restore leaflet coaptation. The size of the ring implanted during surgery is determined according to the dimension of the anterior leaflet. MV replacement consists in removing the MV and replacing it by either a mechanical or bioprosthetic valve, with complete chordae preservation. Whether one or the other strategy is better in the population with severe secondary MR is uncertain given the lack of clear clinical evidence (15,17,18,62-69). MV repair is regularly associated with lower peri-operative mortality whereas replacement provides better long-term correction with significant lower risk of recurrent MR. The recent clinical trial conducted by the Cardiothoracic Surgical Trials Network (CTSN) in patients with severe ischemic MR concluded there was no difference in term of LV remodeling or clinical outcomes at 1-year when comparing both surgical procedures even if the rate of recurrent MR is significantly higher in the MV repair group (17). This adverse result of MV annuloplasty was previously highlighted in several other retrospective publications looking at the outcomes of MV repair procedures in secondary MR (16). Finally, at 2-year following restrictive ring annuloplasty, the rate of recurrent MR in the CTSN trial increased to 59% of the surviving patients who underwent MV repair (18). The clinical outcomes remained similar in both groups, except for a higher rate of hospitalization for heart failure in patients with MV repair at 2-year (18). Taken together, the findings from the only randomized clinical trial performed in this population suggests that MV replacement would be a better option than MV repair given the lower rate of MR recurrence and the similar or even better mid-term clinical outcomes (i.e., rate of hospitalisation) (17,18). Hence, in the most recent update of the guidelines from the American College of Cardiology/American Heart Association (ACC/AHA), the following new recommendation was made: "it is reasonable to choose chordal-sparing MVR over downsized annuloplasty repair" (Class IIa, LOE B-R), although the use of MV repair remained a Class IIb recommendation (LOE B) (10).
However, it is important to note that in the CTSN trial, patients who underwent durable ring annuloplasty (i.e., without MR recurrence) had better reverse LV remodeling as opposed to the patients with significant MR recurrence after MV repair or those who underwent MV replacement (LV end-systolic volume index at 1-year: 47±23 vs. 64±24 or 61±32 mL/m2, respectively; both P<0.05) (17). These findings emphasize: (I) the potential benefice of durable MV repair as compared to chordal-sparing MV replacement; (II) the need to identify the good candidate for MV repair.
Moreover, and in order to enhance the results of surgical MV repair, additional interventions to the standard mitral valve annuloplasty have been developed in the last decade and provide promising results regarding outcomes in patients with secondary MR. The PM relocation procedures, such as sling procedure and PM approximation, chordae cutting or chordae "Cut-and-transfer" technique have been used with good results regarding recurrent rate of MR, positive LV remodeling, improvement of quality of life and symptomatic status (70-82). Other approaches directly addressing the ventricular problem and thus focused on LV wall remodeling have also been experimentally tested but without translation to patient care (83-85). Importantly, to date large clinical trials are needed to clearly demonstrate the clinical benefice of these procedures on clinical outcomes and LV remodeling following MV repair, as well as to determine which patients will benefit of these additional interventions.
Finally, in patients with moderate-severe secondary MR who are judged inoperable or at high surgical risk, percutaneous mitral valve intervention (percutaneous edge-to-edge repair) may be considered in order to improve symptoms and quality of life, although evidence of the improvement of clinical status or outcomes was only demonstrated on clinical registry but not in randomized trial (9,86-91).
By pooling these information, treatment of patients with secondary MR appears difficult: physicians face complex situation regarding decision making, as well as to determine the best surgical or percutaneous approach needed for a particular patient. In this context, approach integrating comprehensive multimodality imaging evaluation to the clinical data will significantly enhance the understanding of the particular patient disease and thus participate to the individualized clinical decision and planning of the right interventional strategy.
---
Multimodality imaging in secondary mitral regurgitation
Imaging plays a central role for the evaluation of valvular heart diseases and especially in patients with secondary MR. By using them as the first tool to determine severity of MR, as well as describe the anatomy and function of the MV apparatus and LV, multiple imaging modalities provide important data necessary for the decision making and the planning of the surgical or percutaneous intervention in patients with secondary MR.
A multimodality imaging approach integrating echocardiography, CMR, CT and PET scan, provides comprehensive hemodynamic, anatomic and functional evaluation of patients with secondary MR. All the complementary data coming from each imaging modality can be integrated to facilitate decision making, as well as guide the optimal approach for the patient. Several studies looking at the use of imaging to address this clinical dilemma have been published, and some recent advances in imaging will also provide, in a near future, new interesting data for planning MV intervention in the population with secondary MR.
Echocardiography
Echocardiography is the cornerstone of the diagnostic and evaluation of patients with secondary MR, transthoracic echocardiography (TTE) and transesophageal echocardiography (TEE) playing a complementary role. TTE is mainly used for hemodynamic evaluation (i.e., valve regurgitations, pulmonary artery pressure, stroke volume, etc.), as well as assessment of ventricular and atrial geometry and function, while TEE is mostly used for the anatomic evaluation of the MV apparatus. The integration of 2D multi-planar and 3D imaging from both TTE and TEE is required to provide comprehensive anatomic and hemodynamic evaluation of patients with secondary MR (9,10,92,93). This approach will be useful to guide surgical or percutaneous intervention and determine the best option for the patients with severe symptomatic secondary MR.
Evaluation of MR severity
The strong relationship between MR severity and outcomes highlights the assessment of MR severity as a central part for the clinical work-up and decision making in patients with secondary MR (5,9,10,92,94). The recent updated guidelines from the American Society of Echocardiography (ASE) recommend an integrated approach including quantitative, semi- quantitative and qualitative measures to determine the degree of secondary MR, finally classified as mild, moderate and severe (9,10,92).
The color Doppler methods are the most commonly used to quantify MR and include the assessment of the distal MR jet area/left atrium area ratio, the vena contracta width and the proximal isovolumetric surface area (PISA) to derive effective regurgitant orifice area (EROA), regurgitant volume and regurgitant fraction (9,10,92). According to the 2017 updates of the ASE and AHA/ACC guidelines (10,92), the cut-offs used to determine severe MR in patient with secondary MR are now similar to the ones used for primary MR: MR jet area/left atrium area ratio >50%, vena contracta width ≥0.7 cm, EROA ≥0.40 cm2, regurgitant volume ≥60 mL and regurgitant fraction ≥50% (Table 1) (92). Hoverer, some factors can limit the reliability of the assessment of severity of MR using the color Doppler methods, such as (but not limited to) loading conditions, eccentric or multiple or non-holosystolic MR jet, non-hemispherical PISA, and non-circular regurgitant orifice (92).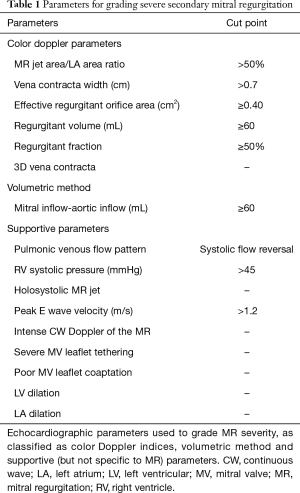 Table 1
Parameters for grading severe secondary mitral regurgitation
Full table
The volumetric method can also be used considering there is no other valve regurgitation to determine the degree of MR severity: the difference between the mitral inflow (or the pulmonic inflow) and the aortic inflow quantitates the mitral regurgitant volume (Table 1) (92).
Several other supportive parameters can also be integrated to corroborate the presence of severe MR (92): the pulmonary venous flow pattern (i.e., systolic flow reversal), the right ventricular systolic pressure, the holosystolic MR jet, the peak E wave velocity and the intense continuous wave Doppler of the MR, as well as few geometrical factors of the MV apparatus and the LV (i.e., apically tethered leaflets, LV and left atrium enlargement) (Table 1). Some of these factors are not specific for severe MR and should be interpreted in the context of the complete evaluation of the patients.
Finally, the use of 3D echocardiography is recommended to overpass some of the pitfalls encountered with 2D examination: the 3D color acquisition of MR allows the direct planimetry of the vena contracta (i.e., regurgitant orifice area) and therefore optimizes the assessment of MR in the context of non-hemispherical PISA shells and multiple jets (Table 1) (19,92,95-101). Recent method proposes to use 3D color Doppler to measure mitral inflow and LV outflow tract stroke volume to determine regurgitant volume and fraction (102).
Due to the intrinsic limitations and relative imprecision of each measure of the MR severity, an integrative approach using multiple echocardiographic parameters is strongly recommended to grade MR severity (Table 1) (10,92,103).
Determining the likelihood of a successful MV intervention
As previously discussed, the choice of the best approach to treat patients with severe symptomatic secondary MR is crucial. Several 2D echocardiographic parameters, as well as some from 3D analysis, available from both TTE and TEE, have been described to stratify risk of patients and guide decision making. These parameters fall into two categories: echocardiographic indices describing MV leaflet tethering and those reflecting the degree of LV remodeling and distortion. Degree of leaflets tethering, quantitated by the precise evaluation of the altered MV morphology in patients with secondary MR, has been associated with failure of MV repair (i.e., MV annuloplasty with significant recurrent MR). Specific echocardiographic indices derived from 2D TTE and TEE as well as 3D TEE modeling, have been identified in several retrospective studies performed in the last decade (Figure 3, Table 2): the posterior and/or anterior leaflet angles, the mitral annulus dimensions and spatial conformation, the posterior displacement of the mitral leaflet coaptation, the tenting area and/or volume, the tethering length and height (43,104-111). The most commonly used cut-offs to determine high degree of MV tethering, and thus high risk of MV repair failure, are the following: posterior leaflet angle >45º, anterior leaflet angle >25º, tenting area ≥2.5 cm2, and the tenting height ≥11 mm (Figure 3, Table 2) (9,112).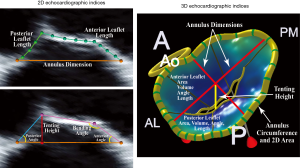 Figure 3 Echocardiographic evaluation of the mitral valve morphology. Standard indices derived from 2D and 3D echocardiography to assess mitral valve morphology. 2D echocardiographic indices are measured on apical 4-chamber (or 3-chamber) and included annulus dimension, anterior and posterior leaflet lengths and angles, bending angle and tenting height. 3D echocardiographic indices are measured from transesophageal echocardiography and included annulus dimensions and circumference, annulus 2D area, anterior and posterior leaflet area/volume/angle/length, and tenting height. A, anterior; AL, anterolateral; Ao, aorta; P, posterior; PM, posteromedial.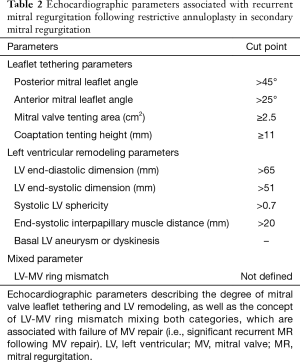 Table 2
Echocardiographic parameters associated with recurrent mitral regurgitation following restrictive annuloplasty in secondary mitral regurgitation
Full table
The quantification of the degree of LV remodeling and distortion and its localization also provides complementary data for the planning of MV intervention. The LV end-diastolic and end-systolic dimensions and volumes, sphericity index, LV ejection fraction, and end-systolic interpapillary muscle distance have been associated with recurrence of MR following MV annuloplasty (Table 2) (39,83,106,113-116). The most commonly used cut-offs are LV end-diastolic dimension >65 mm, LV end-systolic dimension >51 mm, systolic sphericity index >0.7, and end-systolic interpapillary muscle distance >20 mm (Table 2) (9). Rather than the global LV ejection fraction, LV parameters, such as LV strain assessed by speckle-tracking method, can provide more precise evaluation of the mechanisms involved in LV remodeling and dysfunction and identify regional LV sections more likely to be involved in the disease process (117-119).
However, the majority of the studies looking at MV repair failure were single center studies with retrospective analyses and had relatively small sample of patients. In a recent substudy from the CTSN trial focused on the 116 patients with severe ischemic MR who underwent MV repair, Kron et al. reported that basal LV aneurysm or dyskinesis is the most powerful predictor of recurrent MR over a 2-year follow-up post annuloplasty (Figure 4, Table 2) (120). It is important to note that in this clinical randomized trial, all echocardiographies were reviewed in a central echocardiographic laboratory, but the identification of a basal aneurysm can be variably interpreted and dependent on imaging technique. More recently, an analysis pooling the data from the two randomized CTSN trials including patients with moderate and severe MR undergoing restrictive MV annuloplasty, defined a new concept called "LV-MV ring mismatch" to predict recurrent MR following ring annuloplasty (Figure 5, Table 2) (121). This LV-MV ring mismatch is clinically measured as the ratio of LV end-systolic dimensions by the size of the ring. In this large cohort of patients (n=214), LV end-systolic dimension relative to the implanted ring size was the main parameter associated with significant recurrence of MR at 1-year following the restrictive annuloplasty. Interestingly, this measure of the dissociation between the normal spatial relationship between LV and MV apparatus is a simple and reproducible measure that can be applied widely in the clinical setting (i.e., it can be readily determined in the operative room) and can guide the decision making and the choice of the most likely successful intervention (Figure 5). This concept integrates mechanistic principles associated with recurrent MR post MV repair from both LV remodeling and MV tethering.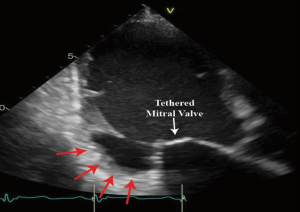 Figure 4 Echocardiographic example of basal left ventricular aneurysm. Basal left ventricular (LV) aneurysm (red arrows) in patients with secondary mitral regurgitation and tethered mitral valve.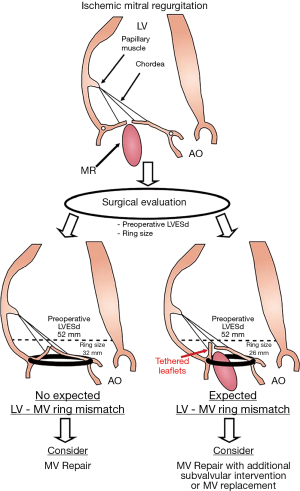 Figure 5
Left ventricular to mitral valve ring mismatch concept and clinical implication to treat patients with secondary mitral regurgitation. Proposed algorithm for applying left ventricular-mitral valve (LV-MV) ring mismatch concept to define patients at high risk for recurrence of mitral regurgitation (MR) post restrictive annuloplasty. Reproduced with permission from Capoulade
et al.
,
Circulation
, 2016 (
121
).
However, further larger investigations are needed to confirm the association observed in the context of the CTSN trials and to determine the best option for the patient when a risk of LV-MV ring mismatch is identified.
As discussed, additional subvalvular interventions have been used to enhance the result of the standard restrictive annuloplasty. However, though preliminary results are promising, larger clinical investigations are needed in patients with secondary MR to confirm the clinical benefit of these techniques and to identify the target population. Indeed, it is reasonable to think that subvalvular approaches will not be feasible and will not provide clinical benefit in all patients, and that for some of them, MV replacement will remain the best surgical option. Clinical studies using comprehensive echocardiographic evaluation will provide these complementary data.
In the subset of high risk or inoperable patients with symptomatic severe secondary MR, percutaneous edge to edge mitral valve repair can be offered to improve symptoms. As in pre-surgical screening, a comprehensive evaluation of the MV apparatus morphology, based on echocardiography, is the cornerstone to ensure efficient MR reduction post procedure and increase the success of this percutaneous intervention. As defined in the first randomized clinical trial looking at the edge to edge MV repair technique, the echocardiographic evaluation is mainly focused on two parameters used to identify eligible patients to the percutaneous procedure: a residual coaptation length between anterior and posterior MV leaflets ≥2 mm and a tenting height (or coaptation depth) <11 mm (122). Moreover, the main MR jet must be preferentially located at the center of the MV, between A2 and P2 leaflets, and the mobile length of the posterior leaflet must remain ≥7 mm. Few other indices can be used to identify technically challenging conditions, exposing to insufficient MR reduction and lower success rate: the presence of pericommissural jets, advanced MV leaflets tethering with malcoaptation and severe gap >2 mm, and very severe grades of MR with an EROA >0.71 cm2 (123,124). Similar to the standard surgical approaches, advanced heart failure and LV remodeling are also associated with poor procedural outcomes: in several registries, enlarged and dysfunctional LV, defined by LV ejection fraction <30%, LV end-diastolic volume >270 mL and LV end-systolic volume >110 mL, as well as severe tricuspid regurgitation and/or right ventricular dysfunction, have been identified as predictor of poor outcomes despite MR correction following percutaneous procedure (125-128).
Viable myocardium is more likely to positively remodel following revascularisation: the identification of patients with myocardial viability, based on comprehensive stress echocardiography analysis, provides additive data to guide intervention and determine its potential success rate (117,129,130). Indeed, the reverse LV remodeling post intervention leads to reduce MV tethering which in turn reduce the risk of valve incompetency. In the absence of myocardium viability, MV replacement might be recommended to reduce the risk of progressive LV remodeling and continuously development of MV tethering leading to recurrent MR post intervention.
Finally, given the recent and intense technical improvement in 3D echocardiography, several new and innovative approaches to assess MV and LV morphology and shape need to be highlighted. These advances provide interesting perspectives to enhance risk stratification and guide decision making in patient with secondary MR. Sophisticated analysis of 3D echocardiographic acquisition focused on the MV apparatus provides potential relevant data regarding MV leaflet tenting imaging (37,47,111). Of interest, the development of the 3D MV mapping of the leaflet tenting height allows assessment of the regional degree of MV tethering, and the localization of the highest values provides mechanistic insights for improving MV repair procedures (Figure 6). The variance in the tethering pattern observed in physiological condition in patients with secondary MR might be further used to determine the best approach of MV repair: the more tethered section of the leaflet can identify the chordae leading to the highest tethering and thus potentially highlight the one susceptible to be addressed by surgical approaches, such as chordae cutting. Moreover, the advances in 3D quantification of the LV morphology and function can also be helpful in describing the regional problem as opposed to the more global indices provided by 2D analysis and thus identify more precise section of the LV which further affects tethering of the valve (131). Even though promising data have been available recently, the clinical usefulness of these new approaches to quantitate altered MV apparatus and LV morphology need to be deeply investigated to determine their clinical benefit in terms of risk stratification and help in decision making for the patients with secondary MR.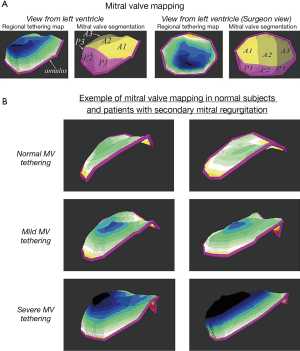 Figure 6 Mitral valve topography based on 3D echocardiography. Advanced 3D mitral valve (MV) analysis to assess regional degree of MV tethering. Development of the regional tethering map and MV segmentation (A). Example of MV mapping in normal subjects and patients with secondary mitral regurgitation (B).
Cardiac magnetic resonance (CMR)
CMR offers a useful alternative modality to evaluate myocardial structure anatomy and function, given its good spatial resolution (but limited temporal resolution). The cine sequences, and particularly steady-state free-precession (SSFP), allow excellent delineation between blood and myocardium, increasing the reliability of the quantification of cardiac chamber and volume. CMR also provides the ability to directly assess flow using through-plane velocity-encoded sequences and thus evaluates the severity of secondary MR. This imaging modality can be helpful in risk stratification and decision making, though its clinical use for routine work-up remains limited by availabilities, cost and device incompatibility, as well as exam duration.
Comprehensive LV evaluation
As discussed above, quantification of LV remodeling and function is central in the management process of patients with secondary MR. Therefore, CMR provides advantages regarding accuracy and reproducibility to determine degree of LV remodeling as compared to echocardiography (132-134). Several indices or parameters related to the assessment of LV may be more powerful to stratify risk and guide interventional approaches in secondary MR when measured and quantified by CMR as opposed to echocardiography. However, further clinical studies are necessary to confirm the additive value of a CMR-based evaluation of LV remodeling and function. In addition, CMR also provides complementary data not available by echocardiography on LV structure: CMR allows the quantification of the degree of LV fibrosis and the LV deformation or strain.
The LV fibrosis is categorized as diffuse (or interstitial) fibrosis and focal (or replacement) fibrosis. The diffuse fibrosis is the consequence of an increase in collagen synthesis by myofibroblasts following specific stimuli, such as volume overload in patients with secondary MR, and precedes irreversible replacement fibrosis (135-139). The focal fibrosis corresponds to the irreversible replacement of myocytes after cell damage or necrosis by type I collagen, and is typically detectable in the mid-wall area of the myocardium (Figure 7) (140). LV fibrosis is also known to be associated with increased risk of outcomes in patients with ischemic and non-ischemic cardiomyopathies (141-143). The quantification of the degree of focal fibrosis is typically done using the late-gadolinium enhancement (LGE) CMR sequence. As opposed to the focal fibrosis, diffuse fibrosis remains undetectable by LGE but can be estimated using T1 relaxation time mapping derived from the Modified Look-Locker Inversion Recovery (MOLLI) sequences (144,145). The contrast-enhanced T1 mapping provides quantification of the degree of extracellular volume (ECV): an increase in ECV is used as a marker of interstitial fibrosis (146). Importantly, the extent of fibrosis, focal and/or diffuse, determines in part the likelihood of positive remodeling in response to treatment, suggesting that fibrosis might be used for risk stratification and decision making (147-151). Therefore, the extend and progression of cardiac fibrosis, as a consequence of myocardial infarction and/or chronic volume overload in patients with secondary MR, could be used as risk marker in this population: the benefit of intervention may be variable according to the presence and amount of fibrosis, as well as its progression over time. In the context of extensive fibrosis, the likelihood of positive remodeling post MV repair leading to reduced MV tethering may be lower and MV replacement could thus be considered as best option. Although clinical studies are still necessary to confirm the usefulness of this approach, CMR might provide interesting complementary data helpful in the decision process and follow-up of complex patients, by providing non-invasive and potentially serial evaluation of cardiac fibrosis.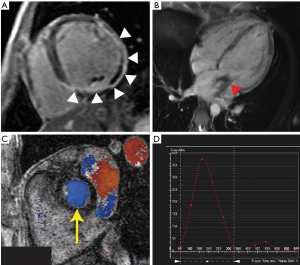 Figure 7 Fibrotic scar and mitral regurgitation evaluation by cardiac magnetic resonance. (A,B) A large non-viable fibrotic scar secondary to myocardial infarction in the lateral and inferior medial and basal segments (A: white arrows head) in patients with secondary mitral regurgitation (B: red arrow head; MR jet). (C,D) Indirect method to quantify mitral regurgitation by cardiac magnetic resonance imaging: in the absence of aortic regurgitation, mitral regurgitation is quantified by the difference between left ventricular flow and aortic flow assessed using phase-contrast sequence (C: yellow arrow) and the analysis of the flow time plot (D).
CMR tagging techniques allow precise evaluation of the myocardial motion (152-156). This myocardial strain derived from CMR provides complementary and more precise evaluation of LV function than simple LV ejection fraction. While several studies have been published on the usefulness of CMR tagging on multiple cardiac diseases, the potential benefit of this approach may significantly improve risk stratification and decision making in patients with secondary MR. Importantly and especially in patients with ischemic secondary MR, the LV is not affected uniformly: only small localized region of the myocardium can be impacted, making global measures less sensitive in these patients. The regional heterogeneity in LV remodeling and function observed in patients with secondary MR results in important differences in MV tethering: a localized LV remodeling and dysfunction can generate important tethering of the valve despite relatively preserved global LV shape and function. Similarly, the presence of fibrosis and/or reduced strain in the area of the PM as opposed to another section of the LV will lead to different degree of MV tethering. According to regional remodeling and the localization of fibrosis and LV dysfunction, the success of the intervention will be dramatically different. The comprehensive analysis of CMR exam including global and regional evaluation of LV remodeling, function and fibrosis, should be integrated in the decision making process in order to define optimal therapeutically approach for patients with secondary MR.
Mitral valve apparatus characterization
CMR has good spatial resolution allowing potential high-quality characterization of MV apparatus morphology. Indeed, parameters measured by echocardiography might also be derived from standard CMR cine images. Taking advantages of the high spatial resolution, a more precise characterization should be feasible, especially regarding the evaluation of the spatial relationship of the PM and chordae with MV leaflets and annulus. However, even if it is promising, only few studies have used CMR to assess MV morphology (none in patients with secondary MR) (157-159), and further data have to be generated to validate and corroborate the usefulness and additive value of these CMR indices in the context of secondary MR.
CMR for the evaluation of MR severity
The assessment of the degree of secondary MR by CMR can be done following different approaches that can be divided into two categories: direct and indirect evaluation of the secondary MR (160). The direct methods are based on the velocity-encoded sequences (phase-contrast images): the contour of the regurgitant jet on phase-contrast images acquired at the level of the MV provides direct quantification of mitral regurgitation volume (160). Indirect quantifications of MV regurgitant volume can be done following different approaches (Figure 7) (98,160-164): (I) the difference in the stroke volume by LV volumetric method (i.e., difference in end-diastolic and end- systolic LV volumes determined on short axis cine images) and aortic or pulmonary artery stroke volume by phase-contrast imaging; (II) the difference in LV and RV stroke volumes by volumetric method; (III) the difference in mitral inflow stroke volume across the MV and the aortic or pulmonary forward stroke volume by phase-contrast imaging. However, several aspects can limit the application of MR quantification by CMR: the presence of multiple valve diseases or cardiac shunts, multiplicity of the tracing introducing variability, phase offset error on the phase-contrast sequences, and unidirectional recording of the velocity with phase-contrast. A recent prospective study including 103 patients with MR has highlighted a modest agreement between CMR and echocardiography to assess severity of MR and a correlation between post-surgical LV remodeling and MR severity as assessed by CMR, whereas not when MR severity was assessed by echocardiography (165). Further validation studies comparing CMR and echocardiography will be necessary to identify the role of CMR for MR quantification. One should also note the recent development of 4D flow phase-contrast sequences which overpass the latter limitation of 2D phase-contrast imaging, but these approaches are still in the validation processes (166,167).
CT
Compared to echocardiography and CMR, CT has the highest spatial resolution in 3D, with high contract between structures, allowing assessment of LV remodeling and function, as well as MV apparatus morphology (168,169). Using the volumetric approach, it is also possible to determine the degree of MR by CT, such measurements being limited in case of multiple valve lesions (170). CT is also limited for the quantification of fibrosis, even though a recent study demonstrates that post-contrast CT with spectral-CT may provide accurate ECV assessment (171). Additional data are still needed to validate this technique of fibrosis quantification by CT. Finally, CT is also limited regarding the exposition of the patient to radiation, as opposed to echocardiography or CMR. Overall, in patients with secondary MR, CT evaluation will require the use of an alternative imaging modality in most of cases. CT may thus be considered as the last resort in the context of secondary MR, or be considered at the time of the exploration of coronary arteries before surgery.
PET
Nuclear imaging modality, such as PET scan, presents the highest sensitivity to identify viable myocardium, independently of its contractile status (172-176). Using 18fluorin-deoxyglucose (FDG), a tracer reflecting glucose utilization, quantification of the FDG uptake by the myocardium is used as a marker of myocardial viability (Figure 8). This viability is associated with significant LV reverse remodeling, improvement of LV function, New York Heart Association functional class and exercise capacity, as well as better outcomes (176-182), and can thus be used to stratify risk of patients with secondary MR in which surgical or transcatheter intervention is planned. Patients with secondary MR and viable myocardium who undergo revascularisation at the time of MV intervention, have a better likelihood of LV positive remodeling and thus reduced tethering of MV following MV intervention.

Figure 8 Assessment of myocardial viability by positron emission tomography. 18F-FDG PET scan in a patient with severe LV dysfunction in the context of ischemic cardiomyopathy associated with severe secondary mitral regurgitation and 3-vessel disease. Tomographic and polar plot representations showed significant myocardial viability in the lateral, anterior and antero-septal walls driving the therapeutic strategy to coronary artery bypass graft + MV repair. FDG, 18fluorin-deoxyglucose; PET, positron emission tomography; LV, left ventricular; MV, mitral valve.
---
Conclusions
By integrating echocardiography, CMR, CT and PET scan, a comprehensive evaluation of patients with secondary MR can be performed, allowing the assessment of the severity of MR and the anatomy of the MV and LV, as well as the presence of fibrosis and viable myocardium. A multimodality imaging approach to evaluate patients with secondary MR has the clinically ability to improve management and decision making in this population.
---
Acknowledgements
R Capoulade is supported by a post-doctoral fellowship grant from the Lefoulon-Delalande Foundation – Institut de France, Paris, France.
---
Footnote
Conflicts of Interest: N Piriou has served as consultant for Abbott Vascular and has received fees. The other authors have reported no relationship to disclose.
---
References
Cite this article as: Capoulade R, Piriou N, Serfaty JM, Le Tourneau T. Multimodality imaging assessment of mitral valve anatomy in planning for mitral valve repair in secondary mitral regurgitation. J Thorac Dis 2017;9(Suppl 7):S640-S660. doi: 10.21037/jtd.2017.06.99