Review Article
Treatment of advanced non small cell lung cancer
Division of Medical Oncology, "S.G. Moscati" Hospital, Avellino, Italy
Abstract
Lung cancer is the major cause of cancer death in the world. Non Small Cell Lung Cancer (NSCLC) accounts approximately 80-85% of all lung cancer diagnosis; the majority of patients will be diagnosed with non operable, advanced-stage disease. Palliative chemotherapy and/or radiotherapy represent the standard of care of this disease. Platinum based doublets with third generation agents are considered the standard of first line advanced NSCLC treatment. However, data arising from the availability of pemetrexed suggest that histology could play a key role in decision making. Advances in understanding of the molecular pathogenesis of lung cancer have led to the identification of several specific targets such as vascular endothelial growth factor (VEGF) and epidermal growth factor receptor (EGFR) for therapeutic agents. Bevacizumab is the first recombinant humanized monoclonal antibody (mAb) binding VEGF to demonstrate clinical benefit and a rather survival prolongation in combination with chemotherapy in the treatment of non squamous chemo-naive advanced NSCLC patients. Two types of anti-EGFR targeting agents have reached advanced clinical development: mAbs and small molecule inhibitors of the EGFR tyrosine kinase enzymatic activity (TKIs). Among TKIs gefitinib has been tested in several phase II-III studies showing an improvement in survival and responses in first, second and third line treatment in selected patients with specific clinical and molecular characteristics. Furthermore, erlotinib has showed to significantly improve survival in an unselected population of patients following the failure of one or two chemotherapy regimens. This review will discuss the different therapeutic options for first and second line treatment in the clinical practice.
Key words
non small cell lung cancer; pemetrexed; bevacizumab; erlotinib; gefitinib
J Thorac Dis 2011;3:122-133. DOI: 10.3978/j.issn.2072-1439.2010.12.08
Introduction
Non-small cell lung cancer (NSCLC) is the leading cause of cancer-related death in the world. NSCLC is a heterogeneous aggregate of histologies, including squamous cell carcinoma, adenocarcinoma and large cell carcinoma, its represents approximately 80% to 85% of all lung cancers (
1
). While public awareness of this cancer and its associated early warning signs has improved along with the increasing use of screening techniques, the majority of patients will have advanced-stage non operable disease at the time of diagnosis.
The aim of treatment, in this setting of disease, is to slow down the progression of the disease, to relieve the patients from the lung cancer symptoms and, whenever possible, to increase the overall survival (OS). In first line treatment doublets containing platinum compounds represent the standard of care in advanced NSCLC, reporting a response rate (RR) racing from 20% to 35% with a median survival time (MST) of about 10 months (
2
). However, most patients receiving front-line chemotherapy experience disease progression. The availability of several new active drugs in second-line treatment suggests that this strategy can now be considered a standard of care for patients with a good performance status (PS) who progressed to first-line treatment. The chemotherapeutic agents docetaxel and pemetrexed and the biologic agent erlotinib are now available in clinical practice. The major progresses in the understanding cancer biology and mechanism of oncogenesis have allowed to identify several potential molecular targets for cancer treatment such as vascular endotelial growth factor (VEGF) and its receptors (VEGFRs) and epidermal growth factor receptor (EGFR).
Bevacizumab, an anti-VEGF recombinant humanized mAb, and the EGFR small molecules inhibitors such as gefitinib and erlotinib are now available in clinical practice in first or second-line treatment.
This review will discuss the current status of first and second line treatment in the management of advanced NSCLC patients.
First line treatment of advanced NSCLC
The role of chemotherapy in clinical practice
Based on these data pemetrexed in combination with cisplatin has been granted as first-line treatment of patients with advanced NSCLC other than predominantly squamous cell histology.
The important role of EGFR activating mutations suggests the relevance of patient selection to identify which could gain interesting clinical benefit by erlotinib as front-line therapy.
In a recent phase III trial (OPTIMAL) EGFR mutated Asian NSCLC patients were randomly assigned to receive erlotinib or "doublet" combination chemotherapy of gemcitabine and carboplatin. The PFS in erlotinib arm was 13.1 compared to 4.6 months in chemotherapy arm and a higher RR was also achieved in erlotinib arm (83% vs 36% respectively). Subgroup analysis showed a consistent benefit with erlotinib regardless of histology, smoking history, age, sex, and disease stage.
An impor tant prospective phase III ongoing tr ial (EURTAC) will evaluate the efficacy of erlotinib compared with chemotherapy in advanced caucasian NSCLC patients harbouring EGFR gene mutations. The final results of this trial are expected next year.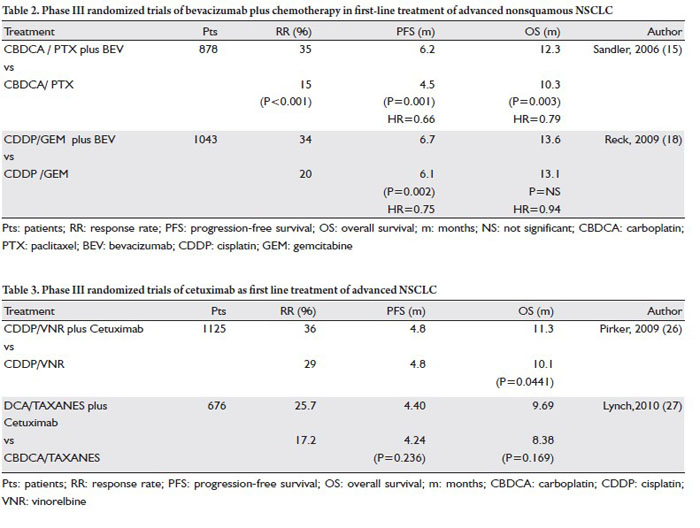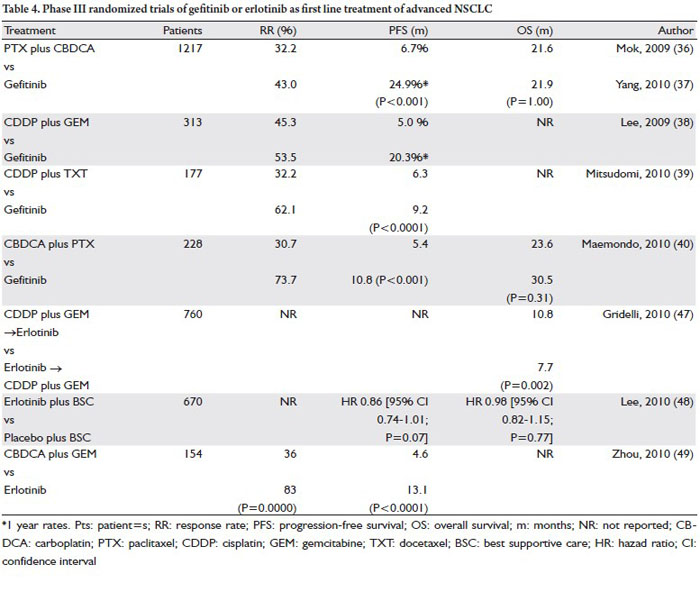 Second-line treatment in advanced non small cell lung cancer
After or during first-line treatment several NSCLC patients have experience of disease progression with a limited life expectancy. Numerous variables such as disease-related symptoms, residual toxicity of previous chemotherapy, and co morbid diseases, could compromised the QoL. Life expectancy of these patients is largely dependent on their PS at the start of second-line treatment.
Based on the results of these two phase III trials docetaxel was the first drug to be approved for second-line treatment of advanced NSCLC.
A meta-analysis based on individual data from patients enrolled in five randomized trials has compared the efficacy of the two different schedules of docetaxel for second-line treatment of NSCLC. No survival difference between the two schedules, with a HR estimate of only 1.09, has been observed. This analysis confirms a significantly different toxicity profile between the two schedules of docetaxel as febrile neutropenia that is significantly lower with weekly schedule.
A large multicenter, randomized phase III trial (INTEREST), has compared gefitinib versus docetaxel in previuosly treated advanced NSCLC patients.
The results overall were very similar for the two treatments: MST for docetaxel-treated patients was 8.0 months compared to 7.6 months for patients receiving gefitinib (HR 1.020); 1-year survival rate was 34% and 32%, respectively. The RR was slightly higher with gefitinib, 9.1% vs 7.6%.
The superiority of gefitinib in patients with high EGFR-gene-copy number (co-primary endpoint) was not met (72 vs 71 events; HR 1.09, P=0.62; MST 8.4 vs 7.5 months).
In both trials, gefitinib provided RR around 25% and median PFS around 2 to 3 months representing in unselected East Asian patients the general treatment outcomes.
Gefitinib use is not actually approved by regulatory agencies in the second line treatment of unselected NSCLC patients.
Conclusion
In the last few years, relevant advances have been reached in advanced NSCLC treatment. Platinum-based chemotherapy is the standard of treatment for the majority of patients, however new chemotherapy drugs and targeted agents have expanded treatment options for this disease. Recent evidences suggest that histology represents an important variable in decision making. In fact, in first line treatment of non-squamous NSCLC patients, bevacizumab and pemetrexed have improved outcomes and modified treatment algorithms, while fewer therapeutic options are actually available for squamous histology patients which could be treated with chemotherapy containing platinum plus a third generation cytotoxic agent.
The identification of several factors, including both the genetic profile of the patients and the biological characteristics of the disease could guide the clinician's choice.
Considering the excellent benefit and better safety profile of gefitinib in patients with tumours harboring EGFR-mutations, it could represents the standard in first- line treatment for this subgroup of patients while erlotinib is waiting for the regulatory agencies approval.
Several agents are actually approved for the second line treatment, the choice of second line treatment is based on histological and biological characteristics of the tumor, PS of patients and on the drugs already used in first line.
In addition, novel cytotoxic agents are in clinical development including new platinum analogs such as picoplatin (a cisplatin analog), ABT-751 (a sulfonamide) and tubulin binding agents (TBAs) such as the epothilones. New targeted agents and their combinations with chemotherapy agents are also being explored in clinical research in hopes to improve treatment options for advanced NSCLC patients. Future challenges involve identifying predictors of response and efficacy for targeted therapies and selecting the optimal therapy for maximum survival benefit in.
References
Cite this article as: Bareschino MA, Schettino C, Rossi A, Maione P, Sacco PC, Zeppa R, Gridelli C. Treatment of advanced non small cell lung cancer. J Thorac Dis 2011;3(2):122-133. doi: 10.3978/j.issn.2072-1439.2010.12.08