Guideline
The Society for Translational Medicine: clinical practice guidelines for the postoperative management of chest tube for patients undergoing lobectomy
Introduction
The appropriate postoperative management of chest tubes seems to influence chest tube duration, hospital length of stay, healthcare costs and helps to reduce pain and ventilatory function (1). However, there is lack of evidence-based consensus on the postoperative management of chest tubes as this is largely based on individual protocols from surgeons and nurses. In 2011, ESTS, AATS, STS, and GTSC published a collaborative proposal based on available evidence and panel experience (2). Since then several new studies have been conducted in this field and consensus guidelines should therefore be updated. The Society for Translational Medicine and The Chinese Society for Thoracic and Cardiovascular Surgery conducted a systematic review of the literature as an attempt to improve our understanding on the postoperative management of chest tube in patients undergoing lobectomy based on current published data.
---
Methods
A systematic review of electronic databases including PubMed, Scopus and ISI Web of science was performed by using the following searching strategy: ((chest tube[Title/Abstract] AND Clinical Trial[ptyp])) AND ((((lung resection[Title/Abstract]) OR lobectomy[Title/Abstract]) OR pulmonary resection[Title/Abstract]) AND Clinical Trial[ptyp]). The initial search revealed 56 citations. Additional studies were added following an expert opinion.
The quality of evidence and recommendations were produced adopting a grading system as reported by the American College of Physicians Task Force (Table 1) (3,4). The recommendations were first drafted by one author (Z.Z) and then were reviewed by a panel of experts in the field. Any disparities were settled with discussions.
---
Results
Timing of chest tube removal after lobectomy
There is no sufficient evidence on the timing of chest tube removal after lobectomy. Physiologically, daily pleural fluid filtration is estimated to be 350 mL, hence, many authors suggest removing them when daily recorded drainage volume is less than 300 mL. Others suggest that chest tube removal is safe with a higher threshold of 400–450 mL/day (5-7). One retrospective study, involving 2,077 patients, showed that chest tube removal is acceptable with up to 450 mL/day non-chylous drainage (8). Bjerregaard et al. removed chest tubes with a daily fluid production of 500 mL, and experienced recurrence of effusion requiring re-intervention in 17 patients (2.8%) (9). However, other study showed that chest drains can be safely removed without fluid criteria and air leak of less than 20 mL/min with median drain duration of 1 day, associated with a reduced length of hospital stay (10). However, these studies are either prospective observational or retrospective and the results need to be confirmed in clinical trials.
More recently, randomized controlled trials have shown a benefit in early chest tube removal with accepted daily fluid volumes of 300 mL compared to 100 mL (11,12). In these studies early chest tube removal did not show any increase in the rate of pleural effusions or the need for drainage. Sample sizes are, however, limited in these studies (n=70). Furthermore, the study was not of high quality and key elements of RCT such as allocation concealment, blinding and power calculation were not fully addressed (11).
Another RCT randomizing 150 patients to thresholds of 150, 300 and 450 mL/day showed significantly shorter chest tube duration with increasing volume threshold up to 450 mL/day. However, almost 20% (10/51) of patients in the highest threshold group underwent thoracentesis for hydrothorax (13). Authors therefore conclude that a threshold of 300 mL/day is feasible and safe without increasing the risk of thoracentesis or prolonging hospital stay.
An additional point for deciding on the timing of chest tube removal seems to be the chemical profile of the pleural fluid. A recent RCT has showed that pleural fluid-to-blood protein ratio (PrRP/B) of less than 0.5 is a good indicator of safe chest tube removal (14). Furthermore chest tube removal can only occur when the output is non-hematic and non-chylous.
Recommendations
Chest tubes can be removed safely with daily pleural fluid of up to 450 (non-hematic, non-chylous), which may reduce chest tube duration and hospital length of stay (2B).
Use of PrRP/B <0.5 to determine removal of chest tube might be beneficial (2B).
Number of chest tubes
Conventional textbooks often recommend the use of two chest tubes after lobectomy. Various combinations of apical and basal tubes have been advocated with unjustified evidence regarding safe drainage of air and fluid from the pleural space. However, there is no strong evidence that two chest tubes are superior to one chest tube (15-18). A consensus guideline was published five years ago recommending the use of one chest tube (2). According to the clinical evidences, the use of 2 chest tubes currently appears to be reasonable when a bilobectomy is performed, to allow a complete lung re-expansion, avoiding the risk of pleural spaces development, which is intrinsically present in this surgical procedure. A recent RCT, comparing patients with one or two chest tubes following lobectomy, demonstrated that there was no statistically significant difference in thoracentesis, the number of cases with pleurodesis, the amount and duration of drainage or the pain of the patients between one-tube and two-tube groups (19). The authors concluded that a single chest tube had advantages in cost savings and hospital length of stay, and was favorable compared to two tubes (18). However, in situations of hemorrhage and space problem, more number of tubes may be required. Also, it is important to differentiated between one tube is required versus most air leaks are contained with one tube.
Recommendation
One chest tube is adequate following pulmonary lobectomy (2A).
Chest tube clearance
Chest tube clearance by milking or stripping to promote drainage of the thoracic cavity is a routine practice in cardiac surgery. This technique is employed mainly to dislodge clots in the system by temporarily creating a high negative pressure and increase vacuum within the tube (20). In Thoracic Surgery, this technique was introduced historically in patients who had drainage of empyemas. Early studies highlighted the importance to drain blood clots after thoracic surgery (21).
Subsequently, several studies questioned the effectiveness of chest tube milking after cardiac surgery (22-25). These showed that chest tube stripping did not result in better outcomes. Only one RCT has been identified involving patients undergoing pulmonary lobectomy. This has shown no difference in the extend of pleural effusion identified by X-ray, postoperative air leak, chest tube blockage, morbidity and mortality (26).
Recommendation
Chest tube clearance by milking and stripping offers no advantages in patients after lobectomy (2B).
Chest tube suction following pulmonary lobectomy
Suctioning of chest tubes has the theoretical advantage of improving apposition of visceral pleura to the parietal pleura. Furthermore it may alleviate progressive subcutaneous emphysema (27). However, the persistent high negative intrathoracic pressure may also maintain the airflow through an alveolar pleural fistula (28). There are several studies which have investigated the effectiveness of chest tube suction on reducing air leak duration (28-38). Furthermore, three systematic review and meta-analyses were performed in this area (29,38,39). Collectively, these studies showed that external suction had no advantage over simple water seal in terms of incidence of persistent air leak, drainage time, length of postoperative hospital stay, and postoperative pneumothorax. However, these studies are based on traditional drainage systems which have shown high variability in maintaining preset intrathoracic pressure (40), and therefore conclusions may have limited value on digital drainage systems . Furthermore only two studies showed superiority of water seal compared to suctioning (28,30), and results need to be confirmed in a modern thoracic setting.
Modern digital drainage systems are able to detect air leaks accurately and maintain preset intrathoracic pressure ("regulated pressure"). One recent RCT showed that regulated seal (−2 cmH2O) was safe and effective compared to regulated tailored suction (where the suction varied according to the type of lobectomy from −11 to −20 cmH2O) for patients undergoing lobectomy by thoracotomy when analysing duration of air leak (41). In this study the level of pressure in both the regulated suction and regulated seal groups were maintained stable using an electronic device.
Recommendations
Routine chest tube suction offers no advantage for patients undergoing lobectomy, and may only be indicated in case of progressive subcutaneous emphysema (2A).
Regulated seal is as effective as regulated suction (−11 to −20 cmH2O, depending on the type of lobectomy) when an electronic drainage system to maintain preset intrathoracic pressure is used after lobectomy by thoracotomy (2B).
Techniques to remove chest tubes
There is no evidence based consensus on the correct timing through the respiratory cycle, when a chest tube can safely be removed; hence, tubes are removed either on full inspiration or expiration, with or without assisted Valsalva maneuver, depending on surgeon preference and service tradition. The pressure at the end of expiration is close to 0 cmH2O compared to end of inspiration which is close to −8 cmH2O. The objective is the prevention of pneumothorax following chest tube removal. Two RCTs compared the outcome following chest tube removal based on the timing within the respiratory cycle (38,39). Bell and coworkers concluded that removal of chest tubes at the end of inspiration or at the end of expiration had a similar rate of post-removal pneumothorax (42). In contrast, Cerfolio and coworkers found that removal of chest tubes at full expiration resulted in a lower incidence of pneumothorax than at the end of inspiration (19% vs. 32%, P=0.007) (43). However, only 5 (3%) in the inspiration group vs. 2 (1%) in the expiration group required intervention (P=0.78). This evidence suggests that chest tube removal at the end of inspiration or at the end of expiration results in similar patient-important clinical outcomes. What matters is to offer a standardized technique with patient coordination.
Recommendation
There is no clear evidence indicating when during the respiratory cycle the chest tube should be removed (2A).
Electronic drainage system
Electronic drainage systems are able to quantify air leak and intrathoracic pressure for patients following lobectomy, thereby providing objective standards for chest tube removal. The systems have demonstrated the ability to reduce inter-observer variations and thus standardise the decision to remove chest tubes (44,45).
We identified seven RCTs comparing traditional drainage devices with electronic devices, as summarized in Table 2. The most commonly used electronic system in these studies was the Thopaz® (Medela AG, Baar, Switzerland) (46,51,52). Other electronic drainage systems were used with sample sizes ranging between 61 and 381 patients. Most patients had undergone elective pulmonary resection, but those with pneumonectomy were excluded. One study included patients with moderate COPD undergoing lobectomy (47). Electronic drainage system was found to reduce chest tube duration and length of hospital stay in 5 studies (8,46-48,52). Other studies reported shortened chest tube duration and hospital length of stay but statistical significance was not reached (45,51). Electronic drainage systems were found to be associated with lower total cost and improved satisfaction from nurses and patients (45,47,48,52). However, one recent study found that "although digital devices decreased tube clamping trials, the impact on duration of chest tube drainage and hospital stay was not statistically significant, even after stratifying by postoperative air leak status" (54). Collectively, an electronic drainage system is a useful tool for the management of postoperative chest tubes in patients undergoing lobectomy.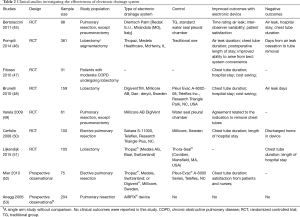 Table 2
Clinical studies investigating the effectiveness of electronic drainage system
Full table
Recommendation
Electronic drainage systems are recommended in the management of chest tube in patients undergoing elective lobectomy, as it helps reducing the clinical variability of its management (1B).
---
Summary
The postoperative management of chest tubes in patients undergoing lobectomy cannot be emphasized enough. The present study aimed to provide the most up to date evidence and recommendations for the management of chest tubes. Overall, the sample sizes in randomized controlled trials were relatively small and conclusions should be further tested in larger multicenter trials.
There is no doubt that the Thoracic Surgical community increasingly utilizes a fast track approach with early removal of chest tubes and overall reduction of number of chest tubes utilized following pulmonary resection.
There is currently a well-evidenced interest in the use of digital drainage systems with validated effectiveness through several trials.
---
Acknowledgements
The authors would like to thank the secretaries Grace S. Li (Science Editor, The Society for Translational Medicine. Email: lsl@amegroups.com) and Maxine Y. Feng (Science Editor, The Society for Translational Medicine. Email: fengyp@amegroups.com) for their help and comments on this guideline.
---
Footnote
Conflicts of Interest: The authors have no conflicts of interest to declare.
---
References
Refai M, Brunelli A, Salati M, et al. The impact of chest tube removal on pain and pulmonary function after pulmonary resection. Eur J Cardiothorac Surg 2012;41:820-2; discussion 823. [Crossref] [PubMed]
Brunelli A, Beretta E, Cassivi SD, et al. Consensus definitions to promote an evidence-based approach to management of the pleural space. A collaborative proposal by ESTS, AATS, STS, and GTSC. Eur J Cardiothorac Surg 2011;40:291-7. [Crossref] [PubMed]
Guyatt G, Gutterman D, Baumann MH, et al. Grading strength of recommendations and quality of evidence in clinical guidelines: report from an American college of chest physicians task force. Chest 2006;129:174-81. [Crossref] [PubMed]
Atkins D, Best D, Briss PA, et al. Grading quality of evidence and strength of recommendations. BMJ 2004;328:1490. [Crossref] [PubMed]
Cerfolio RJ, Varela G, Brunelli A. Digital and smart chest drainage systems to monitor air leaks: the birth of a new era? Thorac Surg Clin 2010;20:413-20. [Crossref] [PubMed]
Bertholet JW, Joosten JJ, Keemers-Gels ME, et al. Chest tube management following pulmonary lobectomy: change of protocol results in fewer air leaks. Interact Cardiovasc Thorac Surg 2011;12:28-31. [Crossref] [PubMed]
Nakanishi R, Fujino Y, Yamashita T, et al. A prospective study of the association between drainage volume within 24 hours after thoracoscopic lobectomy and postoperative morbidity. J Thorac Cardiovasc Surg 2009;137:1394-9. [Crossref] [PubMed]
Cerfolio RJ, Bryant AS. Results of a prospective algorithm to remove chest tubes after pulmonary resection with high output. J Thorac Cardiovasc Surg 2008;135:269-73. [Crossref] [PubMed]
Bjerregaard LS, Jensen K, Petersen RH, et al. Early chest tube removal after video-assisted thoracic surgery lobectomy with serous fluid production up to 500 ml/day. Eur J Cardiothorac Surg 2014;45:241-6. [Crossref] [PubMed]
Mesa-Guzman M, Periklis P, Niwaz Z, et al. Determining optimal fluid and air leak cut off values for chest drain management in general thoracic surgery. J Thorac Dis 2015;7:2053-7. [PubMed]
Zhang Y, Li H, Hu B, et al. Early removal of the chest tube after lobectomies: a prospective randomized control study. Zhonghua Wai Ke Za Zhi 2013;51:533-7. [PubMed]
Zhang Y, Li H, Hu B, et al. A prospective randomized single-blind control study of volume threshold for chest tube removal following lobectomy. World J Surg 2014;38:60-7. [Crossref] [PubMed]
Xie HY, Xu K, Tang JX, et al. A prospective randomized, controlled trial deems a drainage of 300 ml/day safe before removal of the last chest drain after video-assisted thoracoscopic surgery lobectomy. Interact Cardiovasc Thorac Surg 2015;21:200-5. [Crossref] [PubMed]
Olgac G, Cosgun T, Vayvada M, et al. Low protein content of drainage fluid is a good predictor for earlier chest tube removal after lobectomy. Interact Cardiovasc Thorac Surg 2014;19:650-5. [Crossref] [PubMed]
Okur E, Baysungur V, Tezel C, et al. Comparison of the single or double chest tube applications after pulmonary lobectomies. Eur J Cardiothorac Surg 2009;35:32-5; discussion 35-6. [Crossref] [PubMed]
Alex J, Ansari J, Bahalkar P, et al. Comparison of the immediate postoperative outcome of using the conventional two drains versus a single drain after lobectomy. Ann Thorac Surg 2003;76:1046-9. [Crossref] [PubMed]
Gómez-Caro A, Roca MJ, Torres J, et al. Successful use of a single chest drain postlobectomy instead of two classical drains: a randomized study. Eur J Cardiothorac Surg 2006;29:562-6. [Crossref] [PubMed]
Pawelczyk K, Marciniak M, Kacprzak G, et al. One or two drains after lobectomy? A comparison of both methods in the immediate postoperative period. Thorac Cardiovasc Surg 2007;55:313-6. [Crossref] [PubMed]
Tanaka M, Sagawa M, Usuda K, et al. Postoperative drainage with one chest tube is appropriate for pulmonary lobectomy: a randomized trial. Tohoku J Exp Med 2014;232:55-61. [Crossref] [PubMed]
Gross SB. Current challenges, concepts, and controversies in chest tube management. AACN Clin Issues Crit Care Nurs 1993;4:260-75. [Crossref] [PubMed]
Oakes LL, Hinds P, Rao B, et al. Chest tube stripping in pediatric oncology patients: an experimental study. Am J Crit Care 1993;2:293-301. [PubMed]
Lim-Levy F, Babler SA, De Groot-Kosolcharoen J, et al. Is milking and stripping chest tubes really necessary? Ann Thorac Surg 1986;42:77-80. [Crossref] [PubMed]
Pierce JD, Piazza D, Naftel DC. Effects of two chest tube clearance protocols on drainage in patients after myocardial revascularization surgery. Heart Lung 1991;20:125-30. [PubMed]
Isaacson JJ, George LT, Brewer MJ. The effect of chest tube manipulation on mediastinal drainage. Heart Lung 1986;15:601-5. [PubMed]
Charnock Y, Evans D. Nursing management of chest drains: a systematic review. Aust Crit Care 2001;14:156-60. [Crossref] [PubMed]
Dango S, Sienel W, Passlick B, et al. Impact of chest tube clearance on postoperative morbidity after thoracotomy: results of a prospective, randomised trial. Eur J Cardiothorac Surg 2010;37:51-5. [Crossref] [PubMed]
Management of Subcutaneous Emphysema After Pulmonary Resection. Ann Thorac Surg 2008;85:1759-63. [Crossref] [PubMed]
Cerfolio RJ, Bass C, Katholi CR. Prospective randomized trial compares suction versus water seal for air leaks. Ann Thorac Surg 2001;71:1613-7. [Crossref] [PubMed]
Coughlin SM, Emmerton-Coughlin HMA, Malthaner R. Management of chest tubes after pulmonary resection: a systematic review and meta-analysis. Can J Surg 2012;55:264-70. [Crossref] [PubMed]
Marshall MB, Deeb ME, Bleier JI, et al. Suction vs water seal after pulmonary resection: a randomized prospective study. Chest 2002;121:831-5. [Crossref] [PubMed]
Alphonso N, Tan C, Utley M, et al. A prospective randomized controlled trial of suction versus non-suction to the under-water seal drains following lung resection. Eur J Cardiothorac Surg 2005;27:391-4. [Crossref] [PubMed]
Ayed AK. Suction versus water seal after thoracoscopy for primary spontaneous pneumothorax: prospective randomized study. Ann Thorac Surg 2003;75:1593-6. [Crossref] [PubMed]
Brunelli A, Monteverde M, Borri A, et al. Comparison of water seal and suction after pulmonary lobectomy: a prospective, randomized trial. Ann Thorac Surg 2004;77:1932-7; discussion 1937.
Brunelli A, Sabbatini A, Xiumé F, et al. Alternate suction reduces prolonged air leak after pulmonary lobectomy: a randomized comparison versus water seal. Ann Thorac Surg 2005;80:1052-5. [Crossref] [PubMed]
Lang P, Manickavasagar M, Burdett C, et al. Suction on chest drains following lung resection: evidence and practice are not aligned. Eur J Cardiothorac Surg 2016;49:611-6. [Crossref] [PubMed]
Kakhki AD, Pooya M, Pejhan S, et al. Effect of chest tube suction on air-leak following lung resection. Tanaffos 2006;5:37-43.
Prokakis C, Koletsis EN, Apostolakis E, et al. Routine Suction of Intercostal Drains Is Not Necessary After Lobectomy: A Prospective Randomized Trial. World J Surg 2008;32:2336-42. [Crossref] [PubMed]
Qiu T, Shen Y, Wang MZ, et al. External Suction versus Water Seal after Selective Pulmonary Resection for Lung Neoplasm: A Systematic Review. Biondi-Zoccai G, editor. PLoS One 2013;8:e68087.
Deng B, Tan QY, Zhao YP, et al. Suction or non-suction to the underwater seal drains following pulmonary operation: meta-analysis of randomised controlled trials. Eur J Cardiothorac Surg 2010;38:210-5. [Crossref] [PubMed]
Refai M, Brunelli A, Varela G, et al. The values of intrapleural pressure before the removal of chest tube in non-complicated pulmonary lobectomies. Eur J Cardiothorac Surg 2012;41:831-3. [Crossref] [PubMed]
Brunelli A, Salati M, Pompili C, et al. Regulated tailored suction vs regulated seal: a prospective randomized trial on air leak duration. Eur J Cardiothorac Surg 2013;43:899-904. [Crossref] [PubMed]
Bell RL, Ovadia P, Abdullah F, et al. Chest tube removal: end-inspiration or end-expiration? J Trauma 2001;50:674-7. [Crossref] [PubMed]
Cerfolio RJ, Bryant AS, Skylizard L, et al. Optimal technique for the removal of chest tubes after pulmonary resection. J Thorac Cardiovasc Surg 2013;145:1535-9. [Crossref] [PubMed]
Varela G, Jimenez MF, Novoa N. Portable chest drainage systems and outpatient chest tube management. Thorac Surg Clin 2010;20:421-6. [Crossref] [PubMed]
Bertolaccini L, Rizzardi G, Filice MJ, et al. "Six sigma approach" - an objective strategy in digital assessment of postoperative air leaks: a prospective randomised study. Eur J Cardiothorac Surg 2011;39:e128-32. [Crossref] [PubMed]
Pompili C, Detterbeck F, Papagiannopoulos K, et al. Multicenter international randomized comparison of objective and subjective outcomes between electronic and traditional chest drainage systems. Ann Thorac Surg 2014;98:490-6; discussion 496-7. [Crossref] [PubMed]
Filosso PL, Ruffini E, Solidoro P, et al. Digital air leak monitoring after lobectomy for primary lung cancer in patients with moderate COPD: can a fast-tracking algorithm reduce postoperative costs and complications? J Cardiovasc Surg (Torino) 2010;51:429-33. [PubMed]
Brunelli A, Salati M, Refai M, et al. Evaluation of a new chest tube removal protocol using digital air leak monitoring after lobectomy: a prospective randomised trial. Eur J Cardiothorac Surg 2010;37:56-60. [Crossref] [PubMed]
Varela G, Jimenez MF, Novoa NM, et al. Postoperative chest tube management: measuring air leak using an electronic device decreases variability in the clinical practice. Eur J Cardiothorac Surg 2009;35:28-31. [Crossref] [PubMed]
Cerfolio RJ, Bryant AS. The benefits of continuous and digital air leak assessment after elective pulmonary resection: a prospective study. Ann Thorac Surg 2008;86:396-401. [Crossref] [PubMed]
Lijkendijk M, Licht PB, Neckelmann K. Electronic versus traditional chest tube drainage following lobectomy: a randomized trial. Eur J Cardiothorac Surg 2015;48:893-8; discussion 898. [Crossref] [PubMed]
Mier JM, Molins L, Fibla JJ. The benefits of digital air leak assessment after pulmonary resection: prospective and comparative study. Cir Esp 2010;87:385-9. [Crossref] [PubMed]
Anegg U, Lindenmann J, Matzi V, et al. AIRFIX: the first digital postoperative chest tube airflowmetry--a novel method to quantify air leakage after lung resection. Eur J Cardiothorac Surg 2006;29:867-72. [Crossref] [PubMed]
Cite this article as: Gao S, Zhang Z, Aragón J, Brunelli A, Cassivi S, Chai Y, Chen C, Chen C, Chen G, Chen H, Chen JS, Cooke DT, Downs JB, Falcoz PE, Fang W, Filosso PL, Fu X, Force SD, Garutti MI, Gonzalez-Rivas D, Gossot D, Hansen HJ, He J, He J, Holbek BL, Hu J, Huang Y, Ibrahim M, Imperatori A, Ismail M, Jiang G, Jiang H, Jiang Z, Kim HK, Li D, Li G, Li H, Li Q, Li X, Li Y, Li Z, Lim E, Liu CC, Liu D, Liu L, Liu Y, Lobdell KW, Ma H, Mao W, Mao Y, Mou J, Ng CS, Novoa NM, Petersen RH, Oizumi H, Papagiannopoulos K, Pompili C, Qiao G, Refai M, Rocco G, Ruffini E, Salati M, Seguin-Givelet A, Sihoe AD, Tan L, Tan Q, Tong T, Tsakiridis K, Venuta F, Veronesi G, Villamizar N, Wang H, Wang Q, Wang R, Wang S, Wright GM, Xie D, Xue Q, Xue T, Xu L, Xu S, Xu S, Yan T, Yu F, Yu Z, Zhang C, Zhang L, Zhang T, Zhang X, Zhao X, Zhao X, Zhi X, Zhou Q. The Society for Translational Medicine: clinical practice guidelines for the postoperative management of chest tube for patients undergoing lobectomy. J Thorac Dis 2017;9(9):3255-3264. doi: 10.21037/jtd.2017.08.165