Review Article
Next generation immune-checkpoints for cancer therapy
Introduction
In the last decade, cancer immunotherapy has positively revolutionized outcomes and basic concepts of oncological treatments. Most of such breakthroughs are due to the discovery and therapeutic modulation of key immune-regulatory molecules (checkpoints) at the interface between immune effectors and tumor microenvironment (1). Monoclonal antibodies blocking the inhibitory checkpoints CTLA-4 and PD-1 (or the corresponding ligand PD-L1) were the first to enter the clinical arena with impressive results, initially confined to metastatic melanoma and now progressively extending to multiple tumor settings like lung, kidney, bladder, head and neck cancers (2-8). The underlying biological concept exploited by these treatments is to unleash a potentially effective antitumor adaptive immune response that has been inhibited by tumor adaptive-resistance expedients. Even considering the important clinical successes obtained by the "first generation" of checkpoint inhibitors (CI), a relevant rate of patients has unsatisfactory responses or relapses following an initial clinical benefit. A profound, progressive exploration of the complex regulatory interactions among the heterogeneous protagonists of the anticancer immune response is absolutely necessary to understand issues of resistance/relapse and plan rational innovative counteractive strategies. It is now clear that multiple modulatory checkpoints, either inhibitory of stimulatory, play important or situational roles providing multiple new appealing targets for innovative modulatory/therapeutic strategies (9,10). Their initial exploration is starting in clinical trials with promising initial results and with possibly exciting perspectives offered by combinatorial opportunities. A summary of the main emerging immune-checkpoints with their functional role is reported in Figure 1.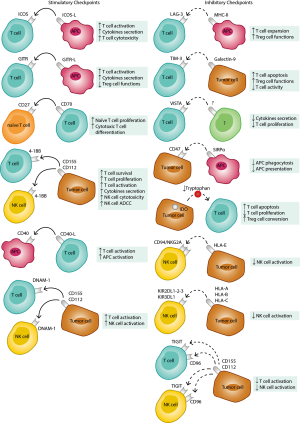 Figure 1 Main stimulatory and inhibitory checkpoints, immune cells involved and principal regulatory function. Stimulatory interactions are marked by solid arrows while inhibitory interactions are marked by dashed arrows. Up arrows highlight function increase while down arrows highlight function decrease. GITR, glucocorticoid-induced TNF receptor-related gene; TNF, tumor necrosis factor; GITR-L, glucocorticoid-induced TNF receptor-related gene ligand; LAG-3, lymphocyte activation gene-3; MHC, major histocompatibility complex; HLA, human leucocyte antigen; TIM-3, T-cell immunoglobulin and mucin domain 3; ICOS, inducible T-cell costimulator; ICOS-L, inducible T-cell costimulator ligand; TIGIT, T cell Immunoglobulin and ITIM domain; VISTA, V-domain Ig suppressor of T-cell activation; IDO, indoleamine-2,3-dioxygenase; KIR, killer immunoglobulin-like receptor; SIRPα, signal-regulatory protein alpha; DNAM-1, DNAX Accessory Molecule-1; NK, natural killer; APC, antigen-presenting cell; Tregs, regulatory T cells; ADCC, antibody dependent cellular cytotoxicity.
Here we review the main "new potential targets" for immunotherapy, focusing on emerging regulatory molecules that may be involved at different levels of the complex antitumor immune response, either with "positive" or "negative" functions. We aim to provide an overview with insights in their biological role, evidence of function and perspective clinical exploitation.
---
Stimulatory checkpoints
Beside the well-known negative modulatory axes given by CTLA-4/B7 and PD-1/PD-L1, the induction of effective adaptive and innate immune response is regulated by a panel of activatory signals. They are mainly mediated by co-stimulatory molecules that are often transitorily expressed following the first T-cell receptor (TCR) activation. They are usually either members of immunoglobulin superfamily or tumor necrosis factor (TNF) receptors (TNFR). The discovery of such co-stimulatory modulators has prompted the preclinical and clinical testing of agonistic antibodies that hold promises in several tumor settings, especially if combined with a simultaneous blocking of inhibitory checkpoints.
ICOS
ICOS is a member of the CD28 family of B7 binding proteins. It is relatively low expressed by naïve unstimulated T lymphocytes, while its expression is enhanced upon T cell activation. The designated ligand (ICOS-L; B7-H2) is mainly expressed by dendritic cells and macrophages but also a direct expression by tumors has been reported (11-19). The binding of ICOS with such ligand determines T cell activation, mostly resulting in the secretion of various types of cytokines than in the induction of a direct cytotoxic activity. The secreted cytokines are mostly of pro-inflammatory Th1 type despite also regulatory Th2 types are produced (9,20,21).
The expression of ICOS-positive lymphocytes and ICOS-L has been reported in various tumor settings and considered with alternate prognostic valence (9,22-24). In a recent report, its expression at tumor sites in colorectal carcinoma (CRC) patients was strongly correlated with favorable prognosis (19) while other studies in breast cancer settings suggested a negative correlation with the outcome (9,25,26). The activity of ICOS appears to be linked to T cell activation following CTLA-4 blockage. ICOS stimulation may significantly enhance the immune-stimulatory effect of CTLA-4 blocking antibodies that, conversely, is impaired in ICOS knock-out models (27,28). A positive synergism was reported also following anti-PD-1 treatment (9,29).
Altogether current evidences support ICOS as a relevant and potentially exploitable marker of T cell activation. Its expression by CD4 and CD8 T lymphocytes, following treatments with checkpoint inhibitors, may be indicative of the intended re-activation of anticancer immune response. It seems to be associated with clinical responses and correlates with prognosis (23,24,29-32). Currently available evidences support a foreseeable therapeutic scenario wherein ICOS stimulation may be explored more in association with anti-CTLA4 or anti-PD-1 than as single treatment.
OX40
OX40 is a type 1 transmembrane receptor, originally described to be expressed by activated CD4 T cells, subsequently demonstrated on CD8 but also natural killer (NK) cells and neutrophils (33-37). Its regulatory function goes beyond the adaptive immunity and may also involve innate response. Its ligand (OX40-L) is mainly expressed by antigen-presenting cells (APCs) but may also be found in other circulating cells (NK, Mast T, activated lymphocytes) or other tissues like muscles or vascular endothelium (38,39). OX40 expression is transiently enhanced following TCR binding and upon ligand binding enhances T cell activation, with production of cytokine sustaining lymphocyte survival, proliferation and sustained memory (40,41). The increased IFN-γ levels, beside sustaining Th1 type responses may also favor PD-L1 expression with negative regulatory implications laying basis for synergism with checkpoint inhibitors (36,42). Notably, OX40 is also expressed by regulatory T cell (Treg), but in this context the activity of OX40 is mainly inhibitory, either resulting in their functional inhibition or direct depletion (43). The role of OX40 in Tregs is not however completely clear and, according to the context and cytokine environment, stimulating activities have also been reported (44). Early preclinical evidence showed that OX40 stimulation could induce effective antitumor responses against immunogenic models including sarcoma, melanoma and breast cancer (45-47). Its activity as monotherapy was less effective against poorly immunogenic models (48), supporting the concept that OX40 stimulation could be better exploited in association with other therapeutic strategies that may concurrently contribute to or benefit from Tregs depletion (49,50). The first phase I clinical trial reported an excellent safety profile, with promising but not impressive results in terms of tumor responses (51). Given the murine origin of the agonistic Ab against OX40, an intense immunization was observed in most of the first treated patients (51). Several trials are currently exploring humanized forms of anti-OX40 agonists against various types of cancers, in particular exploiting potentially powerful synergism with immune-stimulating agents like checkpoint inhibitors (52).
Glucocorticoid-induced TNF receptor-related gene (GITR)
GITR is a member of TNFR family. It is constitutively found in Tregs (53,54) and intensely expressed by CD8 and CD4 lymphocytes upon TCR activation (55,56). GITR has also described in elements of the innate immune system like NK, eosinophils and macrophages (57). Similarly to OX40, the ligand for GITR (GITR-L) is mainly expressed by APC but have been also reported in vessel endothelial cells (58). GITR stimulation is capable of activating T effector cells (59), by upregulation of IL2Rα and production of IL-2 and IFN-γ (56,60), while inhibiting Tregs functions with FOXP3 suppression (61-63). Early preclinical data in several solid tumor models confirmed the therapeutic antitumor potential of GITR stimulation, especially in combination with other immune-modulatory agents (64-71). Notably, the beneficial effect of GITR agonists included also poorly immunogenic models that were limitedly affected by the activation of other stimulatory pathways like that of OX40 (65-71). A first clinical phase I experience with humanized GITR agonist confirmed the optimal safety profile, with only limited responses as single agent (10). Anyway the clinical exploration was warranted and clinical trial are currently ongoing, focusing on combinatorial approaches with other strategies like checkpoint inhibitors (59).
4-1BB (CD137)
CD137 is an inducible co-stimulatory cell-surface glycoprotein, member of TNFR proteins (72). It is expressed by various types of immune cells like activated T lymphocytes (CD4+ and CD8+), NK, macrophages, B cells (73,74). Following the TCR engagement, its expression supports T cell proliferation, activation, survival and IL-2 production (75). The only ligand so far identified is a member of TNF family (76). Notably, CD137 can potentiate NK cell activation following the triggering of their FC receptor (77). The agonistic stimulation could mediate effective antitumor response in murine models, both by T cell activation (78) and NK antibody dependent cellular cytotoxicity (ADCC) in association with antitumor monoclonal antibodies (79).
Such parallel activity involving the innate arm of the immune response may explain the apparent superior antitumor activity of monotherapy with CD137 agonists compared with similar stimulation of other co-stimulatory molecules described above. Preclinical models are also supporting a synergistic activity with anti-PD-1 and anti-CTLA-4 checkpoint inhibitors (80).
Clinical trials are currently exploring the activity of a humanized anti-CD137 agonistic antibody in combination with anti-CD20 (Rituximab) against B cell lymphoma and, with checkpoint inhibitors in solid tumors settings. Early results from phase I trial showed an excellent safety profile with very promising results (10,80). For instance, in combination with anti-PD-1 (Pembrolizumab), 6 out 23 patients with various types of advanced cancers reported complete or partial responses including a durable complete response in one patient with small cell lung cancer (10).
CD40
CD40 is a member of TNF receptor family, expressed on APC, macrophages, B lymphocytes and various other types of cells including tumors (81). The main known function of CD40 is that of inducing macrophages activation with consequent increase in cytokines secretion and stimulation of activated T helper lymphocytes that express the corresponding ligand (CD40L or CD154), a crucial step in the induction of adaptive immune responses (82). Various and heterogeneous functions however may be attributed to CD40, depending on the expressing cells and context (82). Preclinical models supported the antitumor effect of monotherapy with CD40 agonists, in various hematologic and solid tumor settings (83). Clinical trials are exploring multiple CD40 agonist antibodies with promising results. Overall, as monotherapy the response rate is around 20%, with some remarkably long-lasting responses (81,84-86). The safety profile appears favorable, even if it was associated with liver toxicity, platelet count decrease and infusion-related reactions.
It is foreseeable that further explorations of CD40 agonists will include combinations with other agents, like chemotherapy, radiotherapy or obviously other checkpoint modulators.
CD27-CD70
CD27 is a potent co-stimulatory molecule that, following the first activatory signal by TCR, is important for the clonal expansion of naïve T cells and differentiation into effector cytotoxic lymphocytes. Its ligand is the CD70 molecule, mainly expressed by activated lymphocytes and mediating B cell activation and immunoglobulin production. Following promising preclinical data with stimulatory monoclonal antibodies, clinical explorations are ongoing with agonists of the CD27-CD70 axis. They are either targeting CD70 or CD27. Early results with anti-CD70 Abs reported a promising rate of disease stabilizations in various types of advanced cancers, with fatigue being a common side effect (10). A humanized agonistic anti-CD27 antibody is also under exploration in phase I/II trials against multiple solid tumor malignancies, including CRC, NSCLC, ovarian and head and neck tumors (10). The safety profile appears acceptable also in this case and reports of activity are awaited. As for the previous stimulatory molecules, the targeting of CD27-CD70 is also being explored, with reasonable expectations, in combination with PD-1/PD-L1 or CTLA-4 blockage. A summary of main clinical trials targeting lymphocyte-stimulatory checkpoints is reported in Table 1.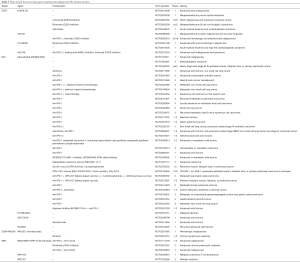 Table 1
Main clinical trials involving agents targeting lymphocyte-activating immune checkpoints
Full table
---
Inhibitory checkpoints
Lymphocyte activation gene 3 (LAG-3)
LAG-3 is a membrane receptor expressed by activated T lymphocytes and Tregs (87). It is believed to physiologically contribute to control the "size" of CD8+T cell clonal expansion following their priming and to enhance the suppressor activity of Tregs (88-91). The main ligand is represented by MHC class-II molecules on APCs (88). Along with PD-1, the membrane expression of LAG-3 is associated with an exhaustion profile of tumor infiltrating lymphocytes, correlated with negative clinical features (92-98). Preclinical models confirmed the possibility to restore T cell antitumor function by LAG-3 blocking, associated with reduction of Tregs activity (99,100). Notably, a soluble form of LAG-3 may be found with ability to stimulate APCs and reinvigorate the immune response (101). Clinically, LAG-3 blocking antibodies are under evaluation in early phase clinical trials, either alone or in combination with anti-PD-1 antibodies (9,10). Biologically it could be speculated that the generation of new T cell clones may be favored by anti-LAG-3, helping to react against the clonal evolution of tumor neoantigens. Moreover a soluble LAG-3 isoform antibody is being explored as APC immune-stimulatory agent in advanced cancers (102).
T-cell immunoglobulin- and mucin-domain-containing molecule 3 (TIM-3)
TIM-3, is a membrane inhibitory receptor expressed by Th1 CD4+ and CD8+ T cells (103). More recently it was also found on Tregs (104,105), Th17 (106) and elements of the innate immune response (107-109). Its main ligand is galactine-9, a widely expressed lectin detectable in multiple organs in physiologic and inflammatory/pathologic conditions (110). TIM-3 engagement determines functional inhibition and apoptosis in T cells (111-113), while enhancing the immune-suppressive activity of Tregs (114,115). Tumor infiltrating lymphocytes co-expressing TIM-3 and PD-1 have been described in several tumor settings, both solid and hematologic, associated with exhausted functions (116-122). This is in line with the experimental observations that a single blocking TIM-3 did not induce relevant antitumor immune responses but much better results may derive from the concomitant association of anti-PD-1 blockers (121-124). Conversely, it is likely that the expression of TIM-3 associates with the development of resistance to PD-1/PD-L1 blocking, offering possible therapeutic opportunities in this setting (119,125).
Currently early clinical trials are exploring TIM-3 blocking in clinical settings of advanced cancers, mainly exploiting its association with PD-1/PD-L1 inhibitors (9,10).
T cell immunoglobulin and ITIM domain (TIGIT)
TIGIT is another interesting negative checkpoint expressed by T lymphocytes and NK. Its ligands, mainly present at APC level, are the lectins CD155 and CD112 (126). It is interesting to note that TIGIT is part of a complex regulatory system together with CD96 and CD226 (DNAM-1) receptors (127). They all bind CD155, but while the resulting signal is inhibitory in the cases of TIGIT and CD96, it is activatory for DNAM-1, a situation similar to what is known for the CTLA-4/CD28/B7 complex. This system contributes to the fine tuning of the immune response, especially regarding NK cells. Similarly to what reported above for TIM-3, TIGIT+ lymphocytes have been reported to infiltrate several types of tumors in patients, including melanoma, colon, renal and breast cancer (93,128-131). Its expression is often associated with other negative checkpoints like PD-1 and TIM-3 (93). Preclinical models confirmed that TIGIT blockages may induce important antitumor responses, with lymphocyte re-activation (128,129). The clinical development of TIGIT-blocking antibodies is ongoing, even in this case there are attempts to explore combinations with blockers of PD-1/PD-L1 axis (9).
V-domain Ig suppressor of T-cell activation (VISTA)
VISTA is a negative immune-checkpoint structurally analogue to PD-L1, mainly expressed by APC, myeloid cells but also T lymphocytes and Tregs. VISTA, whereof receptor has still to be clearly identified, is capable of inhibiting T cell proliferation along with IFN-γ and TNFα production. It was also described to enhance the conversion of naïve T lymphocytes into Tregs (132).
In preclinical models it was confirmed that, even if structurally analogue to PD-L1, the role of VISTA is functionally distinct from that the PD-1/PD-L1 axis in controlling T-cell activation (133). Blockage of VISTA resulted in enhanced T cell infiltration, concomitantly with reduction of myeloid derived suppressor cells (134), with beneficial antitumor responses enhanced by combination with anti-PD-1/PD-L1 (132,133). VISTA+ lymphocytes have been reported to infiltrate relevant rates of gastric cancers (135). The expression of VISTA may contribute to a compensatory mechanism following treatment with checkpoint inhibitors, suggested by its presence in lymphocytes and M2 macrophages of melanoma or prostate cancer patients that had been previously treated with Ipilimumab (136). Early clinical trials are exploring VISTA blockage in advanced cancers and it is foreseeable its next evaluation in combination with other checkpoint inhibitors (9,10). Of note, an oral small-molecule inhibiting both VISTA and PD-L1 has been developed with promising preclinical data and ongoing clinical testing (10).
A summary of main clinical trials targeting lymphocyte-inhibitory checkpoints is reported in Table 2.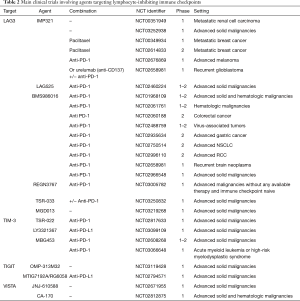 Table 2
Main clinical trials involving agents targeting lymphocyte-inhibiting immune checkpoints
Full table
---
Additional checkpoints of innate immunity
CD47/SIRPα
CD47 is a cell-surface immunoglobulin ubiquitously expressed by normal tissues (137). SIRPα (signal-regulatory protein alpha), its ligand, is a cell-surface immunoglobulin mainly expressed by macrophages and dendritic cells (138). Physiological role of CD47 is to protect viable erythrocytes from phagocytosis (139-144).
CD47/SIRPα is a "don't eat me signal" that inhibits phagocytosis suppressing myosin-II accumulation at phagocytic synapse and respiratory burst (145,146). CD47 on naïve T cell induces differentiation in regulatory T cells (Tregs) and inhibits development of T helper 1 cells (Th1) (147,148).
Evasion of phagocytosis prevents tumor cell presentation by APCs and indirectly decreases T cell activation (149).
Several cancers express high levels of CD47 and high CD47 mRNA expression correlates with poor clinical prognosis (9,150-154).
CD47/SIRPα axis blockade induces human and mouse macrophages phagocytosis of cancer cells in vitro and shows antitumor activity in xenograft models (152-158).
Early phase clinical trials investigate toxicity and activity of this axis blockade (158).
IDO
Indoleamine-2,3-dioxygenase (IDO—two isoforms: IDO1, IDO2) is an intracellular enzyme involved in oxidative catabolism of tryptophan, expressed by macrophages and dendritic cells (159-162). It catalyses conversion of L-tryptophan to N-formyl kynurenine by cleavage of the 2,3-double bond (163). Depletion of tryptophan reduces T cells proliferation while presence of kynurenine induces apoptosis of Th1 and naïve T cells differentiation in Tregs (164-168).
In this way, IDO activity contributes to create an immune-suppressed environment and to generate tumor tolerance.
Inflammatory cytokines as IFN-γ, IL-6 and TNF-α can induce IDO expression (169).
IDO is expressed by most human cancer types and, in clinical studies, its expression levels correlate with lower overall survival (OS), progression-free survival (PFS) and response to chemotherapy, radiotherapy and immunotherapy (159-162,164-173).
Preclinical studies demonstrate that transfecting tumor cell lines with IDO impairs their immune rejection in tumor antigen-immunized mice. On the contrary, IDO inhibitors stimulate T cell response and inhibit tumor progression in mouse models (173-175).
Actually, clinical trials are investigating several small molecule inhibitors of IDO. Among these, epacadostat has entered phase III clinical development and is undergoing its evaluation in combination with anti-PD-1 (pembrolizumab) for metastatic melanoma (10,176).
A more complete knowledge of the role of IDO isoforms and their affected pathways in mediating tumor immune-suppression is necessary to improve clinical development of IDO inhibitors (10).
---
NK cell markers
CD94/NKG2A
NK cells have MHC class I-specific inhibitory and activating receptors that control their responsiveness on self-cells and their killing activity against non-self-cells that have lost or downregulated MHC class I.
This process is called "licensing" and is based on shifts of the receptors balance towards NK activation or NK inhibition. The heterodimer formed by CD94, an invariant chain receptor, and NKG2A, member of C type lectin like family, is part of these NK inhibitory receptors while the CD94/NKG2C and CD94/NKG2E are activating heterodimers (177-179).
CD94/NKG2A receptor is also expressed by T cells. CD94/NKG2A receptor binds to MHC class I HLA-E to carry out its inhibition of NK cells and T cells activation (180).
Some solid cancers overexpress HLA-E and this overexpression is associated with poor prognosis (181-183).
CD94/NKG2A+ NK cells with lower cytotoxic potential are found elevated in peripheral blood samples and in intratumoral region of several cancer patients (181-190).
The rationale of NKG2A blockade is to improve NK cell-mediated ADCC and to increase availability of ligands on tumor cells for activating NK receptors with same specificity of CD94/NKG2A receptor (180).
Monalizumab (IPH2201) enhances NK cell response to HLA+ tumor cells in preclinical models (191).
Phase I/II trials are assessing activity and safety of NKG2A antibody, some in monotherapy and others in combination with PD-1/PDL-1 axis inhibitors (9,180).
CD94/NKG2A blockade can also be obtained by targeting ERAP-1, that positively modifies ability of specific ligands to engage several classes of NK inhibitory receptors on human tumor cell lines (192).
Killer immunoglobulin-like receptors (KIRs)
KIR family includes several receptors expressed by NK cells and by some T cells. Some members (KIR2DL1-2-3 and KIR3DL1) of this family are able to impair NK self-recognition. HLA-A, HLA-B and HLA-C are ligands of these inhibitory KIRs and ligand-receptor interaction turns off NK activation (193-196).
In vitro assays on patient peripheral blood mononuclear cells (PBMC) treated with KIR2DL1 inhibitor (IPH2101) show induction of APC FcγRI-mediated trogocytosis of KIR2DL1 on NK cells with a consequent decrease of NK cell cytotoxic activity. These findings agree with phase I/II clinical trials that failed to increase disease response treating cancer patients with IPH2101 (197,198).
More studies on KIR2DL activating and inhibitory properties are necessary to explain NK anergy mediated by KIR2DL inhibitors. To overcome this anergy KIR blockade can be combined with stimulatory cytokines treatments (IL-2, IL-15), anti-TAA antibodies, other checkpoints inhibitors (anti-PD-1/anti-PD-L1, anti-CTLA-4) or stimulators of NK activation (lenalidomide) (199-201).
Actually, lirilumab (inhibitor KIR2DL1-2-3 - IPH2102) is in ongoing phase I/II clinical trials in combination with anti-PD-1 or anti-CTLA-4 in solid and haematological malignancies with preliminary encouraging results (9).
In cancer patients is described an enrichment in PD-1+ NK cells, among the subset of CD56dimNKG2A−KIR+ NK cells associated with poor anti-tumor activity and reduced proliferation (202-204). This could be a rationale for combination treatments with KIRs blockade or stimulation and anti-PD-1/anti-PD-L1, especially in MHC class I deficient malignancy.
CD96
CD96 (or TACTILE) is a co-inhibitory receptor constitutively expressed by human NK cells.
CD96 binds nectin (or CD112) and nectin-like ligands, which are upregulated on cell membrane of several tumor cell types, and CD155 (or PVR) (205,206). CD96 ligation of CD155 decreases NK production of IFN-γ, antagonizing DNAM-1 signalling that induces NK cells cytotoxic activity, sharing same ligands of CD96 (207,208).
In preclinical tumor models, CD96 blockade activity depends on NK cells phenotype (209).
A summary of the main clinical trials targeting additional checkpoints of innate immunity and tumor microenvironment is reported in Table 3.
Table 3
Main clinical trials involving agents targeting macrophage and NK immune markers
Full table
---
Conclusive remarks
The discovery and clinical application of monoclonal antibodies that can therapeutically modulate the immune response is profoundly changing both the present and perspective therapeutic scenario in multiple tumor settings. The progressive comprehension of the complex immune regulatory networks that are in place, with stimulatory and inhibitory pathways, is providing continuous rationale and opportunities to refine the existing treatments, designing innovative strategies to overcome resistances, relapses and enhancing the response rates. It is also progressively emerging that multiple additional effectors [e.g., NK, macrophages, APC, myeloid-derived suppressor cells (MDSC)] beyond T lymphocytes directly or indirectly participate to control the onset, intensity and persistence of antitumor immune responses. Such additional effectors are themselves promising immunotherapy targets. Moreover, they often express the same regulatory checkpoints as T lymphocytes even if sometimes with different functional sense.
Even considering the important promises hold by the new combinatorial approaches, issues about dose, schedule and settings still require to be defined. Results from early clinical trials are awaited, with early data suggesting a favorable safety profile for most of the new checkpoint modulators, along with interesting but also scattered signs of activity. The "conventional" concepts of trial design and endpoints are challenged by the new biologic knowledge and its continuous evolution. It would be desirable that new clinical studies would, whenever possible, be paralleled by translational studies that might provide immunological insights to interpreter both events of responses and resistance, providing reliable basis for subsequent adjustments and study designing. Ideally the future treatment strategies will trend toward personalized approaches accounting for the individual biological complexity and costs considerations. In this perspective the concept of predictive biomarkers will likely evolve in wider concepts of "predictive immunological landscapes" including the multiple cellular, molecular and metabolic variables that might simultaneously impact the antitumor immune responses.
It is necessary to patiently await for the advancements of scientific knowledge and biological rational rather than to attempt random associations of these many new compounds. Important efforts are needed at multiple levels, from the academia to the regulatory agencies. It will be important to define a positive compromise between the comprehensible need for prompt "clinically useful" answers and the necessary time to develop the appropriate parallel biological comprehension.
---
Acknowledgements
Funding: This work was supported in part by FPRC ONLUS 5 × 1000, Ministero della Salute 2012; Ricerca Finalizzata-Giovani Ricercatori Ministero della Salute (GR-2011-02349197); AIRC MFAG 2014 N.15731.
---
Footnote
Conflicts of Interest: The authors have no conflicts of interest to declare.
---
References
Cite this article as: Donini C, D'Ambrosio L, Grignani G, Aglietta M, Sangiolo D. Next generation immune-checkpoints for cancer therapy. J Thorac Dis 2018;10(Suppl 13):S1581-S1601. doi: 10.21037/jtd.2018.02.79