Editorial
A leopard can't change its spots: can a T790M mutation-positive cancer change its spots after epidermal growth factor receptor-tyrosine kinase inhibitor therapy?
Drug therapies for non-small cell lung cancer (NSCLC) have greatly progressed in recent years. Especially, the identification of epidermal growth factor receptor (EGFR) mutation has transformed the management of patients with EGFR-mutant NSCLC, who are sensitive to EGFR tyrosine kinase inhibitor (EGFR-TKI). However, patients with EGFR-mutant lung cancer treated by EGFR-TKI show progression of disease after a median of 10 to 16 months (1,2). This phenomenon has been described as "acquired resistance" to TKI. Mechanism of resistance to EGFR-TKI is broad: structural change of EGFR due to secondary mutations (3-5), amplification of MET (6), HER2 (7), activation of collateral pathway by overproduction of HGF (8), phenotypic transformation into small cell lung cancer (6), etc. Among the reported mechanisms, the most frequently detected one is the secondary mutation of T790M, which represents about 50–60% of the total patients who have failed TKI treatment (9,10). Third-generation TKIs, such as osimertinib and olmutinib, are effective for T790M-mutated lung cancer (11,12). Re-biopsy, especially confirmation of T790M, is very important for determining next line treatment. However, it is sometimes difficult to do re-biopsy due to localization of the target lesion or general condition of the patient.
Koo et al. retrospectively studied 304 patients with NSCLC who underwent re-biopsy after administration of first-line EGFR-TKI therapy (13). They analyzed computed tomography (CT) findings at the initial diagnosis and those at re-biopsy and attempted to reveal the radiological features of lesions with T790M mutation. They reported that T790M mutation was found in 144 patients (47.4%), and that T790M mutation positivity was associated with peripheral tumor location, presence of pleural tag, vascular convergence, and air bronchogram. We have some comments concerning this study by Koo et al.
Firstly, the CT features related to T790M mutation which were reported by Koo et al. are features that were originally reported to be common in EGFR-mutant NSCLC. For example, Liu et al. retrospectively analyzed the image findings of 385 surgically resected lung adenocarcinomas and reported that EGFR mutation were found more frequently in tumors with air bronchogram, bubble-like lucency, vascular convergence, and pleural retraction (14). Hasegawa et al. reported that air bronchogram and vascular convergence were observed frequently in EGFR-mutated adenocarcinomas (15). There are some reports that discussed the association between EGFR mutation and CT findings and concluded that EGFR mutation was frequently detected in lesions with larger ratio of ground glass opacity (GGO) component (16-19). CT features such as air bronchogram, bubble-like lucency, vascular convergence, and pleural retraction are frequently reported in GGO lesions. Although there seem to be no prior large-scale study that analyzed image differences between T790M mutation and other EGFR mutation subtype, the report by Koo et al. may be describing the features of EGFR-mutant cancer itself, rather than those of T790M-mutant lung cancers (Table 1).

Table 1
Association between CT characteristics and
EGFR
mutation in previous reports
Full table
Secondly, Koo et al. also reported that percutaneous biopsy method showed higher positive rate of T790M than transbronchial biopsy. Percutaneous biopsy may be performed more easily for peripheral lesions rather than central lesions. As a result, variation in methods of biopsy according to localization might affect the positivity rate of T790M.
Thirdly, in the 304 cases initially evaluated by the authors, patients who received curative surgery as initial treatment and patients with unresectable lesions were both included. However, for the analysis comparing the CT findings, all 69 patients who underwent curative surgery were excluded. Since the form of lesion at the time of regrowth might more of less be affected by the initial form, analyzing only patients with unresectable lesions would lead to a selection bias. It would be more effective to compare the morphology of the primary tumor before initial treatment with that of the lung metastasis.
Along with the development of high resolution CT, diagnostic information that can be obtained from CT is drastically increasing. Recent developments in treatment strategy for NSCLC, such as emergence of new generation EGFR-TKIs and immune check point inhibitors, have greatly prolonged the survival of patients with NSCLC, even in advanced stage or after recurrence (2,20-22). Because second- and third-line therapies are getting available for more patients, the need for re-biopsy after appearance of treatment resistance has become more important than ever, and we should choose the appropriate approach for each patient according to medical conditions and tumor status. The authors' attempt to radiologically characterize the subset of patients for which re-biopsy would be recommended is unique and interesting, and they demonstrated that CT characteristics of T790M-mutated NSCLC were almost same as that of common typical EGFR-mutant NSCLC. Oxnard et al. reported that patients with acquired T790M showed relatively favorable prognosis and more indolent progression than those with other mechanisms of resistance. After development of third-generation EGFR-TKIs, such as osimertinib, T790M is no more the leading villain of bad prognosis due to "acquired resistance", but more likely a leopard which can't change its spots, inherently having a quiet character. Furthermore, Koo's findings might be a good indication for choosing osimertinib as first line therapy, because EGFR-mutant NSCLC having typical CT features, such as air bronchogram, vascular convergence, may have the potential to develop T790M mutation after EGFR-TKI therapy, even in pulmonary metastases after surgery (Figure 1). We are further interested to know what is the typical form of EGFR-mutant NSCLC with acquired resistance after EGFR-TKI other than T790M mutation, such as amplification of MET, or phenotypic transformation into small cell lung cancer. Thus, we expect further studies that combines radiological and molecular-based analyses.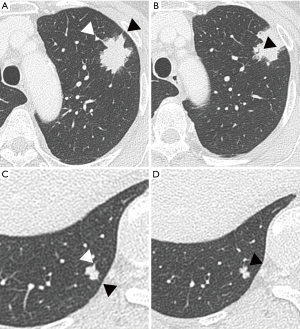 Figure 1 CT image before surgery and of pulmonary metastasis with T790M mutation. A 65-year-old woman underwent a left upper lobectomy with lymph node dissection for a pulmonary adenocarcinoma (pT1bN2M0). Two years after surgery, EGFR-TKI therapy was performed for multiple pulmonary metastases. Eighteen months after treatment, T790M mutation was detected by re-biopsy in a regrowing pulmonary nodule. She underwent a third-generation EGFR-TKI therapy. (A) Axial CT image before surgery in lung window setting shows a 3.6-cm irregular lobulated mass in the left upper lobe with a peripheral location and a pleural tag (black arrowhead), vascular convergence (white arrow head); (B) an internal air bronchogram (black arrowhead); (C) CT image of pulmonary metastasis for which re-biopsy was performed. The lesion has a peripheral location and a pleural tag (black arrowhead), vascular convergence (white arrow head); (D) an internal air bronchogram (black arrowhead). CT, computed tomography; EGFR, epidermal growth factor receptor; TKI, tyrosine kinase inhibitor.
---
Acknowledgements
None.
---
Footnote
Conflicts of Interest: The authors have no conflicts of interest to declare.
---
References
Cite this article as: Obayashi K, Shimizu K, Nakazawa S, Ohtaki Y, Kawatani N, Takashi I, Yajima T, Mogi A, Shirabe K. A leopard can't change its spots: can a T790M mutation-positive cancer change its spots after epidermal growth factor receptor-tyrosine kinase inhibitor therapy? J Thorac Dis 2018;10(Suppl 33):S4113-S4116. doi: 10.21037/jtd.2018.10.53