This article has an erratum available at: http://dx.doi.org/10.21037/jtd-2022-10 the article has been update on 2022-08-09 at here.
Original Article
Airway management in anesthesia for thoracic surgery: a "real life" observational study
Introduction
One-lung ventilation (OLV) in thoracic anesthesia is required to provide a good surgical exposure of the affected lung while ensuring adequate gas exchange with the other.
Left-sided double lumen tube (L-DLT), right-sided double lumen tube (R-DLT) or bronchial blocker (BB) are used in clinical practice to achieve OLV (1-3). Malposition is the most critical issue related to the use of this device. To date, no prospective studies with an adequately large sample size have been performed to investigate which of these devices is the standard of care in clinical practice and assess the incidence rate of malposition of these devices.
Few data exist to show if the BRO is routinely used after the placement of DLT and BB. While bronchoscope (BRO) use is essential for BB positioning, DLT can be checked by inspection and auscultation only. BRO revealed a malposition in 20–48% of the DLTs thought to be correctly positioned (4). BRO is widely used to check the DLT position, but its real use in clinical practice has not been fully investigated.
A second relevant problem is intraoperative hypoxemia. Desaturation frequently occurs during OLV and could affect the safety of the patient with an incidence rate reported between 3% and 28% (5-7). The pathophysiology of hypoxemia is very complex. Several factors, such as the side of surgical procedure and lung function abnormalities that are not modifiable causes, are associated with the risk of developing hypoxemia. Uncorrected management of DLT could be an important modifiable feature during OLV. Only single-center studies investigated the incidence of hypoxemia rate during OLV.
Lung isolation in patients with difficult airway may also be particularly challenging, requiring the acquisition and the knowledge of specific skillfulness and devices. No extensive studies have ever investigated the incidence of difficult airways in a real-life context.
The first aim of this multicenter observational study was to evaluate the intraoperative malposition rate of DLTs and BBs. Secondly, we aimed to assess the most used device to obtain OLV, the incidence rate of desaturation during OLV and the role of the other factors that can correlate to this event (malposition, use of BRO, side of surgery, size of DLT), and the incidence of difficult airway in thoracic anesthesia.
---
Methods
This multicenter, prospective, observational study was performed across 26 Italian academic or community hospitals. This manuscript adheres to the applicable STROBE guidelines.
The study protocol was approved by the Ethics Committee of the Academic Hospital "S. Maria Della Misericordia", Udine, (Protocol n° 67019/2012; registered at www.clinicaltrials.gov as NCT02361983). The inclusion criteria were: age ≥18 years, thoracic surgery requiring OLV under general anesthesia, and written informed consent. The exclusion criteria were: refusal to take part in the study, patient age less than 18 years, and no requirement for OLV.
No attempts were made to influence the anesthesiologist's choice of the airway device.
For each patient, a case report form was filled out by the anesthesiologist (Figure S1), recording the pre-, intra- and postoperative data, as shown in Table 1. Participating hospitals, the number of enrolled patients and involved anesthesiologists are shown in Table S1.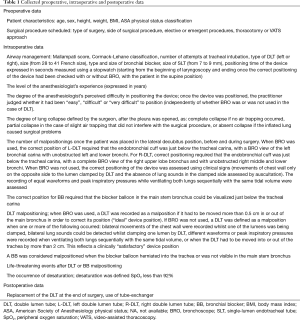 Table 1
Collected preoperative, intraoperative and postoperative data
Full table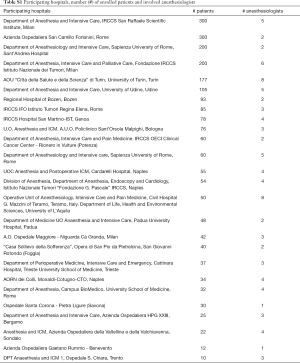 Table S1
Participating hospitals, number (#) of enrolled patients and involved anesthesiologists
Full table
All data were recorded in an electronic datasheet (Microsoft Excel, Microsoft Corporation, Redmond, WA, USA).
Statistical analysis
In a previous study, Brodsky and colleagues studied a sample of 1,170 patients (7) reporting a DLT malpositioning rate of 6%. Assuming 2% variability, an α error of 0.05 with a power of 0.90, and an expected 10% of data missing, the minimum sample size required was calculated to be 1,820 patients. To ensure that statistically significant results would be achieved we needed a minimum of 2,000 subjects to be enrolled in the study.
Continuous variables were described using means plus standard deviations (SD). Categorical and nominal variables were described using frequencies and percentages. Normally distributed continuous variables (confirmed using the Shapiro-Wilk test) were compared using two independent sample t-tests. Non-normally distributed continuous variables were compared using the Mann-Whitney U-test. Categorical and nominal variables were analyzed using Chi-square or Fisher's exact test. Multivariate stepwise logistic analyses (with P=0.2 significance level for removal from the model) were done to explore the association between the presence of malposition and hypoxia and the main factors influencing the incidence of desaturation. Data were analyzed using the statistical program STATA 13® (College Station, TX, USA). Results were considered statistically significant for P
---
Results
A total of 2,225 sheets were received from the 26 participating hospitals. Ninety-eight case report forms were incomplete, 2,127 (as described in Figure 1) were submitted to final statistical analyses.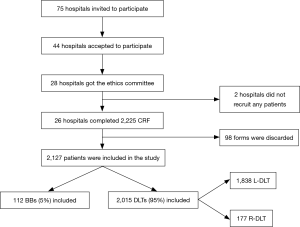 Figure 1 Study flow chart. BB, bronchial blocker; DLT, double lumen tube; CRF, case report form. L-DLT, left double lumen tube; R-DLT, right double lumen tube.
Patient's characteristics and data related to the type of surgical procedure are reported in Table 2.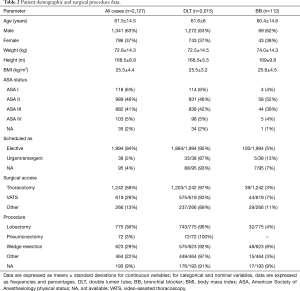 Table 2
Patient demographic and surgical procedure data.
Full table
A total of 1,287 (61%) airway device positionings were performed by attending anesthetists and 840 (39%) by resident anesthetists.
Regarding the level of the attending anesthesiologist's experience, it was 14±9.8 years.
Intraoperative DLTs and BBs malposition
The overall malposition rate for all cases of DLT use was 14% (278/2,015 cases), whereas the overall malposition rate for all cases of BB was 33% (37/112 cases). Malposition rates according to the device and to BRO use are shown in Table 3. A DLT was used in 2,015 patients (95%), whereas a BB was preferred in 112 patients (5%). BRO was used to check the correct positioning of the DLT after placing the patient in the lateral decubitus position and during surgery in 1,095 cases (54%). All BB were checked by BRO.Frequencies and detailed characteristics of the devices chosen by the anesthetists are shown in Table 4.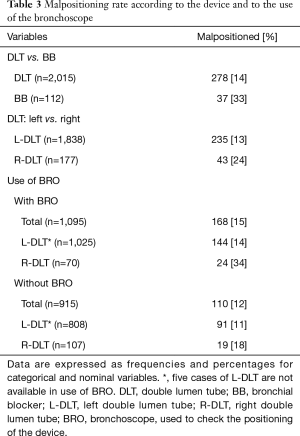 Table 3
Malpositioning rate according to the device and to the use of the bronchoscope
Full table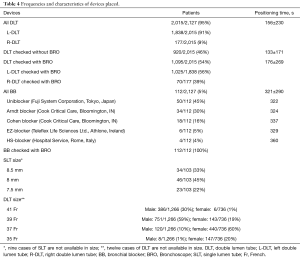 Table 4
Frequencies and characteristics of devices placed.
Full table
DLT was positioned in 156±230 s and BB in 321±290 s. The mean positioning time for DLT, when checked with BRO, was 176±269 s and it was 133±171 s without BRO.
A total of 1,583 L-DLTs (86%) were defined as "easy" to position, 248 (13%) were rated "difficult" and 2 were reported as "very difficult" to position. Both of these two cases were with attending physicians. A much higher rate of "complete" lung collapse and a lower rate of "partial" lung collapse was reported in the DLT group and BB group (see Table 5).
No life-threatening complications were recorded as a result of malposition. In 159 patients, DLT was replaced with a SLT before ICU admission. Safe extubation was performed in 409 patients (19%) in the recovery room (RR) or in the ICU. In 94 cases (4.4%) an airway exchange catheter was used and reintubation was necessary for 15 patients (0.7%).

Desaturation
Of 2,127 patients, 2,015 included in this study required OLV through a DLT. At least one episode of desaturation, defined as SpO2 value less than 92%, with a mean value of SpO2 =86% was recorded in 394/2,015 patients (20%) during OLV. In the same group of patients, the total number of desaturation episodes was 1 in 69%, 2 in 16%, 3 in 8%, more than 3 in 7%. Desaturation rate was respectively 20.5% for R-DLT and 19.4% for L-DLT. There wasn't a statistically significative difference comparing surgical access and desaturation: 20.5% during thoracotomies vs. 19% during VATS (P=0.35). In both approaches, we found that right side surgical site was associated with a higher number of episodes of low peripheral arterial oxygen saturation. In right thoracotomies, there was at least an event of desaturation in the 23.5% of cases while in left procedures the percentage was 15.6% (P=0.0007). Desaturation was present in 22.5% of the right VATS while in 14% during left procedures (P=0.005).
Among 1,095 patients where a DLT was used and checked with BRO it was possible to recognize a desaturation in 203 of them (18.5%) while without BRO physicians detected 189 (21%). The multivariate analysis revealed that DLT malposition elevates the risk of desaturation (OR 2.03, PTable 6). We also found that ASA 3 status (OR 2.38, P=0.001), emergency surgery (OR 4.07, P=0.021), procedures on the left lung parenchyma (OR 1.53, P=0.009), and the use of a R-DLT (OR 2.93, P=0.001) increased the risk of malpositioning (see Table 7).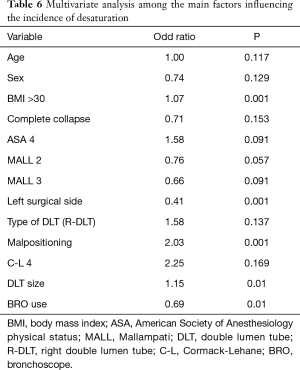 Table 6
Multivariate analysis among the main factors influencing the incidence of desaturation
Full table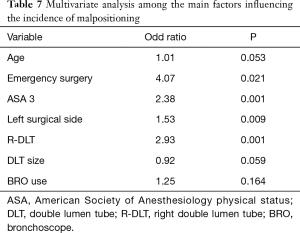 Table 7
Multivariate analysis among the main factors influencing the incidence of malpositioning
Full table
Difficult airways
A total of 340 patients (16%) reported Mallampati score 3 or 4 and/or with Cormack-Lehane score 3 or 4; 152 patients reported Cormack-Lehane score 3, 25 reported Cormack-Lehane score 4, 222 reported Mallampati score 3, and 9 reported Mallampati score 4. Two hundred and thirty-one (10.8%) patients presented predicted difficult airways. Unpredicted difficult airways occurred in 109 patients (5.2%). The mean positioning time of DLTs in patients with Cormack-Lehane grade 3 view was 238±374 s while for BBs it was 331±274 s. For patients with Cormack-Lehane 4 the mean positioning time of DLTs was 215±190 s. The mean positioning time of BBs in these patients was 444±598 s.
Regarding the difference between attending and resident anesthetists in the positioning time in Cormack-Lehane 3 patients, it took an average of 234±387 s for attending anesthetists to intubate with a DLT and 287±182 s to place a BB. The mean positioning time for residents was 263±294 s for a DLT and 395±372 s for a BB.
For patients with Cormack-Lehane 4 attending anesthetists took 226±190 s to place a DLT and 180±109 s to place a BB. Only 3 Cormack 4 patients were managed by a resident.
Regarding the extubation of patients with difficult airways only 11 (3 in case of a predicted difficult airway and 8 in case of unpredicted difficulty) were managed through an airway exchange catheter (AEC); among these only in 6 Cormack 3 patients (0.9%) and in 2 Cormack 4 patients (0.6%) an AEC was used.
Analyzing the discharge from the operating theatre of Cormack 3, 82 patients (24.1%) were directly sent to the inpatient ward, 6 patients (1.7%) were admitted to the post-anesthesia care unit (PACU) prior to discharge to the ward, and 52 patients (15.3%) were admitted to the ICU. Data were missing for 12 patients. Only one patient admitted to ICU presented a post-extubation complication with laryngospasm. In Cormack 4, 14 patients (4.1%) were directly sent to the ward, 3 patients (0.9%) were admitted to the PACU and 6 patients (1.8%) were admitted to the ICU. Data were missing for 2 patients.
---
Discussion
Our data showed that the overall incidence of DLT malpositioning is 14%, significantly higher than the 6.2% reported by Brodsky et al. (7) by clinical inspection only, and much lower than the 37% reported by De Bellis et al. where all DLTs were checked by BRO (8). Narayanaswamy et al. also reported more repositionings of the lung isolation device with the BBs compared with the DLTs (35 vs. 2 incidents respectively, P=0.009) (9). Clayton-Smith A. et al. reported in a recent meta-analysis that DLTs are less likely to be incorrectly positioned than BBs (OR2.70; 95% CI, 1.18–6.18; P=0.02) (2). In our study, the malposition rate among DLT increased to 15% when BRO was used, higher than the 12% of the malposition rate when BRO was not used. This data could be strictly related to the concepts of "ideal" and "satisfactory" positioning. When the devices are checked with BRO, the incidence of malposition is higher most likely because the BRO also allows identifying the "non-ideal" positioning cases that correspond to the proportion of "satisfactory" positionings that with clinical control only could have been omitted. The overall malposition rate for all cases of BB was 33%.
Literature is still lacking about this topic. Even considering the larger meta-analysis, including only 13 RCT published between 1996 and 2013 (2), the overall population studied is limited compared to our sample size of 2127 patients. It is also important to underline other limitations of meta-analysis, such as the heterogeneity of RCT quality included and the risk of type-II statistical error due to small sample sizes (2).
DLT was selected by the anesthesiologist in 95% of patients requiring OLV. L-DLT was widely favored over a R-DLT (chosen in only 9% of cases), in agreement with other reports in the literature (7,10,11). DLTs were positioned faster than BBs. These prospective data are in accordance with previous findings that demonstrated how the positioning time for a BB is on average 51 s longer than that for a DLT (2), with an even more significant time difference in our study.
An important element to consider when choosing an OLV device is the ease of positioning, particularly for infrequent users (12). In this study, the proportion of anesthesiologists that defined DLTs "easy" to position was greater than the percentage reported for BBs. This finding could be related to: (I) the greater anesthesiologists' confidence with DLTs, (II) the overall low use of BRO and the subsequent poor capability to manage BBs positioning.
In our study, DLTs guaranteed a higher rate of "complete" lung collapse during OLV compared with that achieved using BBs and a lower incidence of "partial" lung collapse, in contrast to what reported in previous studies (2,8,13-17). However, this finding must be considered with great caution because of the small number of BBs placements.
Albeit the BRO availability in all participating hospitals, it has been little used to check the correct positioning of the DLT. This finding is in contrast with previous Italian and German surveys that found a BRO use of respectively 96% and 87.7% of cases (11,18). Interestingly, the prospective data of this study provided a different result, confirming the unreliability of data based on operator interviews. Even in the most extensive study present in the literature on airway management in thoracic anesthesia, the use of BRO by expert anesthesiologists is still not found to be the routine practice; Brodsky and Lemmens found bronchoscopy unnecessary in the majority of patients and did not use it routinely (4). An experienced anesthesiologist can safely position DLT without BRO in many situations, but there can be no doubt that the fiberoptic assistance is a useful tool and that its use is strongly recommended. Systematic endoscopy is also costly and time-consuming, and BRO routine use can be unrealistic in a high volume thoracic surgical service. Despite recommendations (19,20), to check the correct DLT position by BRO in order to reduce the risk of device malposition is still controversial and no data had proven the clinical relevance of little misplacements and that systematic endoscopic checking reduces morbidity or mortality after thoracic surgery (10,21). In the recent "recommendations" for enhanced recovery after lung surgery, BRO use whether a DLT or a BB is employed is still considered advisable and not mandatory (22).
In 20% of 2,015 patients that required lung isolation through a DLT, we recorded at least one episode of desaturation during OLV. The incidence in the literature varies from 27% of the 1970s–1990s (23,24) to 5–10% of the most recent studies of Walsh et al. (25). This remarkable difference can be explained by the improving expertise, the new surgical and anesthetic techniques, including the use of BRO, newer volatile anesthetics that cause less inhibition of hypoxic pulmonary vasoconstriction (HPV) during OLV (26), and less invasive thoracic surgery.
The high desaturation rate observed in the first studies in contrast to what previously reported (23,24,27) could probably depend on the different cut off value. Karzai et al. defined hypoxemia as a decrease in arterial hemoglobin oxygen saturation (SaO2) less than 90% (5) while we defined it as a SpO2 value less than 92%. We found that the correlation between R-DLT with desaturation was weak (OR 1.58) and not statistically significant (P=0.137) in agreement with Ehrenfeld et al. (28). The increase of DLT size raises the risk to develop desaturation (OR 1.15). To our knowledge, few studies evaluated the impact of DLT size on intraoperative outcome measures, particularly desaturation during OLV. Some authors propose the practice of inserting the "largest tube that will safely fit the airway" in order to reduce DLT migration, obstruction of the upper lobe bronchus from a smaller left-sided tube, and ultimately prevent displacement and hypoxemia (7,29). Amar et al. demonstrated in a prospective pilot study involving 300 patients undergoing thoracic surgery that the use of a smaller (35 Fr) DLT than conventional size did not influence the incidence of intraoperative hypoxemia or the need for DLT repositioning (30). The left surgical side reduces the risk of desaturation (OR 0.41, P=0.0001) during OLV. This result agrees with what reported by Slinger et al. (31): the side of the procedure is one of the most important factors in predicting hypoxemia during OLV. The authors demonstrated that having a left thoracotomy could be expected to have a PaO2 72 mmHg higher than a similar patient with a right-sided surgery; this phenomenon is due to the fact that the right lung is larger and more perfused, so patients having left thoracotomies have better arterial oxygenation (31).
From a multivariate stepwise logistic regression, we found that ASA 3 status (OR 2.38), emergency surgical procedures (OR 4.07), procedures on the left lung parenchyma (OR 1.53), and the use of a R-DLT (OR 2.93) increased the risk of malposition. We also found that the use of BRO reduced the risk of intraoperative desaturation (OR 0.69). BRO use likely allowed a rapid recognition of the dislocation and therefore a higher possibility of placement correction and subsequent warranty of adequate ventilation reducing hypoxemia development. In patients with malposition there was a high number of cases of hypoxemia (P=0.001) than previously reported (6). The bivariate analysis revealed no statistically significant difference concerning the desaturation rate in patients managed with BRO in comparison to those managed without it. This result, apparently in conflict with the previous one, when analyzed in the multivariate statistical analysis due to many factors leading to intraoperative desaturation revealed that the use of BRO by itself is a protective factor for intraoperative desaturation (OR 0.69) during OLV.
We also found a quite significant prevalence of difficult airway in thoracic surgery; 16%, of which predicted in 10.8% and unpredicted in 5.2%. The literature is abundant with papers regarding the incidence of difficult airway management, assessing a prevalence in the general population between 1.5% and 8.5% (32-34). Only a few studies have analyzed these events in thoracic anesthesia; specifically, a previous report of Brodsky found a fairly low prevalence of 2.6% (7). A recent retrospective analysis including a total of 763 patients showed an incidence of difficult intubation of 13.6%, an occurrence of difficult mask ventilation of 9%, and that 2% of patients experienced both (35).
The time required for the positioning of a BB in patients with difficult airways (Cormack-Lehane Grade 3–4) was much higher than that needed for the DLT; about 93 sec longer in the case of a Cormack grade 3 and about 229 s in a Cormack grade 4. Clayton-Smith et al. showed that the bronchial blocker should have a lower positioning time than that of a DLT (2). However, this was an analysis that did not classify patients according to the difficulty of the airways and the heterogeneity of the results was found to be extremely high.
The use of the AEC is not limited only to the exchange of a SLT with a DLT, but it is very well suited to be used as a mean of protection and safety of the airways during the extubation process of a difficult airway, as suggested in the SIAARTI guidelines (36). In the study by McLean et al. (37), in which 1,177 patients were considered, the procedure of exchanging the SLT with a DLT through the use of the AEC presented a 39.9% failure rate while the exchange of a DLT with a SLT showed no failure. This may mean that the use of the AEC is much safer at the end of surgery as a protection device of the airways during extubation. In our study, we found a very limited AEC use in only 11 patients: 3 in the case of a predicted difficult airway and 8 in case of unpredicted difficulty. This may be due to the device high cost, to the necessary expertise for its correct use, but also to the overconfidence of the anesthetist in addressing any possible problems during extubation.
The presence of a difficult airway does not seem to affect patients' postoperative discharge; 58.9% of patients with Cormack-Lehane grade 3 or 4 was discharged directly into the inpatient department, 35.5% in Intensive Care and only 5.5% in the post-anesthesia care unit. However, the presence of a PACU is a rare occurrence in Italy. This may also explain the high percentage of patients referred directly to the Intensive Care Unit. The German survey (19) claims that hospitals with lower levels of care admitted patients routinely (92.3%) to ICU.
This is a national multicenter study with such a large sample not previously found in literature. Given the observational characteristic of the study, it was representative of daily anesthetic practice in thoracic anesthesia including expert and inexpert practitioners' performances.
There are some limitations regarding this study. First of all, this was an observational study and not a protocoled, randomized controlled trial. The total number of the inserted BBs was particularly low so that the comparison with DLTs is not statistically possible. The number of R-DLT was also very low, meaning that the comparison between R-DLT and L-DLT was weak. However, these issues were out of the goal of our study. The BRO and BB use distribution was not homogeneous among the centers, as expected for a multicenter observational study. The study was not designed to investigate postoperative complications. Another limitation could be the "definition" of the desaturation event during OLV. We decided a cut off of SpO2 =92%, while other authors reported this limit from 90% to 94%.
In conclusion, in this study DLT provided better lung collapse and had a lower associated malposition rate, making it the safest choice. L-DLT was found to be the primary choice device for OLV also in the case of predicted or unpredicted difficult airways. The correct positioning of DLT had been checked with BRO in about half of the sample revealing that in clinical practice BRO is not routinely employed. Nevertheless, our data show that BRO could be useful in a "more protective strategy" for checking the correct position of the device, achieving a greater adherence to the "ideal positioning" of the DLTs. Beyond the placement technique, DLTs and BBs malposition is common. The possibility of encountering a difficult airway in thoracic surgery is real and fairly frequent. During thoracic surgery, even desaturation is a common event as demonstrated by the incidence of 20% in our study. Predicting factors of desaturation are the presence of dislocation and the big size of DLT. The use of BRO and the left surgical side proved to be protective factors against the risk of intraoperative desaturation.
---
Acknowledgments
None.
---
Footnote
Conflicts of Interest: The authors have no conflicts of interest to declare.
Ethical Statement: The authors are accountable for all aspects of the work in ensuring that questions related to the accuracy or integrity of any part of the work are appropriately investigated and resolved. The study protocol was approved by the Ethics Committee of the Academic Hospital "S. Maria Della Misericordia", Udine, (Protocol n° 67019/2012; registered at www.clinicaltrials.gov as NCT02361983). Written informed consent was obtained from each patient prior to enrolment.
---
References
Cite this article as: Langiano N, Fiorelli S, Deana C, Baroselli A, Bignami EG, Matellon C, Pompei L, Tornaghi A, Piccioni F, Orsetti R, Coccia C, Sacchi N, D'Andrea R, Brazzi L, Franco C, Accardo R, Di Fuccia A, Baldinelli F, De Negri P, Gratarola A, Angeletti C, Pugliese F, Micozzi MV, Massullo D, Della Rocca G. Airway management in anesthesia for thoracic surgery: a "real life" observational study. J Thorac Dis 2019;11(8):3257-3269. doi: 10.21037/jtd.2019.08.57