Review Article
A narrative review of advances in treatment and survival prognosis of HER2-positive malignant lung cancers
Introduction
As one of the most lethal tumors, pulmonary malignant tumors including adenocarcinoma, squamous cell carcinoma, small cell lung cancer have always been widely concerned clinically. Human epidermal growth factor receptor 2 (HER2) receptor can overexpress or mutate in many cancers, including breast cancer, ovarian cancer, and also non-small cell lung cancer (1). HER2 overexpression and amplification have been reported in 13–20% and 2–22.8% of NSCLCs, respectively (2,3). Insertion or deletion of HER2 exon 20 occurs in 2.27–4.5% of lung adenocarcinomas, especially in Asian, female patients and non-smokers (4-6). The most frequent mutation is YVMA 776–779 insertion. Insertion or deletion accounts for 90% of all HER2 gene positivity and the remaining 10% could be expressed as HER2 amplification (7,8). HER2 mutations are overall considered as important therapeutic targets, while trastuzumab and afatinib are already used on HER2-positive patients in clinic (9). Although studies frequently find overexpression of HER2 receptor family in stage IV NSCLC patients is associated with rapid progress, brain metastasis, and also acquired resistance, whether there is a statistical difference between HER2 gene positivity and the occurrence of brain metastasis and survival of patients is under exploration (10).
However, several specific genotypes already provide reference for targeted drugs selection and prediction of its sensitivity, although different clinical trials have different criteria for patient screening classification, which has an impact on outcomes of final experiment (11). At present, HER2 amplification was found in 13% patients with acquired resistance to EGFR-mutant NSCLC, and is considered as a possible mechanism of resistance to EGFR-TKIs, such as osimertinib, crizotinib (12-14). HER2 exon 20 insertion has been shown to be one of the mechanisms of resistance in EGFR-mutated advanced NSLCLC patients using osimertinib, which may explain worse clinical outcome (15,16).
Even with so many attempts, the survival prognosis of HER2 mutation-positive patients remain unsatisfactory. Different status indicates different prognosis for survival and their sensitivity to different drugs is still under exploration. It can be argued that in patients with HER2 mutation, more exploration is still needed.
We present the following article in accordance with the Narrative Review reporting checklist (available at http://dx.doi.org/10.21037/jtd-20-3265).
---
Relationship between HER2 and prognosis
Common genotypes of HER2 include mutation, overexpression and amplification, while common detection methods and basis for grouping patients include next generation sequencing (NGS), immunohistochemistry (IHC), and fluorescence in situ hybridization (FISH). Meanwhile, some researchers doubted that dual in situ hybridization (DISH) may be better than FISH for detection of cases with HER2 amplification (3). Some data shows that HER2 amplification and HER2 mutation usually does not overlap in patients, so they may represent different therapeutic targets (17).
HER2-positive status such as HER2 overexpression or amplification undertake worse prognostic roles. A meta-analysis of 6,135 lung cancer patients shows that HER2 overexpression determined by IHC analysis is a marker of poor prognosis in NSCLC (HR 1.48; 95% CI: 1.22–1.80), especially in small cell lung cancer, adenocarcinoma and early NSCLC patients (18,19). A multicenter study showed a median overall survival of 49.1 months in all patients with lung adenocarcinoma, while survival of HER2-negative group was just longer than that of HER2-positive group (49.3 vs. 45.0, P=0.150) (20). No statistical difference was also found between HER2 mutation and patient survival in another study involving 111 patients, but HER2-negative patients tended to have longer survival (20.5±2.4 vs. 19.2±2.6 months, P=0.094) (21), and authors speculated that this result might be due to inconsistent treatment options after recurrence or metastasis and also fewer patients number included.
In studies, immunohistochemical score is used as one of the grouping indicators to predict drug sensitivity and evaluate patient survival, with 10% adenocarcinoma scoring IHC2+/3+. Five-year survival rates of adenocarcinoma patients with IHC scores of 0, 1, 2 and 3 are 75.3%, 77.8%, 76.5% and 20.0% (22). In peter's study, grouped by IHC, patients with score 3 had a statistically lower survival rate than those with score 2 (23). No response to HER2-targeted antibody–drug conjugate trastuzumab emtansine (T-DM1) was seen in patients with score 2, while disease control rate (DCR) was greatly reduced. This may partly explain the lack of statistical differences in data from previous clinical studies that were not grouped. However, IHC alone could not be used as a sole indicator for treatment selection, and HER2 overexpression diagnosed by IHC positivity cannot predict treatment response, calling for a scoring system to assess HER2 condition and then grouping patients (24).
---
Specific mutations and co-mutations affect drug activity
In a recent study, genotype G778_P780dup and G776delinsVC was found achieving greatest benefit from afatinib (25). In this study, ORR and DCR of afatinib were 15.6% and 68.8%. A775_G776insYVMA group (n=14) achieved an ORR of 0%, DCR 35.7%, and PFS was 1.2 months. While, ORR of G778_P780dup/G776delinsVC group (n=10) was 40%, DCR was 100%, and PFS was 7.6 months. Presence of a glycine at position 778 was suggested to be a common feature of drug sensitivity mutations. Patients harboring G778_P780dup subtype achieved longer PFS (10 vs. 3.3 months, P=0.32) and OS (19.7 vs. 7 months, P=0.16) than other 20ins but non-G778 subtypes (5).
In Yuan study (26), the clonality status of HER2 ex20ins and co-occurrence of TP53, which was the most frequently co‐mutated gene in HER2 mutations (69.0%) were identified as a potential indicator for response to afatinib, and represented shorter clinical prognosis (4). Data in Zhao's paper indicated that length of αC-β4 loop and residues at HER2 776 and 778 position were also two influencing factors for sensitivity of TKIs (27). Predictably, S779_P780insVGS and G778_S779insCPG (28) were also sensitive to TKIs. Meanwhile, G776delinsAVGC with 2 amino acid extensions and retaining the G778 residue were expected to respond to dacomitinib like G778_P780dup.
Some rare mutations like transmembrane domain (TMD) mutations account for 0.13% of all lung cancer. Patients who carry HER2 TMD mutations resulted with mixed responses after receiving afatinib, asking for more effective therapeutic strategy (29). Chuang also reported that PIK3CA mutation and HER2 copy increase could be potential resistance factors to afatinib (30). Studies showed that low fragile histidine triad (FHIT) and high pHER2 phenotype could predict sensitivity to anti-HER2 therapy in NSCLC, as FHIT regulated activity of HER2 and FHIT-inactivated tumor cells were sensitive to HER2 inhibitors (31). Studies above conclude that selecting patients based on specific HER2 mutation and co-mutation may help improve efficacy of anti-HER2 therapy.
---
Treatment
At present, due to lacking guidelines for treatment of HER2-positive lung cancer patients, monoclonal antibodies for HER2-positive breast cancers like trastuzumab, EGFR-TKIs and chemotherapy for lung cancers are all main drugs in clinical practice. Retrospective cohort studies comprehensively evaluate several treatment options and their clinical benefits, listed in Table 1.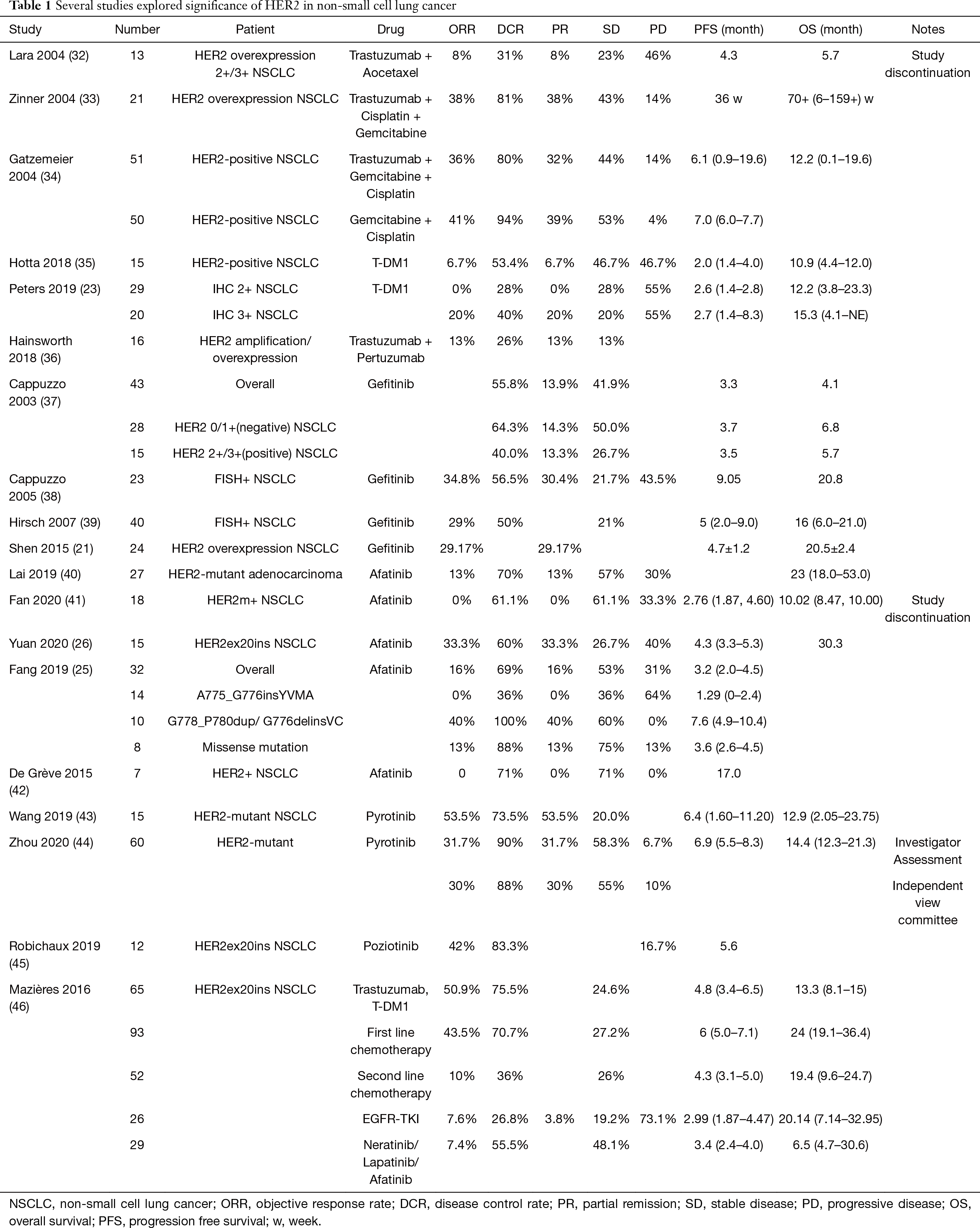 Table 1
Several studies explored significance of HER2 in non-small cell lung cancer
Full table
Trastuzumab
Trastuzumab and its conjugation
Trastuzumab emtansine (T-DM1), a HER2-targeted antibody-drug conjugate can significantly improve survival rate of HER2 positive breast cancer, which may do the same to NSCLC patients (47). In a retrospective study involving 101 patients with HER2 exon-20 insertion from 38 centers, 5 of them with concomitant EGFR mutations, and 58 of them finally received trastuzumab or T-DM1. Median PFS in trastuzumab group was 4.8 months, and OS was 13.3 months (46). Li also assessed activity of T-DM1 on 18 patients with advanced HER2-mutant lung adenocarcinomas, with a response rate of 44% (95% CI: 22–69%) in patients with HER2 exon 20 insertions and a median PFS of 5 months (95% CI: 3–9 months) (48). However, current studies have shown that only cells with strong HER2 immunostaining could be killed after exposure to Trastuzumab Emtansine (T-DM1), while cells with weak staining may escape and continue to grow. Therefore, patients with IHC 3 + could choose T-DM1 treatment, while patients with IHC 2 + or less may not achieve better response concluded by peters' study (23). Authors analyzed that some studies on T-DM1 do not exclude PIK3CA mutation, which may also make clinical results not positive in NSCLC patients.
In Tsurutani's study (NCT02564900), HER2-targeted antibody-drug conjugate Trastuzumab deruxtecan was assessed in 60 patients with pretreated solid tumors, covering HER2-expressing and HER2-mutant NSCLC, salivary gland cancer, biliary tract cancer, breast cancer and so on. In NSCLC group, ORR was 72.7% (8/11), and median PFS was 11.3 months (95% CI: 8.1–14.3%) (49). In DestinyLung01 study covering with 42 relapsed/refractory HER2-mutant NSCLC, T-DXd led to a confirmed objective response rate (ORR) of 61.9% and median PFS was 14.0 months (50). FDA already granted a breakthrough therapy designation to T-DXd for the treatment of patients with metastatic HER2-mutant NSCLC (51).
Combination of trastuzumab and others therapy
In 2004, Lara, Zinner, and Gatzemeier used combination of trastuzumab and chemotherapy, including docetaxel, cisplatin and gemcitabine in HER2-positive lung cancer patients (32-34). Except Lara, other two studies were found clinical effectively, with a response rates (ORR) of 38%, 36% and DCR of 81%, 80%. In Gatzemeier's study, PFS was 6.1 months (95% CI: 0.9–19.6 months) and OS was 12.2 months (95% CI: 0.1–19.6 months).
Neratinib and pertuzumab were also found effective in HER2-positive tumor models (52,53). Follow-up studies are still needed to validate clinical benefits of trastuzumab in combination with TKIs or pertuzumab.
Tyrosine kinase inhibitors (TKIs)
In non-small cell lung cancer, TKIs are widely used in EGFR-positive patients, but the benefits of EGFR targeted drugs are far less in HER2-positive NSCLC than in EGFR-positive ones. Different genotypes of HER2 mutation shows different clinical effects towards different TKIs, such as gefitinib, afatinib and dacomitinib. Many studies are also exploring new drugs for HER2-mutated patients with or without EGFR mutation.
Gefitinib
Gefitinib, as a classic first-generation EGFR-TKI, is used as irreplaceable treatment for Lung adenocarcinoma patients with EGFR mutation like exon 19 deletion, and exon 21 (51). In 2009, Varella found HER2 FISH+ patients could benefit from gefitinib therapy. A group of 44 Japanese patients with recurrent NSCLC who received 250 mg gefitinib daily detected 23 HER2 FISH+ patients (53%), with an overall response rate of 52% (54). In 106 Chinese NSCLC patients treated with gefitinib, ORR could be significantly higher in HER2-positive patients regardless of EGFR mutation status (55). However, in a retrospective study, the EGFR/HER2 status of 111 lung cancer patients were diagnosed by undergoing biopsy or surgery, combination of EGFR mutation and HER2 overexpression was 5.41% (n=6). There was no significant difference in disease control rate (DCR) and OS (5.7 vs. 6.8 months) between HER2 overexpression and HER2 negative group, with or without EGFR mutation (21). Another study involving 63 patients with EGFR mutation obtained a similar conclusion that HER2 expression levels were not associated with survival prognosis. The PFS between two groups was 4.7 and 3.9 months, P=0.085, and OS was 20.5 and 19.2 months, P=0.094 (37).
These studies demonstrated that gefitinib was not beneficial for disease control in HER2-positive patients, and some patients with HER2 mutation but without EGFR mutation may need to avoid choosing gefitinib as first-line treatment. High HER2 copy number, to some extent, may affect gefitinib's clinic effect (56), but HER2 overexpression was not useful in predicting sensitivity of NSCLC patients with gefitinib.
Afatinib
In advanced lung adenocarcinoma patients carrying HER2 mutations, studies tend to explore afatinib as first-line treatment (57). Clinical studies on afatinib have achieved preclinical model inhibition, and shown a good response rate in clinical studies (58). Lai assessed 23 patients with stage IV HER2 mutant lung adenocarcinoma, 57% of whom achieved stable disease after receiving afatinib. Median overall survival of them was 23 months (95% CI: 18–53 months) (40). In another study of 28 pretreated stage IV NSCLC patients, median PFS in HER2 mutant subgroup (n=12) was 9.6 months, with an ORR of 33% and a DCR of 100% (59). In Fan's study (41), 18 III b/IV NSCLC patients with HER2-mutation positive received afatinib after failing one or two prior lines of chemotherapy. 11 patients (61.1%) had stable disease, while 6 patients (33.3%) had progressive disease, and DCR was 61.1%. Median PFS was 2.76 months (95% CI: 1.87–4.60 months), and OS was 10.02 months (95% CI: 8.47–10.08 months).
Studies have shown that the median PFS of patients treated with afatinib and paclitaxel is 6.7 weeks, and afatinib plus paclitaxel may be more effective than afatinib alone (60). Combination of afatinib and chemotherapy could be a better choice for HER2 positive NSCLC patients, and survival time of HER2-TKI plus chemotherapy could not be affected by order of these two drugs (P=0.263). Afatinib was effective in NSCLC patients who were resistant to erlotinib or gefitinib, with a response rate of 11.6%, a PFS of 3.9 months, and an overall survival of 7.3 months in 86 evaluable patients (61). Also, its clinical activity can still be seen in HER2-positive patients after several lines of pretreatment (42,62). It could induce partial response in patients who have previously received other HER2 targeted therapies, including trastuzumab and pertuzumab (40).
The researches above illustrated that afatinib may be used as a choice for advanced HER2-positive patients after failure of multiline therapies (63). At the same time, afatinib also showed high efficacy in untreated patients with HER2 mutation and then could be considered for those who are not suitable for standard treatment (64).
Other HER2 inhibitors in exploration
Clinical trials are now exploring effect of some novel HER2 inhibitors like pyrotinib, poziotinib, lapatinib, dacomitinib, neratinib to prolong survival for patients out of choice after failure of monoclonal antibody or afatinib (65).
In previous studies, pyrotinib showed promising antitumor activity and acceptable safety in NSCLC patients with HER2 mutation. A patient diagnosed with lung adenocarcinoma and bone marrow metastasis achieved stable disease and recovery of pancytopenia after two months of pyrotinib therapy (66). A rare subtype G778_S779insCPG was also reported partial response to pyrotinib and PFS was 12.8 months (28). Recently, Wang's study (43) included 15 HER2 patients with an ORR of 53.3%, a median OS of 12.9 months and most patients tolerated pyrotinib well. Zhou's study included 60 NSCLC HER2 mutated patients treated with pyrotinib monotherapy, and only one patient was confirmed combining with EGFR mutation. Median overall survival was 14.4 months (95% CI: 12.3–21.3 months), median duration of response was 6.9 months (95% CI: 4.9–11.1 months), and median PFS was 6.9 months (95% CI: 5.5–8.3 months) (44).
In previous studies, poziotinib was once compared with nine TKIs in a preclinical study and was found showing most activity against HER2 exon 20 insertion mutation (67). A phase II clinical testing in HER2 exon 20-mutant NSCLC patients resulted in an ORR of 42% in the first 12 evaluable patients, and also proved poziotinib may upregulating HER2 cell-surface expression activity of T-DM1 in pre-clinical models (45). Authors considered that this high activity might be due to small size of poziotinib and its flexible structure enabling it to bind to kinase domain. However, poziotinib induced significant toxicity, including more than 50% of patients with grade 3 or higher toxicity and even death due to pneumonia (68).
Combination of lapatinib and trastuzumab proved to be an attemptable method for HER2-mutuated NSCLC patients (69). A total of 18 patients treated with lapatinib, partial response was detected in 4 patients, and resulted that even if lapatinib and pemetrexed were well tolerated, while clinical outcome was still similar to pemetrexed monotherapy (70). Another study of 60 NSCLC patients demonstrated that lapatinib combined with whole brain radiotherapy (WBRT) is a feasible method in patients with brain metastasis. In NSCLC group, OS was 4.2 months (95% CI: 3.2–5.1 months) with a median TTP of 2.8 months (95% CI: 1.7–4.1 months) (71). NSCLC patients with HER2 amplification may benefit from lapatinib alone, while this could not be determined by current studies (72).
In Kris's study, 3 of 26 HER2 exon 20 mutated patients treated with dacomitinib had partial responses, and DCR was 12%, while none of four patients with HER2 amplifications responded to dacomitinib, with PFS of 1, 1, 5, and 5 months and survival of 5, 7, 15, and 22 months, successively (73). Similar conclusion was drawn in another phase II trial, none of the 13 patients with HER2 YVMA mutant responded. Thus, dacomitinib has limited efficacy in HER2 mutation patients, especially patients with amplification and YVMA mutations could not benefit from it, so patients with these genotypes may not choose dacomitinib (74). However, dacomitinib is shown that it could overcome de novo resistance toward trastuzumab as well as acquired resistance to lapatinib, which may provide solution by combining two drugs together.
Neratinib already showed strong antitumor activity against HER2 amplified and HER2 mutated in vitro and in mice (75). In a phase II trial, neratinib achieved no partial response in NSCLC patients with HER2 mutations, but six patients (35%) showed stable disease. Eight patients (19%) resulted a partial response in combination with sirolimus, while 14 patients (32.5%) resulted stable disease (76). Neratinib has potential as a therapeutic option for treating HER2-positive NSCLC. Notably, no HER2 exon 20 insertion mutant NSCLC show an objective response to neratinib treatment.
New drugs from ongoing clinical studies
Considering limited drug selection and poor prognosis of lung cancer patients with HER2 mutation, researchers are undergoing cells level, in vitro, and finally in vivo to develop new drugs to fill the gap.
A new agent conjugated by HER2-specific affibody ZHER2: V2 and pemetrexed inhibited growth of HER2-positive lung adenocarcinoma in both cell level and xenografts models (P<0.05), which indicated potential to be a targeted drug for lung cancer (77). Trastuzumab deruxtecan (DS‐8201a) also showed activity in HER2-positive solid tumors (78). Meanwhile, Furanopyrimidine-Based Epidermal Growth Factor Receptor Inhibitor (DBPR112) shows significant antitumor efficacy in xenograft in vivo models and is currently undergoing phase I clinical trial (79). Tarloxotinib is a hypoxia-activated prodrug of a pan-HER2 kinase inhibitor, has shown preclinical efficacy in EGFR exon 20 and HER2 mutant NSCLC patients. In another study (NCT03805841), 23 patients were treated with tarloxotinib, showing antitumor activity with an ORR of 60% for all evaluable 20 patients (80).
---
Discussion
HER2 mutations are rare in non-small cell lung cancer, only 36 patients were found by NGS, in other words a rate of 3.2% in a previous retrospective study (81). Also, a proportion of patients have combined mutations, and ratios varied in different studies. Among these 36 patients, six patients (16.7%) had a co-existent of EGFR mutation and two (5.6%) had ALK rearrangement.
Studies have explored the superiority among chemotherapy, immunotherapy and targeted therapy. First-line chemotherapy achieved final PFS of 6 months (95% CI: 3.97–8.03 months) while first-line immunotherapy was 6 months (95% CI: 4.17–7.83 months). Also, no statistical difference was found between HER2 20 exon insertion mutation group and HER2 amplification group in terms of PFS or OS. Mazières' study including 101 patients from 38 centers resulted with a median overall survival of 24 months. Overall response rate and median PFS of conventional chemotherapy were 43.5%, 6 months in first-line treatment (n=93), compared with 10%, 4.3 months in second-line (n=52) (46). Another study included 38 stage IV HER2-positive lung cancer patients, with an overall survival of 2.3 years (95% CI: 1.2–2.6 years). Median survival time of chemotherapy was 4.3 months, including 6.2 months for pemetrexed plus platinum or bevacizumab, 4 months for paclitaxel plus platinum or bevacizumab, 2.6 months for gemcitabine and 3.5 months for vinorelbine. Median duration of HER2-TKIs was 2.2 months (82).
In conclusion, median duration of chemotherapy tends to be longer than HER2-targeted drugs in HER2-positive lung cancer. Among HER2-targeted therapy, monoclonal antibodies show a higher response rate than TKIs. Unfortunately, benefit of antibodies or their conjugates is limited to patients with HER2 overexpression or amplification, while no satisfactory results are observed for patients with mutations. For these patients, TKIs and chemotherapy are viable options.
The above conclusions are mostly for patients with adenocarcinoma, while association between HER2 overexpression or amplification and prognosis in patients with squamous cell carcinoma is not found to be statistically significant. Therefore, a unified diagnostic process should be adopted to assess HER2 status in subsequent studies accessing prognosis and therapeutic effect of HER2-targeted drugs (83).
Chemotherapy, as a widely used lung cancer therapy in clinic, is often used in comparison or combination with TKIs. Mazières' study (84) included 22 NSCLC patients, who diagnosed with a HER2 in-frame insertion in exon 20 and received targeted and chemotherapy, including trastuzumab, lapatinib, afatinib. Best clinical results are achieved among trastuzumab combined with chemotherapy (n=15; DCR: 96%) and afatinib monotherapy (n=4; DCR: 100%). In this study, lapatinib or masitinib are also found ineffective. In song's study, PFS of 7 HER2-positive patients treated with first-line targeted therapy was 2.0 months, and patients treated with first-line chemotherapy was 4.6 months. The DCR of 4 patients treated with afatinib was 75%, and PFS was 4 months (20). For patients with a known HER2 exon 20 insertion mutation, OS tended to be superior in first-line TKI group to that receiving chemotherapy (10.8 vs. 9.8 months, P=0.40). However, patients receiving first-line chemotherapy may have a median PFS of 5.9 months, numerically longer than that of HER2-TKI (4.6 months, P=0.63) (85).
Compared with chemotherapy, although it is hard to conclude that HER2-targeted drugs have superiority, TKIs still have advantages of less significant side effects and no need for hospitalization. Among TKIs, studies have shown that first-generation EGFR-TKIs are less effective in patients with HER2 mutations. For patients with HER2 mutations, second-generation EGFR-TKIs like afatinib and dacomitinib are better choices than first-generation TKIs. Most of these TKIs have lower response rates than HER2 antibody, except positinib. Investigator conjectured that the high activity of positinib results from its small size and flexible structure, which enables it to bind to the kinase domain. Therefore, positinib may be a better drug for patients who cannot benefit from HER2 antibody, while its side effect must be taken in consideration.
At the same time, chemotherapy remains basis of systemic therapy. Chemotherapy leads to better clinical profits and longer survival to patients with advanced lung cancer with HER2 mutation, especially the most common YVMA subtype. For patients with advanced metastasis, chemotherapy is more helpful to prolong survival time. Xu's study also found that chemotherapies had better efficacy than afatinib and other TKIs for Chinese patients with advanced NSCLC and HER2 mutations (first-line PFS: 5.5 vs. 3.7 months, P=0.001 and second-line PFS: 4.2 vs. 2.0 months, P=0.031), especially for most common subtype of YVMA insertion (first-line PFS: 6.0 vs. 2.6 months, P=0.008 and second-line PFS: 4.2 vs. 2.6 months, P<0.001) (86). Especially for patients with brain metastases, majority of patients receiving HER2-targeted drugs had short or no benefit. However, Lapatinib combined with whole-brain radiation therapy (WBRT) may be a feasible approach in patients with brain metastases in Christo's study (71).
Patients tend to receive first-line chemotherapy than targeted drugs, meanwhile first-line therapy is expected to produce longest treatment time, because patients' performance status usually decreases with development of cancer, so clinical data may be biased toward chemotherapy (82). Also, effect of concurrent radiotherapy is often neglected in studies.
Studies are now undergoing in combination with chemotherapy and targeted drug therapy for lung cancer patients with HER2 mutations. Results showed that the combination of afatinib and paclitaxel is more effective than afatinib alone. At the same time, combination of trastuzumab, afatinib and chemotherapy may be beneficial, so patients with HER2-positive NSCLC can also attempt afatinib in combination with chemotherapy if conditions permit.
At present, prognostic significance of HER2 dysregulation remains unclear. It is clinically required to develop individualized diagnosis and treatment programs for different patients. Studies have found that coexistence of EGFR and HER2 leads to a high dependence of tumor and metastatic spread, and studies targeting HRE2 may increase clinical options, prolong patient survival and improve prognosis. Combination of anti-EGFR and anti-HER2 drugs may be a potential strategy to overcome acquired resistance to TKIs (87,88).
---
Acknowledgments
Funding: This work was supported by the National Nature Science Foundation of China (81772500); Natural Science Foundation of Jiangsu Province (BK20180139); Department of Science and Technology of Jiangsu Province (BE2019718, BE2019719).
---
Footnote
Reporting Checklist: The authors have completed the Narrative Review reporting checklist. Available at http://dx.doi.org/10.21037/jtd-20-3265
Conflicts of Interest: All authors have completed the ICMJE uniform disclosure form (available at http://dx.doi.org/10.21037/jtd-20-3265). The authors have no conflicts of interest to declare.
Ethical Statement: The authors are accountable for all aspects of the work in ensuring that questions related to the accuracy or integrity of any part of the work are appropriately investigated and resolved.
Open Access Statement: This is an Open Access article distributed in accordance with the Creative Commons Attribution-NonCommercial-NoDerivs 4.0 International License (CC BY-NC-ND 4.0), which permits the non-commercial replication and distribution of the article with the strict proviso that no changes or edits are made and the original work is properly cited (including links to both the formal publication through the relevant DOI and the license). See: https://creativecommons.org/licenses/by-nc-nd/4.0/.
---
References
Cite this article as: Wu R, Yuan B, Li C, Wang Z, Song Y, Liu H. A narrative review of advances in treatment and survival prognosis of HER2-positive malignant lung cancers. J Thorac Dis 2021;13(6):3708-3720. doi: 10.21037/jtd-20-3265