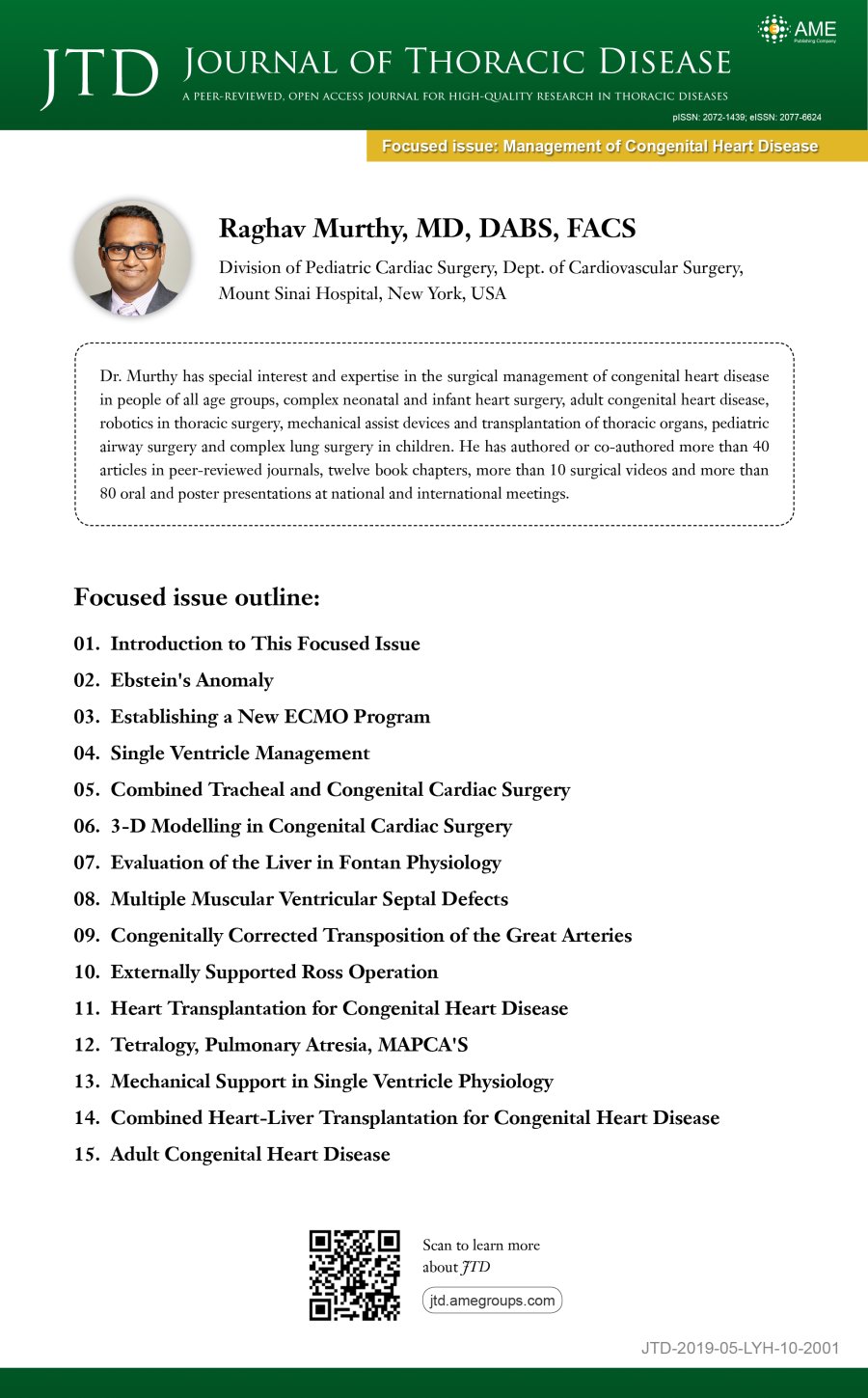 This focused issue on "Management of Congenital Heart Disease" is edited by Dr. Raghav Murthy, Division of Pediatric Cardiac Surgery, Dept. of Cardiovascular Surgery, Mount Sinai Hospital, New York, USA.
Dr. Murthy has special interest and expertise in the surgical management of congenital heart disease in people of all age groups, complex neonatal and infant heart surgery, adult congenital heart disease, robotics in thoracic surgery, mechanical assist devices and transplantation of thoracic organs, pediatric airway surgery and complex lung surgery in children. He has authored or co-authored more than 40 articles in peer-reviewed journals, twelve book chapters, more than 10 surgical videos and more than 80 oral and poster presentations at national and international meetings.
Focused issue outline:
Introduction to This Focused Issue
Ebstein's Anomaly
Establishing a New ECMO Program
Single Ventricle Management
Combined Tracheal and Congenital Cardiac Surgery
3-D Modelling in Congenital Cardiac Surgery
Evaluation of the Liver in Fontan Physiology
Multiple Muscular Ventricular Septal Defects
Congenitally Corrected Transposition of the Great Arteries
Externally Supported Ross Operation
Heart Transplantation for Congenital Heart Disease
Tetralogy, Pulmonary Atresia, MAPCA'S
Mechanical Support in Single Ventricle Physiology
Combined Heart-Liver Transplantation for Congenital Heart Disease
Adult Congenital Heart Disease
Disclosure:
The focused issue "Management of Congenital Heart Disease" was commissioned by the editorial office, Journal of Thoracic Disease without any funding or sponsorship. Raghav Murthy is serving as the unpaid Guest Editor for the focused issue.