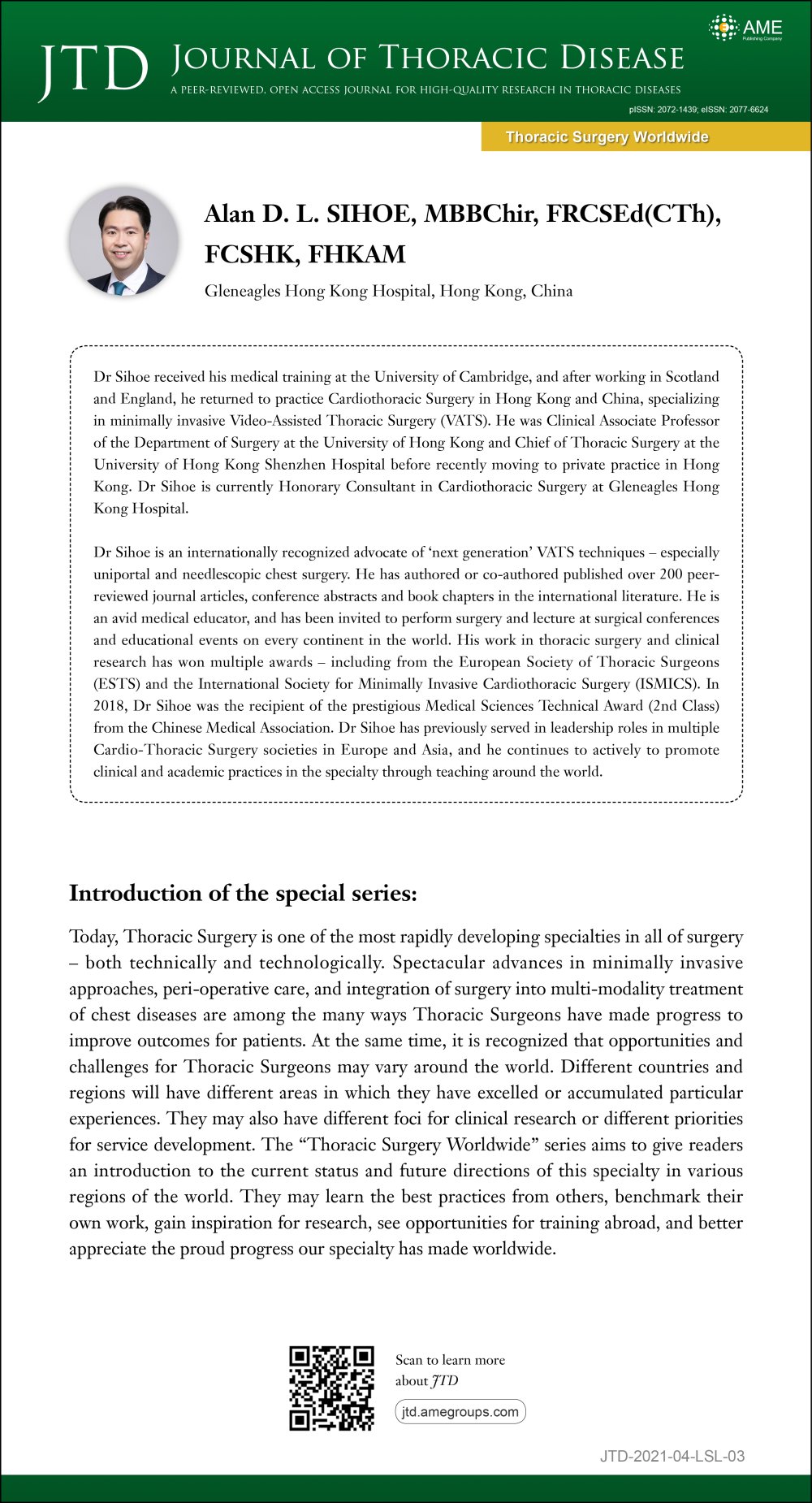 Starting in 2021, the Journal of Thoracic Disease (JTD) will be launching a new regular feature in each issue entitled "Thoracic Surgery Worldwide". The aim of this series is to showcase the status of Thoracic Surgery around the world.
Today, Thoracic Surgery is one of the most rapidly developing specialties in all of surgery – both technically and technologically. Spectacular advances in minimally invasive approaches, peri-operative care, and integration of surgery into multi-modality treatment of chest diseases are among the many ways Thoracic Surgeons have made progress to improve outcomes for patients. At the same time, it is recognized that opportunities and challenges for Thoracic Surgeons may vary around the world. Different countries and regions will have different areas in which they have excelled or accumulated particular experiences. They may also have different foci for clinical research or different priorities for service development. The "Thoracic Surgery Worldwide" series aims to give readers an introduction to the current status and future directions of this specialty in various regions of the world. They may learn the best practices from others, benchmark their own work, gain inspiration for research, see opportunities for training abroad, and better appreciate the proud progress our specialty has made worldwide.
The Guest Editor for the "Thoracic Surgery Worldwide" series is Dr Alan Sihoe. Dr Sihoe is the International Director for the Society of Thoracic Surgeons (STS), a Councilor of the Asian Society for Cardio-Vascular and Thoracic Surgery (ASCVTS), Associate Editor of the European Journal of Cardio-Thoracic Surgery (EJCTS), and Editor-in-Chief of the Journal of Visualized Surgery (JOVS). He has also served in committees of both the European Society of Thoracic Surgeons (ESTS) and the European Association of Cardio-Thoracic Surgery (EACTS). From this experience working with world-class Thoracic Surgeons from across the globe over the years, Dr Sihoe has invited a stellar team of authors to contribute to this series. Each article in this series will focus on one country of region, and will be authored by a Thoracic Surgeon recognized as a leader in the specialty in their own country or region.
Editorial on Thoracic Surgery Worldwide
Editorial Commentary on Thoracic Surgery Worldwide
Review Article on Thoracic Surgery Worldwide
More are coming...
Disclosure:
The series "Thoracic Surgery Worldwide" was commissioned by the editorial office, Journal of Thoracic Disease without any funding or sponsorship. Alan Sihoe is serving as the unpaid Guest Editor for the series.