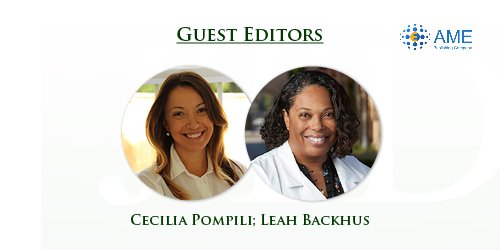 This focused issue on "Women in Thoracic Surgery" is edited by Dr. Cecilia Pompili, from Thoracic Surgery Department, St James' Institute of Oncology, Leeds, United Kingdom; and Dr. Leah Backhus, from Division of Thoracic Surgery, Department of Cardiothoracic Surgery, Stanford University, Stanford, United States of America.
This series is a collection of invited lectures presented during the symposium on Global perspectives from Women in Cardiothoracic Surgery held at the European Society of Thoracic Surgeons (ESTS) conference in Dublin, Ireland. The session featured perspectives from surgeons from different continents to explore the current situation of women in the field of cardiothoracic surgeons across the world. The event marked the first in its history where the ESTS held a session focused on Women in Thoracic Surgery. In doing so, it provided all ESTS members and non-members guests the opportunity to network with colleagues from all over the world, sharing work, personal experiences and challenges. The session was considered a resounding success by all attendees serving as a catalyst for this journal series.
Disclosure:
The focused issue "Women in Thoracic Surgery" was commissioned by the editorial office, Journal of Thoracic Disease without any funding or sponsorship. Cecilia Pompili and Leah Backhus are serving as the unpaid Guest Editors for the focused issue.