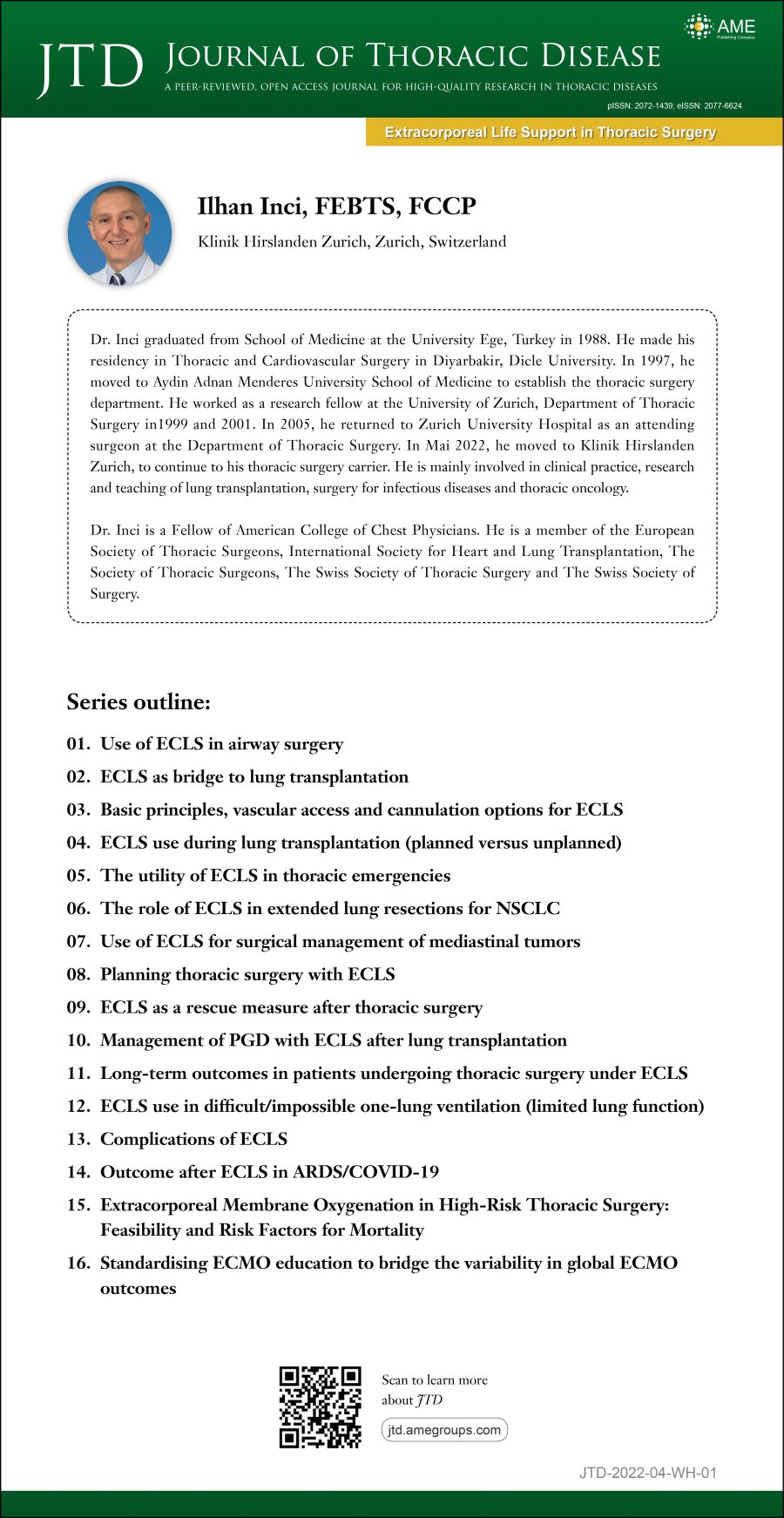 This special series on "Extracorporeal Life Support in Thoracic Surgery" is edited by Dr. Ilhan Inci from Klinik Hirslanden Zurich, Switzerland.
Ilhan Inci, FEBTS, FCCP
Klinik Hirslanden Zurich, Switzerland
Dr. Inci graduated from School of Medicine at the University Ege, Turkey in 1988. He made his residency in Thoracic and Cardiovascular Surgery in Diyarbakir, Dicle University. In 1997, he moved to Aydin Adnan Menderes University School of Medicine to establish the thoracic surgery department. He worked as a research fellow at the University of Zurich, Department of Thoracic Surgery in1999 and 2001. In 2005, he returned to Zurich University Hospital as an attending surgeon at the Department of Thoracic Surgery. In Mai 2022, he moved to Klinik Hirslanden Zurich, to continue to his thoracic surgery carrier.
He is mainly involved in clinical practice, research and teaching of lung transplantation, surgery for infectious diseases and thoracic oncology.
Dr. Inci is a Fellow of American College of Chest Physicians. He is member of the European Society of Thoracic Surgeons, International Society for Heart and Lung Transplantation, The Society of Thoracic Surgeons, The Swiss Society of Thoracic Surgery and The Swiss Society of Surgery.
Series outline:
Use of ECLS in airway surgery
ECLS as bridge to lung transplantation
Basic principles, vascular access and cannulation options for ECLS
ECLS use during lung transplantation (planned versus unplanned)
The utility of ECLS in thoracic emergencies
The role of ECLS in extended lung resections for NSCLC
Use of ECLS for surgical management of mediastinal tumors
Planning thoracic surgery with ECLS
ECLS as a rescue measure after thoracic surgery
Management of PGD with ECLS after lung transplantation
Long-term outcomes in patients undergoing thoracic surgery under ECLS
ECLS use in difficult/impossible one-lung ventilation (limited lung function)
Complications of ECLS
Outcome after ECLS in ARDS/COVID-19
Extracorporeal Membrane Oxygenation in High-Risk Thoracic Surgery: Feasibility and Risk Factors for Mortality
Standardising ECMO education to bridge the variability in global ECMO outcomes
Disclosure:
The series "Extracorporeal Life Support in Thoracic Surgery" was commissioned by the editorial office, Journal of Thoracic Disease without any funding or sponsorship. Ilhan Inci serves as an unpaid editorial board member of Journal of Thoracic Disease from April 2022 to March 2024 and is serving as the unpaid Guest Editor for the series.