GCTAB Column
Optimization of lymph node dissection with VATS right upper lobectomy
Introduction
In recent years, pulmonary lobectomy of full endoscope has developed rapidly. Lots of retrospective studies (1,2) showed safety and feasibility of Video-assisted thoracoscopic lobectomy (VATSL). On the premise of choosing incision properly, to carry out VATSL is not difficult. However, whether VATS can perform complete lymph node dissection to achieve a similar effect of thoracotomy remains a bone of contention for clinical workers (2,3). Thus, we gradually carried out a series of optimization and improvement on operation steps to achieve the aim of mediastinum lymphadenectomy.
---
Clinical summary
A patient, female, 61 years old, was discovered with a space-occupying lesion on the right upper lung (Figures 1,2) during the routine physical examination. She has no past medical history (PMH) of long-term chronic diseases. After knowing that this mass might be lung cancer, the patient refused aspiration biopsy and asked for a thoracoscopic exploratory surgery.
Before the surgery, the patient accepted enhanced MRI of the head and ETC for whole-body bones and B-ultrasonic examination of liver and adrenal gland routinely and no specific metastatic mass wan found. No abnormity such as neoplasm was found during bronchoscopy. Preopreative examinations such as color Doppler echocardiography and pulmonary function test didn't show any clear surgical contraindication.
Preoperative assessment
It should be noted that influenced by medical costs and concepts, most Chinese patients cannot accept examinations such as mediastinoscopy and EBUS-TBNA. At the same time, PET-CT doesn't become a preoperative routine examination to help identify clinical stages. Thus, before the surgery, there is no instructional scheme of lymphadenectomy.
Though systemic lymph node biopsy has little effects on staging diagnosis, there is a possibility to miss metastatic lymph nodes and reduce radical cure of patients' surgery (4). Thus, according to guidelines of ACOSOG (5) and IASLC (6), we conduct routine lymph node dissection on lymph nodes of group 2, 4, 7, 8, 9, 10 and 11.
Anaesthesia and positioning
The patient was put as left lateral position with 90°. In order to unfold intercostal space and get a better field of view, the operating table near ribs 5-8 needs to be blocked up as high as possible.
We apply general anesthesia and double-lumen trachea cannula routinely. In order to achieve a better analgesic Port placement effect for facilitating cough and expectoration during the perioperative period and to leave an observation hole after the surgery (leaving a postoperative drainage tube) and continuous intercostal nerve block (Figure 3).
Operative technique
We apply a 3-hole operation: the observation hole of thoracoscope is chosen to be located between the midaxillary line and the posterior axillary line of the 8th intercostal space with a length about 1.5 cm; the main operation incision is located between the anterior axillary line and the posterior axillary line of the 3rd intercostal space (limited to excision of the upper right pulmonary lobe) with a length about 3 cm. Apply protective cover of incision to protect the main operation incision during the surgery to be convenient for in-and-out of instrument and preventing tumor deposit; the auxiliary operation hole is chosen to be in the the 9th intercostal space of the scapular line with a length about 1.5 cm. After finish making incisions, first explore the chest roundly, separate the adhesion and after excluding special conditions such as metastasis in the chest, start the surgery. Decide whether to carry out pulmonary lobectomy according to results of frozen sections.
As shown in Figure 4, we generally use the natural angle of the single-bend attractor of the main operation incision to make the coagulation hook locate in the angle of the attractor for operation. Sponge forceps within the auxiliary operation hole are used as tools for stretching and exposing. During the operation, the dissection should be as fine as possible. Advice: (I) use HD video equipment; (II) surgical assistants of good teamwork; (III) ample view showing for the surgery; (IV) steady and patient operation habits; (V) dissociate along the natural anatomic space. Try to be exsanguine in the surgical field.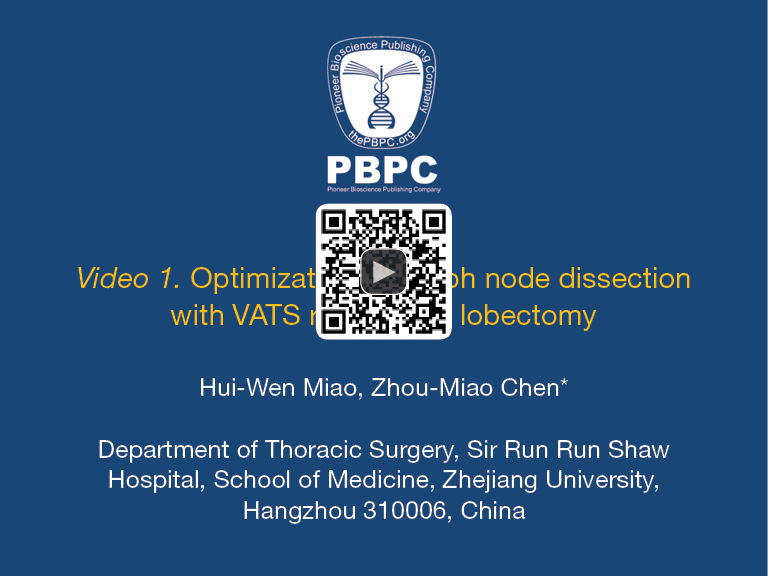 Our method of lymph node dissection tries to protect lymph nodes in adipose tissue as much as possible and avoids damage and bleeding of lymph nodes due to holding by forceps directly. What important is that excision of the whole piece of tissue is beneficial to preventing dissemination of tumor and accuracy of clinical staging.
---
Results
Pathology results of this patient indicated that 38 lymph nodes were excised. Wherein, there were 8 lymph nodes in group 2, 14 in group 7, 1 in group 8, 1 in group 9, and 5 in group 10 and 11 in total. And no metastasis was found on these lymph nodes. And it took 7 days to for drainage (we usually remove the drainage tube when the drainage is less than 200 mL/d).
---
Comments
Whether VATS can perform complete lymph node dissection to achieve a similar effect of thoracotomy remains a bone of contention for clinical workers (1,2). Some literature has reported that the same number of total and mediastinal LN stations could be harvested by VATS and traditional thoracotomy. The same number of N1 LNs could be harvested by VATS and traditional thoracotomy, while less total and mediastinal LNs could be harvested by VATS (8). Our experience is that thoracoscope can achieve observation in a close range with a high amplification factor, good lightning and multiple optional angles. It can expose the chest completely which cannot be matched by the traditional thoracotomy. Thus, to choose a proper operation scheme can finish lymph node dissection better.
---
Acknowledgements
Disclosure: The authors declare no conflict of interest.
---
References
Park BJ. Is surgical morbidity decreased with minimally invasive lobectomy? Cancer J 2011;17:18-22. [PubMed]
Yan TD, Black D, Bannon PG, et al. Systematic review and meta-analysis of randomized and nonrandomized trials on safety and efficacy of video-assisted thoracic surgery lobectomy for early-stage non-small-cell lung cancer. J Clin Oncol 2009;27:2553-62. [PubMed]
Topol M, Masłoń A. The problem of direct lymph drainage of the bronchopulmonary segments into the mediastinal and hilar lymph nodes. Clin Anat 2009;22:509-16. [PubMed]
Wu N, Yan S, Lv C, et al. Comparison of systematic mediastinal lymph node dissection versus systematic sampling for lung cancer staging and completeness of surgery. J Surg Res 2011;171:e169-73. [PubMed]
Darling GE, Allen MS, Decker PA, et al. Randomized trial of mediastinal lymph node sampling versus complete lymphadenectomy during pulmonary resection in the patient with N0 or N1 (less than hilar) non-small cell carcinoma: results of the American College of Surgery Oncology Group Z0030 Trial. J Thorac Cardiovasc Surg 2011;141:662-70. [PubMed]
Rusch VW, Crowley J, Giroux DJ, et al. The IASLC Lung Cancer Staging Project: proposals for the revision of the N descriptors in the forthcoming seventh edition of the TNM classification for lung cancer. J Thorac Oncol 2007;2:603-12.
Miao HW, Chen ZM. Optimization of lymph node dissection with VATS right upper lobectomy. Asvide 2014;1:375. Available online: http://www.asvide.com/articles/409
Zhang Z, Feng H, Wang X, et al. Can lymph node evaluation be performed well by video-assisted thoracic surgery? J Cancer Res Clin Oncol 2014. [Epub ahead of print]. [PubMed]
Cite this article as: Miao HW, Chen ZM. Optimization of lymph node dissection with VATS right upper lobectomy. J Thorac Dis 2014;6(12):1865-1867. doi: 10.3978/j.issn.2072-1439.2014.11.26