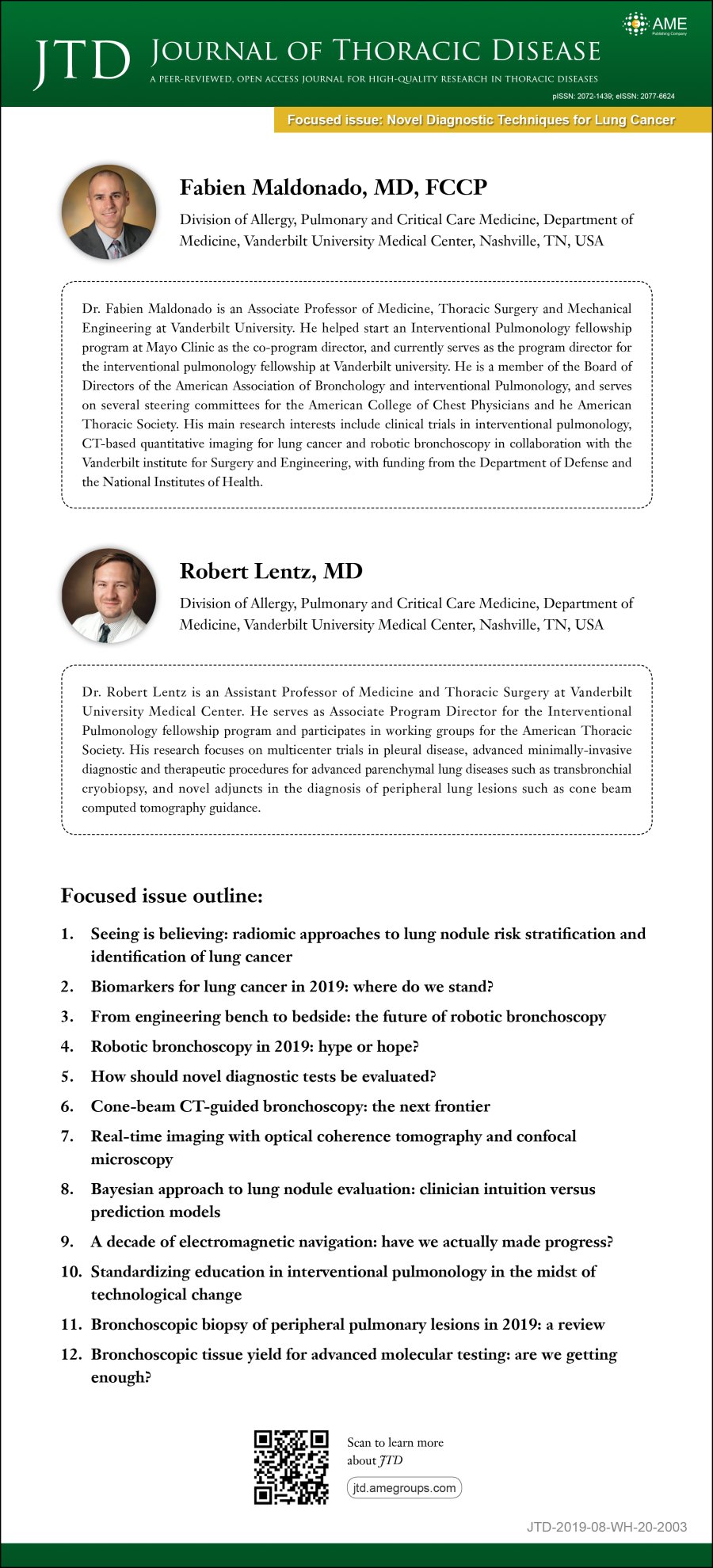 This focused issue on "Novel Diagnostic Techniques for Lung Cancer" is edited by Dr. Fabien Maldonado and Dr. Robert Lentz, from Division of Allergy, Pulmonary and Critical Care Medicine, Department of Medicine, Vanderbilt University Medical Center, Nashville, TN, USA.
Dr. Fabien Maldonado is an Associate Professor of Medicine, Thoracic Surgery and Mechanical Engineering at Vanderbilt University. He helped start an Interventional Pulmonology fellowship program at Mayo Clinic as the co-program director, and currently serves as the program director for the interventional pulmonology fellowship at Vanderbilt university. He is a member of the Board of Directors of the American Association of Bronchology and interventional Pulmonology, and serves on several steering committees for the American College of Chest Physicians and he American Thoracic Society. His main research interests include clinical trials in interventional pulmonology, CT-based quantitative imaging for lung cancer and robotic bronchoscopy in collaboration with the Vanderbilt institute for Surgery and Engineering, with funding from the Department of Defense and the National Institutes of Health.
Dr. Robert Lentz is an Assistant Professor of Medicine and Thoracic Surgery at Vanderbilt University Medical Center. He serves as Associate Program Director for the Interventional Pulmonology fellowship program and participates in working groups for the American Thoracic Society. His research focuses on multicenter trials in pleural disease, advanced minimally-invasive diagnostic and therapeutic procedures for advanced parenchymal lung diseases such as transbronchial cryobiopsy, and novel adjuncts in the diagnosis of peripheral lung lesions such as cone beam computed tomography guidance.
Focused issue outline:
Seeing is believing: radiomic approaches to lung nodule risk stratification and identification of lung cancer
Biomarkers for lung cancer in 2019: where do we stand??
From engineering bench to bedside: the future of robotic bronchoscopy
Robotic bronchoscopy in 2019: hype or hope?
How should novel diagnostic tests be evaluated?
Cone-beam CT-guided bronchoscopy: the next frontier
Real-time imaging with optical coherence tomography and confocal microscopy
Bayesian approach to lung nodule evaluation: clinician intuition versus prediction models
A decade of electromagnetic navigation: have we actually made progress?
Standardizing education in interventional pulmonology in the midst of technological change
Bronchoscopic biopsy of peripheral pulmonary lesions in 2019: a review
Bronchoscopic tissue yield for advanced molecular testing: are we getting enough?