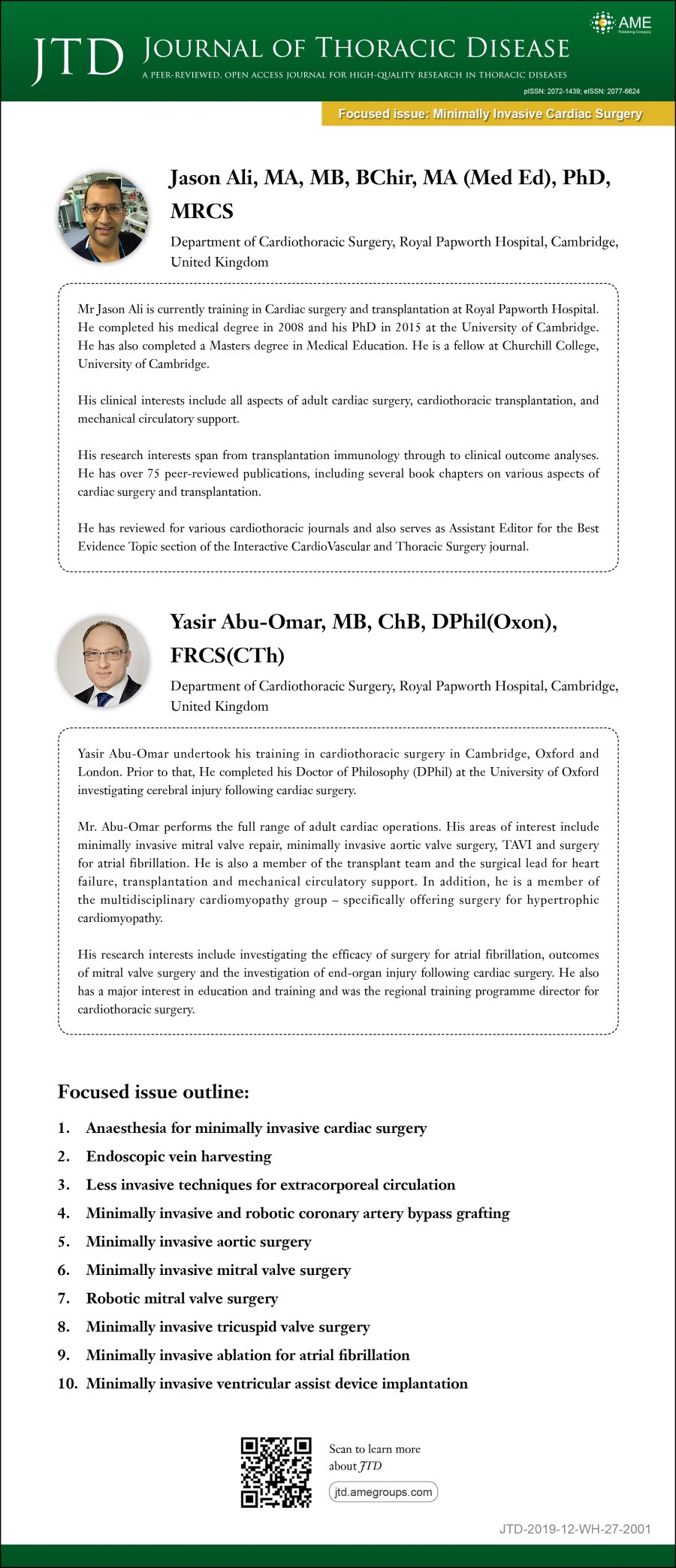 This focused issue on Minimally Invasive Cardiac Surgery is edited by Dr. Jason Ali, MA, MB, BChir, MA (Med Ed), PhD, MRCS, from Department of Cardiothoracic Surgery, Royal Papworth Hospital, Cambridge, United Kingdom; and Dr. Yasir Abu-Omar, MB, ChB, DPhil (Oxon), FRCS (CTh), from Department of Cardiothoracic Surgery, Royal Papworth Hospital, Cambridge, United Kingdom.
Dr. Jason Ali is currently training in Cardiac surgery and transplantation at Royal Papworth Hospital. He completed his medical degree in 2008 and his PhD in 2015 at the University of Cambridge. He has also completed a Masters degree in Medical Education. He is a fellow at Churchill College, University of Cambridge. His clinical interests include all aspects of adult cardiac surgery, cardiothoracic transplantation, and mechanical circulatory support. His research interests span from transplantation immunology through to clinical outcome analyses. He has over 75 peer-reviewed publications, including several book chapters on various aspects of cardiac surgery and transplantation. He has reviewed for various cardiothoracic journals and also serves as Assistant Editor for the Best Evidence Topic section of the Interactive CardioVascular and Thoracic Surgery journal.
Dr. Yasir Abu-Omar undertook his training in cardiothoracic surgery in Cambridge, Oxford and London. Prior to that, He completed his Doctor of Philosophy (DPhil) at the University of Oxford investigating cerebral injury following cardiac surgery. Dr. Abu-Omar performs the full range of adult cardiac operations. His areas of interest include minimally invasive mitral valve repair, minimally invasive aortic valve surgery, TAVI and surgery for atrial fibrillation. He is also a member of the transplant team and the surgical lead for heart failure, transplantation and mechanical circulatory support. In addition, he is a member of the multidisciplinary cardiomyopathy group – specifically offering surgery for hypertrophic cardiomyopathy. His research interests include investigating the efficacy of surgery for atrial fibrillation, outcomes of mitral valve surgery and the investigation of end-organ injury following cardiac surgery. He also has a major interest in education and training and was the regional training programme director for cardiothoracic surgery.
Focused issue outline:
Anaesthesia for minimally invasive cardiac surgery
Endoscopic vein harvesting
Less invasive techniques for extracorporeal circulation
Minimally invasive and robotic coronary artery bypass grafting
Minimally invasive aortic surgery
Minimally invasive mitral valve surgery
Robotic mitral valve surgery
Minimally invasive tricuspid valve surgery
Minimally invasive ablation for atrial fibrillation
Minimally invasive ventricular assist device implantation
Disclosure:
The focused issue "Minimally Invasive Cardiac Surgery" was commissioned by the editorial office, Journal of Thoracic Disease without any funding or sponsorship. Jason Ali and Yasir Abu-Omar are serving as the unpaid Guest Editors for the focused issue.