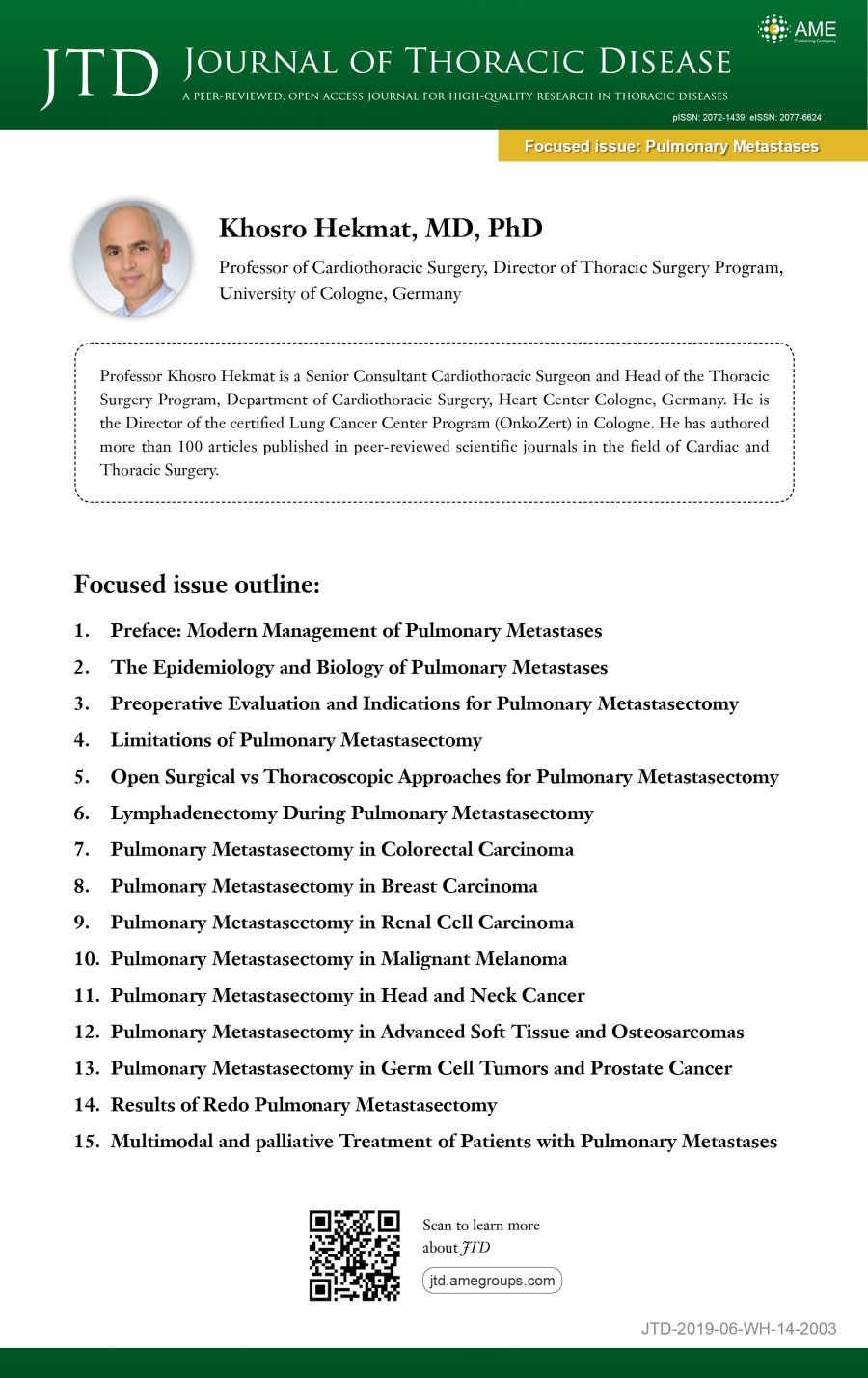 This focused issue on "Pulmonary Metastases" is edited by Dr. Khosro Hekmat, Professor of Cardiothoracic Surgery, Director of Thoracic Surgery Program, University of Cologne, Germany

Professor Khosro Hekmat is a Senior Consultant Cardiothoracic Surgeon and Head of the Thoracic Surgery Program, Department of Cardiothoracic Surgery, Heart Center Cologne, Germany. He is the Director of the certified Lung Cancer Center Program (OnkoZert) in Cologne. He has authored more than 100 articles published in peer-reviewed scientific journals in the field of Cardiac and Thoracic Surgery.
Focused issue outline:

Preface: Modern Management of Pulmonary Metastases

The Epidemiology and Biology of Pulmonary Metastases

Preoperative Evaluation and Indications for Pulmonary Metastasectomy

Limitations of Pulmonary Metastasectomy

Open Surgical vs Thoracoscopic Approaches for Pulmonary Metastasectomy

Lymphadenectomy During Pulmonary Metastasectomy

Pulmonary Metastasectomy in Colorectal Carcinoma

Pulmonary Metastasectomy in Breast Carcinoma

Pulmonary Metastasectomy in Renal Cell Carcinoma

Pulmonary Metastasectomy in Malignant Melanoma

Pulmonary Metastasectomy in Head and Neck Cancer

Pulmonary Metastasectomy in Advanced Soft Tissue and Osteosarcomas

Pulmonary Metastasectomy in Germ Cell Tumors and Prostate Cancer

Results of Redo Pulmonary Metastasectomy

Multimodal and palliative Treatment of Patients with Pulmonary Metastases

Disclosure:
The focused issue "Pulmonary Metastases" was commissioned by the editorial office, Journal of Thoracic Disease without any funding or sponsorship. Khosro Hekmat is serving as the unpaid Guest Editor for the focused issue.